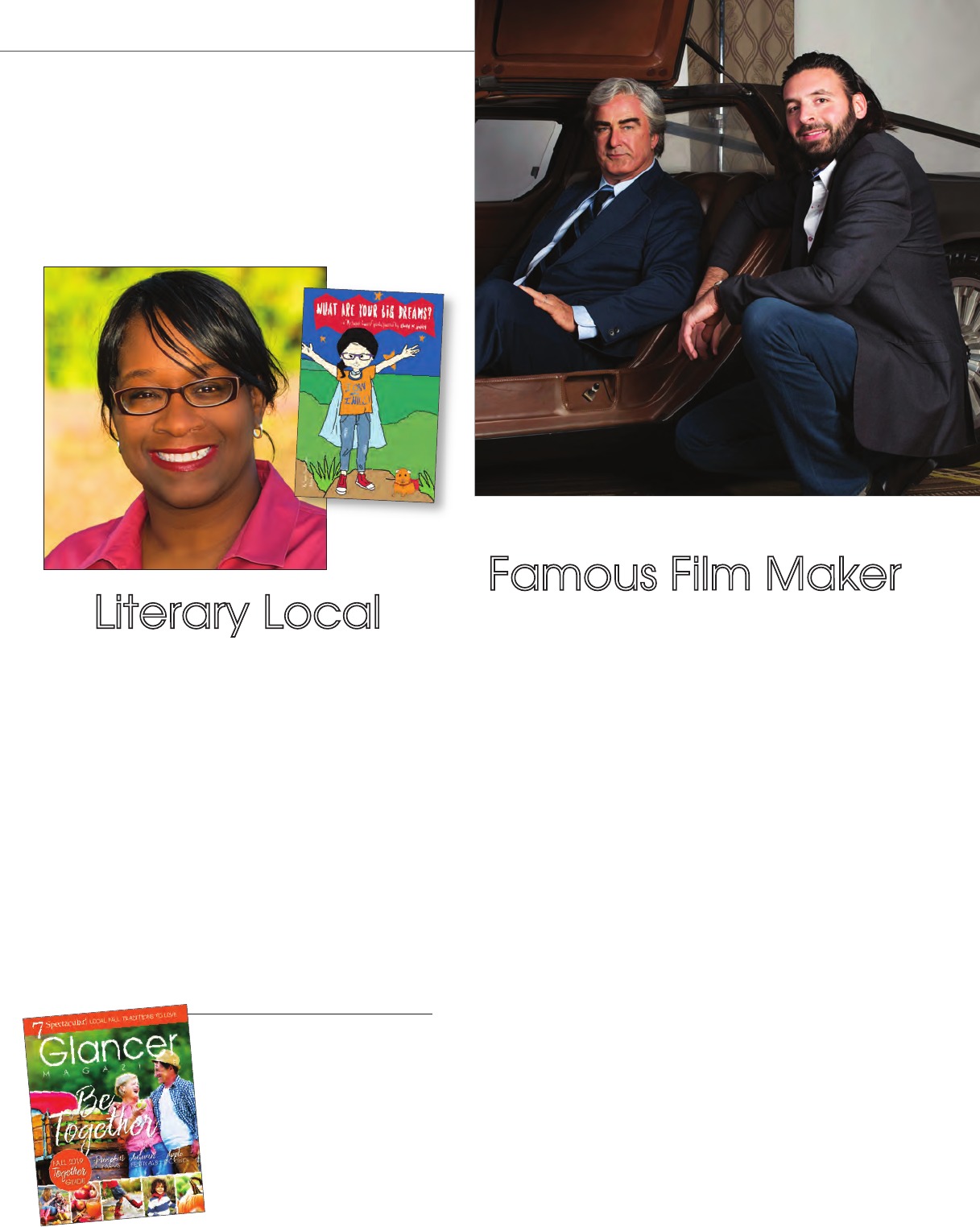 Glancer Magazine • SEPTEMBER 2019 • WESTERN SUBURBS • 11
Lit
e
r
a
r
y Loc
a
l
STACEY MONTGOMERY
What Are Your Big Dreams?
AURORA–Aurora author, Stacey
Montgomery has
created a
series
of
prompted journal books aimed at children. Her latest book, What Are Your
Big Dreams? is the 6th in the series and provides a space for goal setting
through a series of engaging, fun and thought-provoking prompts. The writer
is encouraged to think about their goals and dreams and to take steps to reach
them. She wrote What Are Your Big Dreams with girls ages 8-12 in mind, but
truly, it is a great tool for boys, older kids and adults as well.
Stacey has a law degree, but instead of practicing law, she decided to pursue
her
passion illustrating, writing and
working with kids.
"With my series of
guided journals and the workshops I offer, I am living my dream," says Stacey.
To ensure that her books stay on theme, she has an editorial team of three to
help ensure content makes sense, is age appropriate and is impactful. Other
books in her "My Super Powers!" series include What's Your Super Power?,
What Makes You Believe in Yourself? and Why is Different so Awesome?
You
can
find
Stacey's
guided
journals
on
Amazon,
through
her
website,
www.staceymdesign.com , and she also sells directly to schools and youth
groups.
Know a Local Author in DuPage, Kane or Kendall County?
Introduce Us at editorial@glancermagazine.com
MEET NAPERVILLE NATIVE, TAMIR ARDON OF XYZ FILMS
HOLLYWOOD, CA–It's exciting when Hollywood comes to the west suburbs of Chi-
cago and more exciting when two Naperville natives and celebrities sit face to face
at the Tivoli Theater in Downers Grove for an interview. Entertainment journalist,
radio personality, and film critic, Sarah Adamson conducted two Q&A's with Tamir
Ardon, Head of Documentary with XYZ Films to discuss his recently produced release
of the doc-hybrid film FRAMING JOHN DELOREAN starring Alec Baldwin.
Glancer Magazine was also part of the scene and interviewed the Steeple Run Ele-
mentary, Kennedy Jr. High, and Naperville North High School graduate, Mr. Tamir
Ardon and learned what he loves about Naperville and so much more!
"I have a lot of fond memories of growing up in Naperville," Ardon says. "I loved at-
tending the Last Fling before every school year started, and I was proud to be voted
Mr. NNHS my senior year."
His family still lives in Naperville so when Ardon's in town, you might spot him at his
favorites like Portillo's or Oberweis, sporting his DeLorean that he found in 1997, in
the classified ads in the Chicago Tribune Newspaper.
"I saw BACK TO THE FUTURE at the age of 5 years old at The Tivoli Theater in
Downers Grove, so it was a special honor to play my film, FRAMING JOHN DE
-
LOREAN, on the big screen there," Ardon says. "Certainly Alec Baldwin's involvement
in my DeLorean film has been an amazing opportunity. He helps to elevate the film
and certainly brings more exposure to it." Ardon is pictured above with Baldwin.
Ardon was always mesmerized by television and film. In College he starred and pro-
duced a local cable access show in southern Wisconsin called "The Dr. T and Paul
Show." It was a live call-in show where he played Dr. T, the board certified doctor of
love; and although he was earning his Masters in Science in Anatomy and Cellular
Biology from Rush Medical University; this 'doctor of love's' passion remained in en-
tertainment.
"You only live once," Ardon says. "I decided to apply to UCLA's graduate program
for Producing, and the rest is history."
He now runs the documentary division at XYZ Films, a production and sales company
based in Los Angeles, and is also the Executive Producer on a film to be released
later this year called, YOU DON'T NOMI.
Glancer Magazine is glad to have gotten to know Tamir Ardon and looks forward to
more of his exciting films!
-Kristen Kucharski
Suburban
CELEBRITY
Fa
mous
Fi
lm M
a
k
e
r
Photo by Nicole Rivelli
Photography
COMING IN OCTOBER!
Be Together this Fall
Don't miss the October 2019 issue of Glancer
Magazine
celebrating
Fall
Togetherness.
From family traditions to seasonal events, ac
-
tivities and more!
Subscribe today for just $10 to start receiving
the magazine at your home or business. Dig
-
ital subscriptions are free. Sign up today at
www.glancermagazine.com/subscribe
Thanks for reading!
September2019_Layout 1 8/20/2019 2:52 PM Page 11