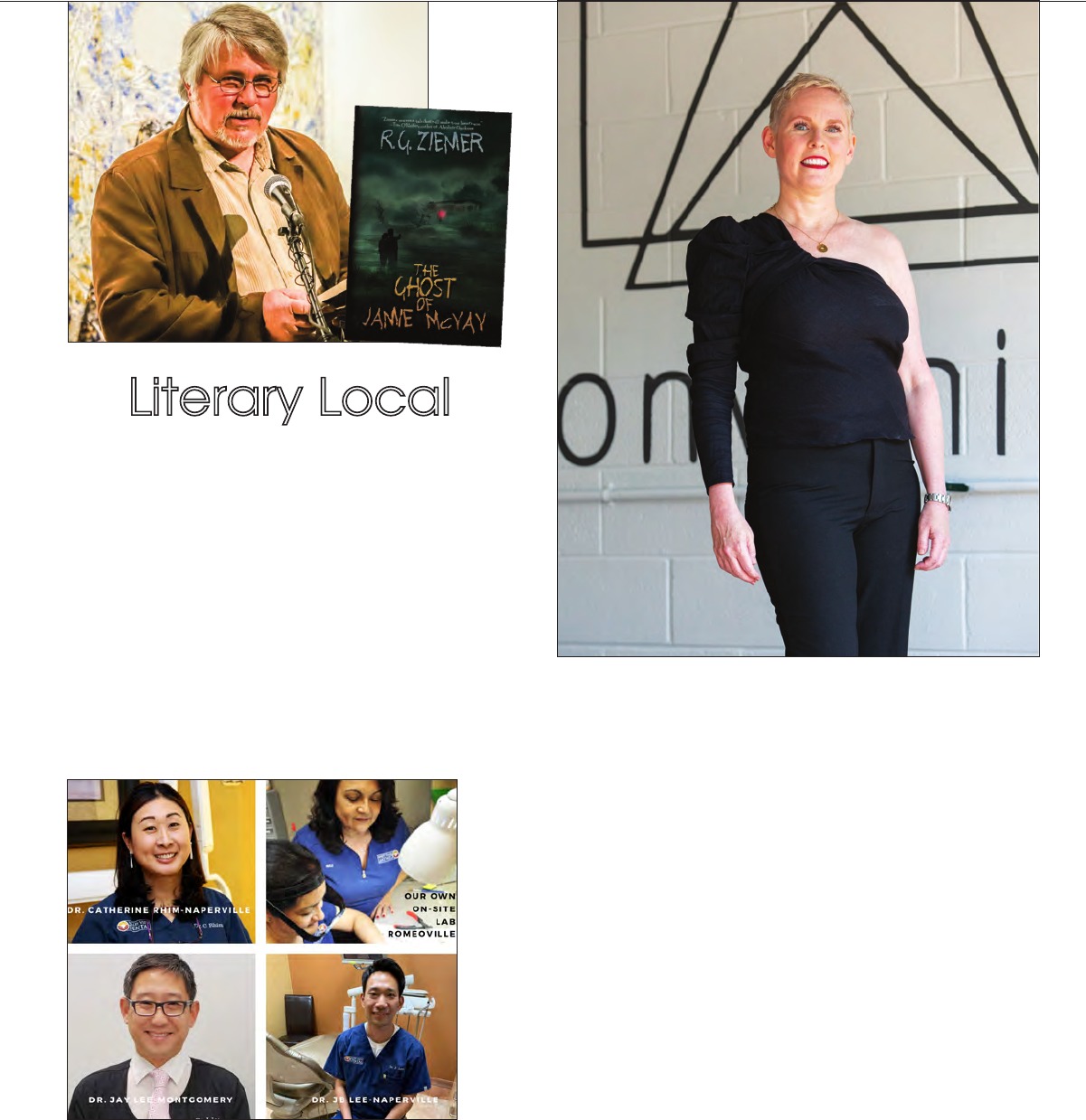 Glancer Magazine • OCTOBER 2019 • WESTERN SUBURBS • 25
FAMILY DENTISTRY WITH A WIDE ARRAY OF SERVICES
V
alley View Dental offers an array of general and cosmetic dentistry, periodon

-
tal, dental implants, oral surgery, and orthodontic procedures, including tradi-
tional braces, Invisalign, teeth whitening, CEREC one-day crowns and even
same day emergency visits. With a large staff of multi-lingual doctors, on-site
labs at each location, and extended business and weekend hours, Valley View
Dental has the ability to treat patients according to their own schedules and
convenience. Stop by and see why others in the community have trusted Val-
ley View Dental for almost 20 years.
Valley View Dental www.vvdental.com.
Located In Naperville, Montgomery & Romeoville
.
Li
t
e
r
ary L
o
cal
R.G. ZIEMER | The Ghost of Jamie McVay
WARRENVILLE–October is the perfect time to share a spooky ghost story. War-
renville writer, R.G. Ziemer, can help with that with his new fiction book and classic
ghost story, The Ghost of Jamie McVay. As a junior high language arts teacher,
he felt there just weren't enough fiction books for teen-aged boys and wanted to
write a novel with a main character that appealed to both boys and girls.
Ziemer's main character, Brian Krueger, has had some hard times and moves to
a new town where on a gravel jogging path, he encounters the ghost of Jamie
McVay. He and his new friend, Sharon, set out to discover the secrets of the truth
behind the ghost and his quest for redemption and are set on a path to try and
prevent a catastrophe on Halloween night.
While writing, Ziemer researched the history behind the interurban railroads like
the Elgin, Aurora and Chicago line that once ran on what is now the Illinois Prairie
Path. "My sons and I frequently rode our bikes on the Prairie Path," says Ziemer.
"The story developed from letting the imagination loose in that setting."
The Ghost of Jamie McVay can be found online at Amazon and Barnes and Noble
as well as many local independent bookstores.
Know a Local Author in DuPage, Kane or Kendall County?
Introduce Us at editorial@glancermagazine.com
From local suburbia to shaping Hollywood's red carpet, west suburban Chicago is
filled with many stylish residents who are on spot with the latest trends– from sassy
hairstyles and gorgeous handbags to jaw-dropping accessories, and all the hot
colors of the season. They know how to incorporate timeless traditions with a
pinch of fad for eye popping sizzling looks for Fall. Here's one of them.
Tracy Ftacek of Oswego/Plainfield
Tracy was born and raised Alaskan. At 21, she became a salon manager where she
fell in love with the industry and graduated from Trendsetters School of Beauty in An-
chorage Alaska. She went on to work as an International Trainer for John Paul Mit-
chell Systems and made her way to the States to feed her passion for other cultures.
"I saw first-hand the impact I could make in someone's life and it inspired me to grow
into a business owner," Tracy says. "Pretty Convenient Extension Studio offers artists
an opportunity to focus their cut, color and styling on extension clients alone."
She adds Fall trends include long hair with lived in color; hand-tied hair extensions
compatible for braids, waves and texture creating muted looks that translate into
fresh, natural-skin makeup, and clothing featuring oatmeal and weathered grey tones
paired with a black or soft coral.
Tracy is married with two kids, one who runs track for Oswego East and is one of the
top 10 Triple Jumpers in Illinois, so with any free-time Tracy is sideline cheering her
daughter on to victory. She also finds time to give back to the community through
My Daughters Dress which provides discounted hair and makeup for high school stu-
dents to attend prom.
-Kristen Kucharski
Visit us online to meet many more Stylish Local Gals at
www.glancermagazine.com/local-women
HEALTH + BEAUTY
GAL
Photo by Mike Mantucca
October2019_BackUp_Layout 1 9/18/2019 12:16 PM Page 25