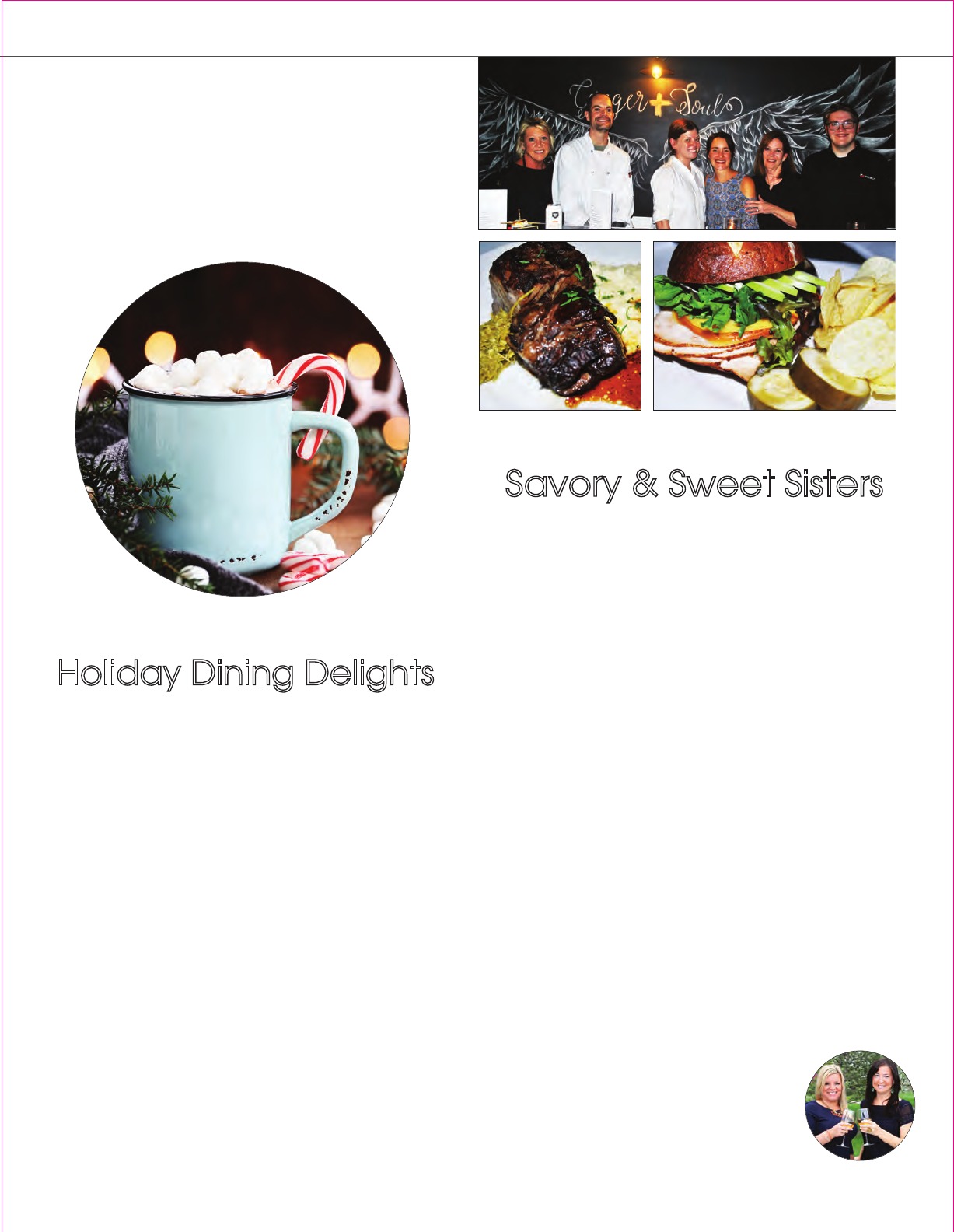 WESTERN SUBURBS – It's that time of year when we spend more time at the
table enjoying family and friends while reminiscing about the year before us and
the blessings to come.
Try something new and different this season at
Naperville's newest restaurant,
Poke Brother's
now open at 4931 S. Route 59. Amid your holiday shopping you
can still eat healthy while on the go - fast and casual - enjoy quickly building your
own "sushi in a bowl" before hitting the black Friday sales.
When the family comes to town this season bring them to enjoy American inspired,
artisan meals made with farm-to-table ingredients, while sipping on the in-house
crafted cocktails, in an easy to relax atmosphere at the newly opened
Chime &
Glen Prairie Local Flavor in Glen Ellyn
can save you the hassle and host the
entire family for Thanksgiving dinner on November 28th from 11 a.m. to 8 p.m. be-
ginning with Harvest Butternut Squash Bisque and Poached Pear and Organic
Greens followed by Kauffman Farms Turkey, Organic Scottish Salmon, potatoes
and vegetables.
While in the tri-city area, swing by the new
La Mesa Modern Mexico in downtown
St. Charles
on the scenic Fox river. If you are tired of leftover Turkey try out the
vibrant traditional Mexican inspired menu with new age modern flare, unique mar-
garitas, craft cocktails and the largest selection of Tequilas you can find in the sub
-
urbs.
The lights are beginning to twinkle and the tree will soon be up, so start it off right
with a breakfast buffet with Santa and your family on December 2nd at
Maggiano's
Little Italy in Oak Brook
. The buffet includes an assortment of pastries, baked
french toast, scrambled eggs, bacon, orange streusel coffee cake, zucchini bread,
fran's potatoes with roasted peppers & onions, seasonal, sliced fresh fruit and and
delicious candy bar.
Enjoy these fun favorites and when in doubt, remember that there's always
www.dinenaperville.com where over 360 dining options are featured.
-Kristen Kucharski
Dining
+ ENTERTAINMENT
Holiday Dining Delights
Ginger & Soul
131 East Hydraulic Street, Yorkville • (630)440-4017
www.gingerandsoulrestaurant.com
Chef/Owner: Kate McNamara
Manager: Andrea Hasko-Marx
A DINING DESTINATION ALONG THE FOX RIVER
Tucked next to the Fox River in downtown Yorkville, this quaint delectable restaurant
of such caliber will keep you wanting more. Owner and Chef, Kate McNamara started
the catering company Ginger and Soul in 2016. With such success the natural next
step was to open a dining experience like no other in the area. The combination of
the eclectic American fusion menu, ingredients sourced from Kate's garden, local
farms and businesses and the cozy atmosphere makes this a destination dining ex-
perience.
We were greeted by our server, Kim Kolkmeyer, who was friendly and attentive. We
found a seat by the fireplace and enjoyed the picturesque view of the Fox River. Even
though the space is cozy the tables have ample room to relax. Kim recommended a
Blackberry Mojito Mocktail that was bursting with berry flavor and an Old Fashioned.
We started with the baked Brie that was accompanied with prosciutto wrapped pears,
and candied pecans that had an interesting hint of cherry.
Next, we shared an Autumn Salad that was a nice balance of market greens, goat
cheese, julienne apples, roasted beets and tossed with a light maple tahini dressing.
The warm rolls that came to the table were delicious and the plate was adorned with
cinnamon butter flowers.
Just when we thought the food couldn't get any better our entrees arrived. Chefs
Kate McNamara, Craig Kierelko, and Jake Merz know their way around the kitchen.
Customer Renee Larque recommended her favorite dish the Beef Short Ribs beside
creamy polenta with a coriander chutney. The Lobster Roll is simply one of the best
we have ever had. A fresh baked roll topped with butter poached lobster. Another
favorite combination is the Turkey Gouda on a pretzel bun topped with honey mustard
and green apple. The homemade pickles also pack a punch of flavor. A fun find on
the menu is the Bibimbap bowl which consists of rice, smoked pork, pickled carrots,
roasted zucchini, mushrooms topped with a fried egg, cucumber wasabi dressing and
furikake sprinkles. A light dish that layers the flavor.
Our final course was a sweet ending to a delightful meal. A comfort-
ing Oatmeal Cream Pie and a slice of Concord Grape Pie were
just what we needed to end the evening. Definitely a great find!
ABOUT THE CRITICS
Stephanie (right) & Tiffany (left) Schmoker are west suburban sisters
who have always shared a love for dining out and they also enjoy cooking together. They
came from a family of 7 and grew up on farm with fresh fruits, veggies and more. Watch for
their review of a different west suburban restaurant in each issue of Glancer Magazine. Invite
them to your eatery at editorial@glancermagazine.com.
WEST
SUBURBAN
EDIBLES
TO
LOVE
Savory & Sweet Sisters
Glancer Magazine • NOVEMBER 2019 • WESTERN SUBURBS • 19
DINING + ENTERTAINMENT
November2019_Layout 1 10/18/2019 12:00 PM Page 19