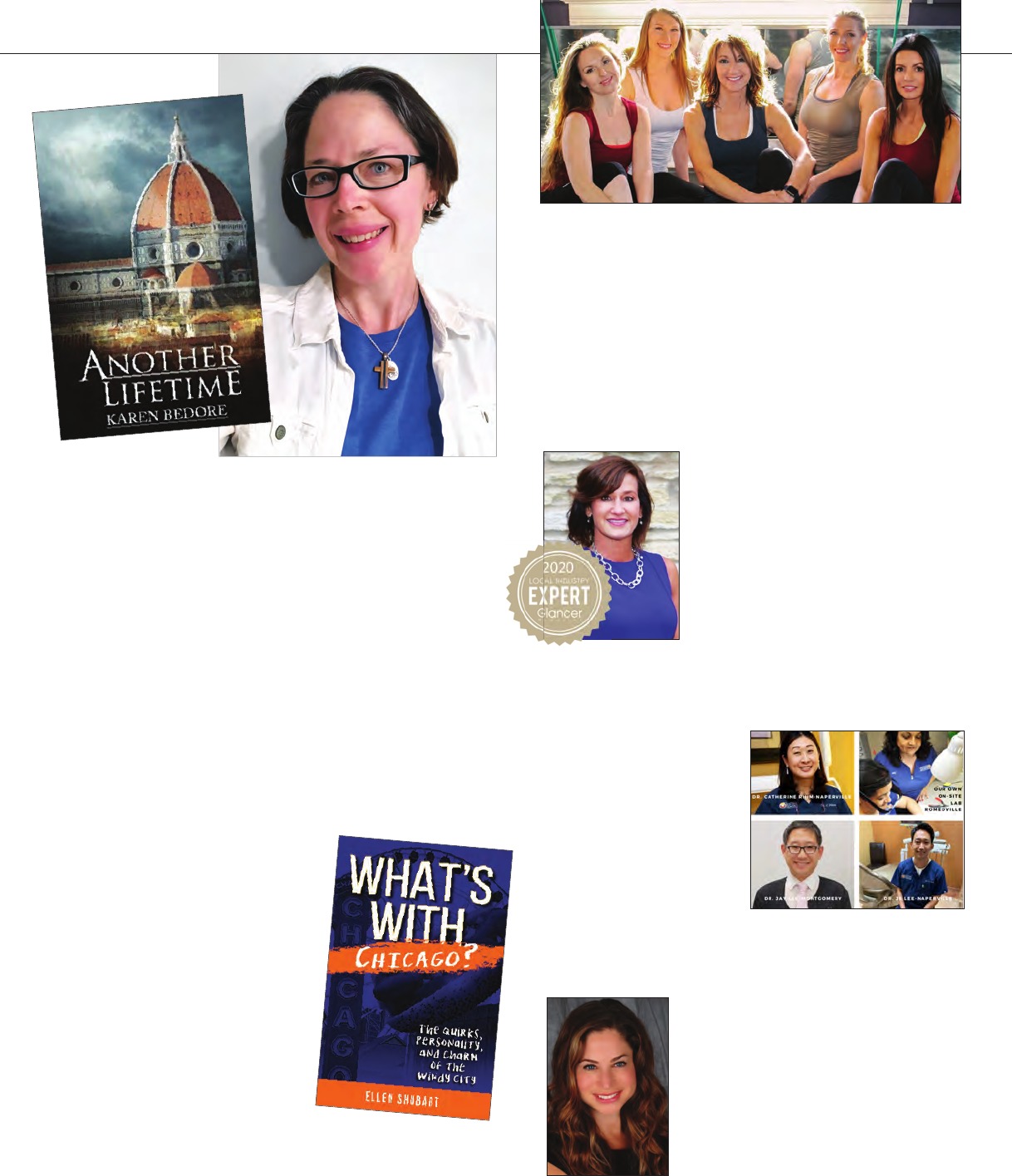 FAMILY DENTISTRY WITH
A WIDE ARRAY OF SERVICES
Valley View Dental offers an array of
general and cosmetic dentistry, peri
-
odontal, dental implants, oral surgery,
and orthodontic procedures, including
traditional
braces,
Invisalign, teeth
whitening,
CEREC
one-day
crowns
and even same day emergency visits.
With a large staff of multi-lingual doc-
tors, on-site labs at each location, and
extended
business
and
weekend
hours, Valley View
Dental has the
ability
to
treat patients
according
to
their own schedules and convenience. Stop by and see why others in the com
-
munity have trusted Valley View Dental for almost 20 years.
Valley View Dental
www.vvdental.com. Located In Naperville, Montgomery & Romeoville
.
PERSONABLE,
ENERGETIC
&
CREATIVE
SUSAN COLELLA OF BAIRD & WARNER
This proud
Naperville
resident shares that
helping
local sellers and buyers doesn't feel like work making
it easy to be dedicated and results oriented When
she is hired to list a home she gains much of the mar-
keting inspiration from her sellers when she asks "
what do you love about your home?" From there she
designs high end customs booklets with professional
photography & drone shots, descriptions of updates,
& develops unique ways to target the right buyers on
the internet. Restyling her listings with professional
staging , 3D tours great for out of state buyers and
constant follow up with all parties are all included for her recipe of success!
Susan is currently meeting with sellers & buyers now in anticipation of a thriving
Spring market~ Call luxury listing agent Susan Colella anytime to discuss your
real estate goals for 2020.
Susan Colella, Baird & Warner, (630) 946-3813
16 •
WESTERN SUBURBS
•
MARCH 2020
• Glancer Magazine
COMMUNITY NEWS
CREATIVE MARKETING STRATEGIES
PENNY O'BRIEN – One word that consistently
comes to clients' minds when they think of Penny
O'Brien is "hustle." As a Seller Representative Spe-
cialist, she loves meeting with sellers to discuss pre-
market home improvements and guide them to
make their home "showtime ready" when it hits the
market. She strongly believes in professional stag-
ing and offers it as a complimentary service. With a
reputation for "good-looking listings," she helps
clients
realize
a
higher
return
and
quicker
sale.
Penny says "Staging transforms a home from aver-
age to amazing".
Penny O'Brien Broker | Relocation Specialist
Negotiation Expert • (630) 207-7001 • penny.obrien@bairdwarner.com
Read Penny's Local Industry Expert Column at www.GlancerMagazine.com
KAREN BEDORE, ANOTHER LIFETIME
Aurora resident, Karen Bedore is a huge fan of the medieval/Renaissance time period,
especially in Italy that fostered many amazing artists and musicians. The combination
of that love and being a big fan of Doctor Who, inspired a curiosity of going back in time
to meet some of the greats and see the world through their eyes. "I am a hopeless ro-
mantic," says Karen, "and with my husband being an artist, the subject is close to my
heart."
Another Lifetime is the story of twenty-two-year-old Aria Carucci who was left stunned
that a recent discovery of a work from fifteenth-century artist Enzo Benenati was ac
-
companied by a sketch of a woman who could be her twin. Her research to uncover the
truth takes a universal turn and slides her back in time to 1459 Florence. Thrown to-
gether by chance, Aria and Enzo fall in love, only to be at the mercy of the hands of fate.
The book is the first book in a trilogy series. Enzo's Story, the second book was released
in 2018, and the final book in the series will be released later this year. Another Lifetime
and Enzo's Story are currently available through Amazon.
ELLEN SHUBART, WHAT'S WITH CHICAGO?
Life-long Chicago resident, Ellen Shubart, has had an
interest in history, architecture and preservation for a
good part of her life. With her B.A. in American His-
tory, M.A. in African-American History and M.S. from
the Art Institute of Chicago in Historic Preservation
along with
her
journalistic
background,
she was a
natural
to
be
tapped
to
pen
the
Chicago
book
in
Reedy Press's What's With series highlighting differ
-
ent cities. What's With Chicago? highlights the his-
tory
of
Chicago but
goes more
deeply into
the
lesser-known events and practices of the city. "I in-
cluded, for example, Chicagoans' practice of putting
out folding chairs on the street to "call dibs" on their
parking spaces," says Ellen, "and I focused a good
deal on the foods of Chicago because that reflects
its immigrant heritage."
Now retired, Ellen is a docent – unpaid volunteer – at the Chicago Ar-
chitecture Center and hosts tours in and around the city. She finds the stories and history
of the city's architectural styles so fascinating; she knew it would be imperative for her
to include them in any book she would write about Chicago's history.
Along with being available on Amazon and in local Barnes and Noble bookstores, look
for Ellen and her presentation at one of your nearby libraries.
-Mindy Kyle
GET TO KNOW V FUSION STUDIO 
GENEVA–V Fusion Studio trainers (pictued above) take consideration to increase
your quality of life when creating classes. Local area owner, Rachel Kowal, is
currently pursuing her master's degree in exercise physiology, and she bases all
classes in the latest research. The current schedule has a variety of effective,
fun, and unique classes. V fusion will improve your core strength, endurance,
and physique safely so you "train for life" with this popular fitness studio. You're
invited to come out and see why so many love it! Enjoy 30-days of unlimited
classes for just $95 or try one week for FREE when you mention Glancer
Magazine.
V Fusion Studio, 129 W State, Geneva, www.vfusionstudio.com
March2020_28pp_backup_Layout 1 2/18/2020 3:23 PM Page 16