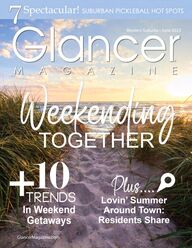 Return to flip book view
Glancer Magazine, June 2023
Page 1
Page 2
Page 3
Page 4
Page 5
WEEKENDING TOGETHER Summer Is Here! Let's Have Some Fun... This issue is filled with unique things to do locally and so much more. Our Cover Story introduces you to 5 local VIPs who share what they love about summer around town, along with their pas-sion behind the success they have found in the community. Each local women is truly so amazing! You'll love getting to know them. Other fun monthly features include 7 Spectacular Pickleball Hot-spots– celebrating THE HOTTEST RECREATIONAL. SPORTS TREND of the summer. Planning to head out of town this summer? You'll love our 10 Trends in Week-end Getaways– each a perfect fit for families big and small. Other great features include On Stage highlighting the return of Naper Nights, Mom's Little Black Book, Unique in Suburbia and more. Enjoy & have a great summer! Lindy Kleivo Founder and Publishing Director JUNE 2023TABLE OF CONTENTST E A M   G L A N C E R PUBLISHER Glancer Magazine, Inc. PUBLISHING DIRECTOR Lindy Kleivo EDITORIAL | Print + Digital Kristen Kucharski Columnist / Writer Mindy Kyle Columnist / Writer Brianna Bartemeyer Features Writer SALES / MARKETING Lindy Kleivo Publishing Director PHOTOGRAPHY Mike Catuara Event Photographer Ruta Drulia Feature Photographer Laura Ramirez-Nunez Feature Photographer P U B L I C A T I O N S GLANCER MAGAZINE A West Suburban Chicago Lifestyle Magazine Featuring the Best of West Suburban Chicago for Communities In DuPage, Kane & Kendall GLANCERMAGAZINE.COM A Hyper-Local Daily Features Site Highlighting On Trend Stories for Communities In DuPage, Kane & Kendall GLANCER GO-TO GUIDE Highlighting Local On Trend Events + Deals for For Communities In DuPage, Kane & Kendall C O N T A C T  U S EDITORIAL Press Releases, Local Events, Community News editorial@glancermagazine.com ADVERTISING Digital Advertising + Local Marketing Solutions advertising@glancermagazine.com SUBSCRIPTIONS Monthly Download + Daily Digital www.glancermagazine.comGlancer® Magazine, highlighting the best of DuPage, Kane & Kendall Counties, is produced by Glancer® Magazine, Inc. Glancer Magazine, GlancerMagazine.com. You've Been Glanced® and the Glancer® logo are registered trademarks of Glancer Magazine, Inc. All rights reserved. Maga-zine reproduction in whole or in part is strictly prohibited. JUNE 2023 | Vol 17, Issue 210 WEEKENDING TOGETHER Summer is here! Let's have some fun! This month's pages share countless things to do– from summer concerts and festivals, to outdoor dining and farmer's market,s plus so much more. Enjoy the season by spending time witdh friends and family around town!There's so many fun and unique things happening. Subscribe for daily, weekly and monthly updates at www.GlancerMagazine.com ©Copyright 2023 All Rights Reserved Glancer Magazine, Inc. JJUUNNEE 22002233®5 Hello From Glancer Magazine 7 5 Things to Do 8 10 Trends: In Weekend Getaways 10 Cover: Weekending Around Town 16 To Give, To Inspire: Kayla's Hope 19 trend+relic 3rd Anniversary Celebration 21 On Stage: Naper Nights Returns for 2023 22 Women Inspired: Meet Jonna Kelleher 24 Million Dollar Listing: Downtown Geneva 26 Shop Gallery Featuring the Hottest Shops 40 Dining & Cocktails: Golden Girls Kitchen 42 Realtor Elite: Meet Debbie Lendino 44 Mom's Little Black Book: All Aboard! 46 New In Town: Foxes Den Meadery 45 Kitchen Design: Meet Catherine Sanzeri 50 Trendy Traveler: See the Pacific on a Budget 53 Home Design: Meet Catherine Sanzeri 55 Literary Local: Nancy Horan 56 Unique In Suburbia: Gindo's Spice of Life 58 Community Living 68 Kid Stuff: Summer Fun Around Town 76 7 Spectacular Suburban Pickleball Hot Spots www.glancermagazine.comGlancer Magazine • JUNE 2023 • WESTERN SUBURBS • 5Lindy is Pictured at Fat Rosie's in Downtown Naperville Having Dinner with Her Besties Over Memorial Day Weekend
Page 6
Page 7
3. Strawberry Festival at Windy Acres Farm June 10 & 11, 17 & 18 Windy Acres Farm GENEVA–Enjoy all things Strawberry! FRESH Straw-berries, Strawberry Short-cake, Strawberry Slushies, LUNCH at the Grill, Bar, Lounge and Outdoor Seat-ing, LIVE ENTERTAIN-MENT, Family Attractions*, Strawberry Rhubarb Pie, Strawberry Jam, Farm Mar-ket Shopping, Strawberry Plants, Strawberry DONUTS, Apple Cider Donuts, Straw-berry Tarts, Bakery and so much more! Strawberry Fest T-Shirts! Have a Strawberry Blast at Windy Acres Farm. www.windyacresfarmstand.com1. Aurora Farmers Market SATURDAYS • 8am-12pm AURORA–The 111th season of the Aurora Farmers Market is back! Come on by and support your local farmers and vendors every Saturday8am-12pm. Located directly across from City Hall. www.downtowndg.orgJUNE 20235 Things to Do4. Malibu Barbie Cafe Invites You In ADVANCE TICKETS NEEDED CHICAGO–Malibu Barbie Cafe Channels the Groovy Beachside Energy of 1970s Malibu, Califor-nia. Guests will find a Barbie-in-spired paradise with plenty of pink decor, delicious treats, and inter-active activities. The team behind the venture wanted to create an immersive experience that would bring Barbie to life and it seems thaty they've succeeded. www.bucketlisters.com/experience/ malibu-barbie-cafe-chicago 5. FarmHer's Market Summer Event JUNE 17 • 9am-3pm YORKVILLE–FarmHer's Market is a handmade, vin-tage, and boutique style market presented by Olde Farm Creek. Visit an array of artisans featuring handmade treasures, vintage collections, and bou-tique style decor. Enjoy the beautiful grounds while sipping on a cold beverage and eatings some deli-cious food from local vendors. Come for a great day of shopping and fun with friends! Admission: $5 at the gate, children 12 and under are free.2. Charcuterie Crawl FRIDAY, JUNE 16 • 5-8pm BATAVIA–You're invited to an evening of tastings, pairings, shopping and giveaways! The Charcurte-rie Crawl will take place at Special Occasions, Pretty Pages + MoJo, Farmdog Flowers and Ease Escape. Each location will offer a different char-cuterie course and wine pairing to enjoy while you shop! Charcuterie is provided by Fancy Nancy Boards and the wine provided by Bocaditos Cafe. Tickets: $30 • www.shopprettypages.comGlancer Magazine • JUNE 2023 • WESTERN SUBURBS • 7
Page 8
10TRENDSWeekend GetawaysWhere to Go and What to Do this Summer! Summer is about making memories.Totally unique and fun things to do with the family are just a short drive from home! Enjoy this list of trending Weekend Getaways with fun attractions and more. #1 | Take in the Beauty of Warren Dunes SAWYER, MICHIGAN–Enjoy a weekend on the lake filled with beauty and nature all in one. Warren Dunes State Park provides 1,952 acres of recreational opportunities along the beautiful shore of Lake Michigan. Its richly forested and large open dunes, as well as interdunal wetlands, rise 260 feet above the lake, offering spectacular views. Fill your weekend with exploration throughout the three miles of shoreline, six miles of hiking trails, and two popular campgrounds. www.michigandnr.com/parksandtrails #2 | Experience Door County Like Never Before EGG HARBOR, WISCONSIN–Experience Door County and its unique beauty. One way to see the area is with Door County Trolley Tours. VIP treatment aboard one of the many uniquely themed trolley tours open year round and see Door County like never before. Choose from one of the many tours perfect for Summer: Wine, Spirits & Brew Tour; Premier Wine Tour; Cocktail Tour; Wine, Chocolate, & Artisan Cheese Tour; Lighthouse Tour; Family Ride; Murder & Mayhem Tour; or the Bloody Mary & Brunch Tour. www.doorcountytrolley.com 10 TRENDS8 • WESTERN SUBURBS • JUNE 2023 • Glancer Magazine
Page 9
#3 | Enjoy Sporting Fun in Indianapolis INDIANAPOLIS, INDIANA–Someplace fun to do while visiting Indiana's cap-itol is The Riley Children's Health Sports Legends Experience®. It's more than a fun park– it's an interactive athletics wonderland, offering "mysize" sports samples encouraging a lifelong love of sport in children of all ages and abilities. These samplings enhance meaningful lessons, healthy habits, and lasting memories with their Home Team. Discover your child's strengths in a new sport, or learn about a beloved sport in a whole new way. www.chil-drensmuseum.org/exhibits/sports-experience #4 | Get Ready for a Big Adventure In Galena GALENA, ILLINOIS–Not too far from home and super exciting! Enjoy an al-pine slide, scenic chair lift, soaring zipline, or segway tour at Chestnut Moun-tain's full-service, 120-unit resort situated eight miles southeast of Galena. Revel in the wooded palisade overlooking the Mississippi River and choose from additional offerings such as mini golf, disc golf, a leisurely bike rental, or a scenic river cruise. www.visitgalena.org #5 | Waterfront Fun in Lake Geneva LAKE GENEVA, WISCONSIN–Millions of people travel to Lake Geneva year round and come summer, the lakefront is a popular favorite for many! Since 1873, Gage Marine has been celebrating life on the lake where tranquil wa-terfront dining can be enjoyed at Pier 290 or a spectacular cruise can be en-joyed. From the Geneva Bay Tour and the Ice Cream Social Tour, to the Cocktail Tour, Luncheon Cruise, Jazz Dinner Cruise and more! www.gagemarine.com #6 | See the Gateway Arch in St. Louis ST. LOUIS, MISSOURI–Enjoy some of the best views of the Gateway Arch and St. Louis' working riverfront on a riverboat cruise. Whether you're in the mood for a romantic dinner at the Paddlewheel Cafe, a relaxing riverfront tour, or a floating party with live music and dancing, pick a cruise to suit your interests. So many options including the Skyline Dinner Cruise, Sunday Brunch Cruise, or specialty themed cruises that are sure to entertain! www.gatewayarch.com/experience/riverboat-cruises #7 | Stay on the Water In Saugatuck SAUGATUCK, MICHICAGN–If you love waterfront living, you'll love this unique midwestern find! The entire waterfront of this completed renovated A-frame home is a wall of windows with unrivaled views of the water and downtown Saugatuck. Exclusive amenities include a rare rooftop deck ve-randa, natural gas outdoor fire pit, and luxury jacuzzi overlooking the water and skyline. Only 15 feet from the water's edge, this is an encompassing ex-perience of a stunning nautical dream home that doubles as a historic land-mark of downtown Saugatuck and Lake Kalamazoo. www.aframesaugatuck.com #8 | Take a Wildwater Adventure in Michigan MUSKEGON, MICHIGAN–For the families that love adventure, we found two great adventure parks for one price! 60 rides, slides and attractions, in-cluding seven roller coasters at Michigan's Adventure; as well as Camp Snoopy, featuring kids attractions for thrill-seeking guests. The fun continues at WildWater Adventure, home to Funnel of Fear, three wave pools, slides of all kinds, and Half Pint Paradise. Entertainment for all ages all day long! www.miadventure.com #9 | Visit Wisconsin Dells' Lost Canyon WISCONSIN DELLS, WISCONSIN–There's so much to do in the Dells! A favorite is Lost Canyon is the longest and deepest land canyon in Wisconsin. Some of the sheer rock and sandstone walls have not felt the touch of the sun in more than 50,000 years. Explore this natural treasure through a mag-nificent mile of cliff-walled gorges in comfortable, yet quaint horse-drawn car-riages which carry 15 passengers. Begin your journey on the south shore of Lake Delton, and discover a piece of history. www.lostcanyontour.com #10 | Enjoy State Park Fun in Beautiful Iowa MAQUOKETA, IOWA–Add Maquoketa State Park to your list! Hike, explore, learn, enjoy more caves than any state park. This is one of Iowa's most unique outdoor attractions. Enormous bluffs tower throughout the park, and a six-mile trail system winds through geologic formations and forests brim-ming with natural beauty. As one of the state's earliest state parks, Ma-quoketa Caves has been a popular destination for picnickers and hikers since the 1860s. www.iowadnr.gov/Places-to-Go/State-Parks/Iowa-State-Parks/Maquoketa-Caves-State-Park 10 TRENDSGlancer Magazine • JUNE 2023 • WESTERN SUBURBS • 9
Page 10
COVER STORYLovin' Summer Locally: Residents Share their Summer Top 10by Kristen Kucharski Photos Submitted10 • WESTERN SUBURBS • JUNE 2023 • Glancer Magazine
Page 11
DOWNERS GROVE–Amy Brown has al-ways possessed an entrepreneurial spirit with an endless pursuit to answer the question by Mary Oliver, what is it you plan to do with your one wild and precious life? Well, her creative, humble, and persistent attitude led her from Downers Grove to Colorado for a decade where she met her husband, Keith and wooed him back to the Midwest to be near family, and raise their son, Ryan (now 14). Next, her go-getter persona subsequently launched two two boutiques in downtown Downers Grove- Evelyn Jane and Sweet Jane. The first focusing on jewelry, women's accessories, candles, and other unique gifts; and the second specializing in gifts for babies and new/expecting moth-ers. "I lead all of the buying and creative direc-tion, as well as merchandising," Amy shares. "I also love connecting with cus-tomers and being part of the day-to-day flow." Giving back is second nature for Amy and she not only sponsors a wide variety of local nonprofits, but also participated in a mother/son service trip to El Salvador with Light of Love Ministry. Weekends are filled with watching Ryan play sports with St. Mary of Gostyn. Amy also enjoys thrifting and always looks for-ward to seeing loved ones in Colorado to hike, ski, and of course support the local breweries. AMY'S SUMMER 2023 TOP 10 LIST 1. Concert at Ravinia 2. Chicago River Architecture Ccruise 3. Kane County Flea Market 4. Backyard Bonfires 5. Chicago Rooftop Hop (Z Bar and Cindy's Rooftop) 6. Farmers Markets 7. Glamping Trip to Camp Aramoni 8. 20th Wedding Anniversary Trip to Northern California 9. Date Night at Meson Sabika 10. Hiking at Starved Rock and Matthiessen State Park -Kristen Kucharski Photos by Mike CatuaraCOVER STORYGlancer Magazine • JUNE 2023 • WESTERN SUBURBS • 11Amy Brown
Page 12
COVER STORY12 • WESTERN SUBURBS • JUNE 2023 • Glancer Magazine
Page 13
Glancer Magazine • JUNE 2023 • WESTERN SUBURBS • 13COVER STORYCOVER STORYNAPERVILLE–Pam is genuine, resilient, and generous - and believes, "I can do all things through Christ who strengthens me," Philippians 4:13. She loves to travel, paint, read, cook, go to wine tastings, and hang out with friends, family, and her 24-year-old son. Pam had spent more than 25 years working in a business environment with experience in marketing, sales, database management, and social event management when she took the leap of faith in 2013 to open Pinot's Palette in downtown Naperville, putting her passion into the paint-and-sip franchise. "I love meeting new people and seeing the joy and pride on everyone's faces when they complete their paintings,"she says. Pam's pursuit has paid off earning her a number of awards, including Glancer Mag-azine's Reader's Choice Award for Cus-tomer Service and several Pinot's Palette's Golden Brush Awards for top sales. She takes personal pride in giving back to the community by hosting and donating to fundraisers; participating as a Naperville Riverwalk Commissioner; a Downtown Naperville Alliance Board Member; and taking active roles with the Naperville Chamber Of Commerce through Team-work and the Women in Business Commit-tee. Although she doesn't have a lot of spare time, Pam is planning a fun summer ahead.. PAM'S SUMMER 2023 TOP 10 LIST 1. Travel to Colorado 2. Country Thunder Music Festival in Wisconsin 3. Cubs Games 4. Outdoor BBQs and Bonfires with Friends 5. Plan an Alaskan Cruise 6. Hike a New Trail at Starved Rock 7. Explore a New City 8. Go Canoeing 9. Grow an Herb Garden 10. Put Up Some Birdhouses and Feeders -Kristen Kucharski Photos by Mike CatuaraPama Bartle
Page 14
COVER STORY14 • WESTERN SUBURBS • JUNE 2023 • Glancer Magazine
Page 15
Glancer Magazine • JUNE 2023 • WESTERN SUBURBS • 15COVER STORYWHHEATON–When Allison and her hus-band moved to Wheaton in 2020, she quickly immersed herself in the community. As Executive Director of the Downtown Wheaton Association, she is responsible for the marketing and economic growth of Wheaton's central business district. "Through a variety of events and promo-tions, we bridge the gap between the Wheaton residential community and the Downtown Wheaton business community, while serving our business owners in a va-riety of ways on a day-to-day basis," she says. "I love supporting entrepreneurs and I'm so lucky to serve the community that I call home." Allison takes pride in her community and her role as a resident – she's excited to support local this summer, taking her son to visit the many Wheaton's parks, the Wheaton French Market, as well as the DuPage Children's Museum. They also love dining locally at the Innovator Hale Street Tents, stopping for ice cream at Kimmer's, and shopping throughout Down-town Wheaton. This upcoming summer is all about making memories with her husband and son. ALLISON'S SUMMER 2023 TOP 10 LIST 1. Cream of Wheaton Carnival 2. Downtown Wheaton's Extract Juicery Family Fun Tent 3. Taking a Family Trip to Lake Geneva 4. Visiting Our Favorite Parks Such as Lincoln Marsh Prairie Patch Play Area, Sensory Garden Playground 5. Enjoying nature at the Morton Arboretum –Especially the Extensive Kids' Area! 6. Sipping Iced Coffee from Five & Hoek 7. Soaking in sSmmer with Friends and Family 8. Visiting Cosley Zoo 9. Shopping at the Wheaton French Market 10. Enjoying the sunshine -Kristen Kucharski Photos by Mike CatuaraAison Orr
Page 16
COVER STORY16 • WESTERN SUBURBS • JUNE 2023 • Glancer Magazine
Page 17
COVER STORYHeather Giacobbe and Kate Crotty GLEN ELLYN–Heather (42) and Kate (22) are running the show leading the daily op-erations, maintaining customer service, hir-ing, training, receiving new products, and creating content for social media while out-fitting women of all generations to live up to the trademark, "An Ageless Adventure" at JAYNE Boutique in Glen Ellyn. Heather brings her larger than life person-ality - outgoing, friendly, and generous - and her "Go big or go home" spirit to build-ing relationships with her co-workers and customers, creating a second family away from home, working together to help the community with the local high school fash-ion shows and the like. Kate believes the world is full of good people. If you can't find one, be one. Through her role with JAYNE, she loves donating to events around the community and showing off their popular name brand products and always having something cute to wear to work! Both are looking forward to outdoor summer activities with family and friends! HEATHER & KATE'S SUMMER 2023 TOP 10 LIST Heather 1. Go to Great America 2. Swimming at Sunset Pool in Glen Ellyn 3. Vacations to Mexico, Costa Rica 4. Creating a New Garden at My House 5. Spending Time with Family and Friends Kate 1. Traveling to Italy 2. Visiting My Sister in Iowa 3. Celebrating My Birthday in Downtown Glen Ellyn 4. Swimming at Centennial Beach 5. Spending Time with Friends and Family at Black Berry Market -Kristen Kucharski Photos by Mike CatuaraHeather and KateGlancer Magazine • JUNE 2023 • WESTERN SUBURBS • 17
Page 18
Page 19
Glancer Magazine JUNE 2023 WESTERN SUBURBS 19
Page 20
20 • WESTERN SUBURBS • JUNE 2023 • Glancer Magazine PERSONABLE, ENERGETIC & CREATIVE REAL ESTATE PROFESSIONAL SUSAN COLELLA OF BAIRD & WARNER As a full-time high sales producing Realtor with Baird and Warner's Naperville office for 10 years, Susan shares that helping local sellers and buyers doesn't feel like work—making it easy to be dedicated 24/7 to her clients. "I realized early on that I was obsessed with real estate when my close friends remarked, 'Susan tell us another story about real estate' or when I helped a client secure a home contract on my birthday and I remarked, 'I sold a house on my birthday—what a great gift!'" Life is all about perspective for Susan, and her positive work ethic, cre-ative solutions, and working above and beyond allows her to offer clients extraordinary experience. The old saying that if you do what you love in life you never work a day applies for Susan since LISTING HOMES is her passion. Reach out to Susan today! Susan Colella, Baird & Warner, (630) 946-3813Susan Colella
Page 21
Glancer Magazine • JUNE 2023 • WESTERN SUBURBS • 21Susan ColellaTHE SUMMER TRADITION CONTINUES NAPERVILLE- Get ready for a summertime tradition that features cold drinks, great food, and fabulous music! Naper Settlement's Naper Nights celebrates historic milestones in rock music and pop culture with themed tribute concerts on June 16-17, July 14-15, and August 18-19. Rock out with your community as you eat, drink, dance, and hear the best tribute bands perform your favorite rock, pop, Motown, and soul hits. This year's lineup includes tributes to Jimi Hendrix, Green Day, Neil Young, and more. Complimenting the tunes are tasty food and beverage selections from local vendors, as well as engaging children's area activities guaranteed to keep the entire family happy and rocking out. These concerts are not to be missed! For more information and to purchase tickets, visit online today! www.napernights.org www.napernights.org Naper Nights Returns to Naper Settlement ON STAGE
Page 22
WOMEN INSPIRED COMMITTED TO FULLFILLING HER DREAM WomenInspired 22 WESTERN SUBURBS JUNE 2023 Glancer Magazine
Page 23
Meet Jonna Kelleher, Owner of The Cottage Geneva GENEVA–Jonna has been in health-care since she was 19 years old, start-ing as a unit clerk in the Emergency Room and eventually becoming a nurse in 2018. She loves the fast paced environment and caring for the unique patient needs; however, she has always loved decorating. "I think it comes from my mother who used to do interior decorating on the side before she got sick," Jonna shares. "I don't think I truly un-derstood why curating a style for your home was so important until I lost both of my parents at a young age. My mother passed away at 41 from her second battle of breast cancer and my father passed away at 56 from complications of sepsis." Because of losing her parents so young, she bounced from home to home, even becoming homeless. "I remember thinking, when I am able to pull myself out of this predicament, I will never take the feeling of "being home" for granted." As time went on, she pulled herself to-gether, saved money, met her husband Sean, got married, and bought her first home in 2019. "I was so excited to have my OWN home," Jonna adds. "As we were ren-ovating, I used to joke with Sean that if I could give this feeling of how I felt about my own home to others, my dreams would be fulfilled." Soon after, at only 35 years old, Jonna now owns The Cottage Geneva with her husband. What started as an idea for an online business, turned into finding the perfect space for a brick and mortar. Jonna spent the next couple years curating vintage heirlooms to compliment a clean modern. "My favorite quote is by Florence Nightengale, I attribute my suc-cess to this: I never gave or took any excuse," she says. Jonna has put nursing aside for now and is committed fulltime to her dream. Like most women, she is continually striving to find work home balance, but always makes time to shop antiques, pursue her foodie passions at The Walrus Room, and spend time with their Yorkshire terrier, Maisy.WOMEN INSPIREDGlancer Magazine • JUNE 2023 • WESTERN SUBURBS • 23
Page 24
MILLION DOLLAR lliissttiinnggDowntown Geneva Nestled in the heart of Geneva's downtown area, this stunning 2009 built home exudes elegance and luxury from every angle. Located in one of the most sought-after neighborhoods, this home offers an un-beatable location one block away from award-winning restaurants and top-tier shopping along beautiful Third Street. It's the perfect lo-cation for taking the train to the city. Also, you will be able to enjoy the festivals, French market, and all that Geneva has to offer right outside of your front door.$1,195,000 422 S 4th St, Geneva, Illinois 4 bed, 3.5 bath, 3,076sq ft (630) 674-3488 Presented by: Debora McKay Brokered by: Coldwell Banker Realty St Charles REAL ESTATE24 • WESTERN SUBURBS • JUNE 2023 • Glancer Magazine
Page 25
Dreamy Inside and Out This home also boasts a peaceful and quiet fully fenced, profes-sionally landscaped yard, featuring a two-tier brick paver patio with fire pit that is perfect for outdoor entertaining and relaxation. The two-car garage with extra storage alcove is an added bonus, providing ample space for parking and storage. With its unbeat-able location, exceptional design, top-notch amenities, and stun-ning outdoor space, it's the perfect place to call home. REAL ESTATEGlancer Magazine • JUNE 2023 • WESTERN SUBURBS • 25
Page 26
Page 27
Glancer Magazine • DECEMBER 2022 • WESTERN SUBURBS • 63
Page 28
HOME DESIGN "PEP" UP YOUR SPACE ST. CHARLES – Have you ever stared at photos of beautifully designed homes and wished you could shop everything pictured? A curated line of "designer-approved" goods hand selected by a pro and placed in one accessible shop? The Pep Line in downtown St. Charles by Peppeard Design interior designer and owner, Shannon Peppeard, offers just that! Shannon has been working with clients to create amazing spaces in their homes for over 17 years. Her full service design firm, Peppeard Design, offers a timeless yet modern aesthetic and her work has been featured in numerous magazines including HGTV Magazine and Modern Luxury Interiors. Her brick and mortar shoppe, The Pep Line, features a line of curated goods hand selected by Shannon that she herself uses in many of her design client's homes. The shoppe carries a wide variety of goods for the home including furniture, artwork, lighting, rugs, drapery, pillows and accessories. The Pep Line has been featured on the Emmy-winning CBS travel series, Destination Chicago. Both The Pep Line shoppe and Peppeard Design studio are located under one roof inside the historic Collins House giving visitors a taste of how the products look inside a real home. Visit the shoppe or book yourself a "Pep Van Styling" session. Shannon and her team will load up the van with Pep Line goods and give a room of your choice a refresh all in one day! For more information on The Pep Line and Peppeard Design visit thepepline.com. The Pep Line & Peppeard Design 201 Cedar Ave, St. Charles | 630-549-7088 www.thepepline.com | www.peppearddesign.com Photography by Margaret Rajic Shop Gallery28 • WESTERN SUBURBS • JUNE 2023 • Glancer Magazine
Page 29
trendy. local. inviting.Glancer Magazine • JUNE 2023 • WESTERN SUBURBS • 29
Page 30
Shop GalleryON TREND ESSENTIALS VISIT ONLINE OR IN NORTH AURORA NORTH AURORA–Urban Echo Shop features on trend essentials for the stylish at heart– from clothing and acces-sories, to home decor, unique furniture, gifts and seasonal trends. Owned by local mom, Lindy Kleivo and her daughter in Sugar Grove, Illinois, Urban Echo Shop was created to be an adored virtual hometown boutique where only the latest styles and trends are featured. Residents are invited to sit back and relax while browsing the shop's simplified trend collections online or shop at The Rustic Fox, where you will find over 120+ unique vendors. Each day is a new day at Urban Echo Shop. ON TREND ESSENTIALS FOR THE STYLISH AT HEART Located Inside The Rustic Fox 1790 Town Centre Dr., North Aurora • Vendor #3 At the Entrance to the Left30 • WESTERN SUBURBS • JUNE 2023 • Glancer Magazine
Page 31
trendy. local. inviting.Glancer Magazine • JUNE 2023 • WESTERN SUBURBS • 31
Page 32
Shop GalleryTWO LOCAL BOUTIQUES FEATURING LIVERPOOL THIS SPRING WHEATON & ST. CHARLES–Jill Card opened Jeans and a Cute Top after years of working in retail and corporate sales jobs, wearing boring suits, un-comfortable panty hose, and predictable white dress shirts. The name was in-spired by her first date with her husband when she asked, "What should I wear?" and her husband replied: "Jeans and a cute top." When Jill was getting ready for that first date, she didn't have a great pair of jeans or a cute top in her closet and had to borrow an outfit from her sister, a flight attendant with a much more fun wardrobe. As she got older, Jill couldn't find any great jeans for women in their 30s and 40s. Stores catered to teenagers or grandmas. The unflattering 'Mom' jeans filled in that age gap. Now, in Jill's closet, you'll find about 40 pairs of jeans. She has 8-10 pairs in regular rotation. Her go-to, favorite pair is the Gia from Liverpool—the denim is super soft and keeps its shape. Jeans & A Cute Top is the solution for women who don't want to look ridiculous trying to dress like their daughters but also refuse to settle for shapeless lounge wear. Jill hand selects every item in the store, going to trade shows looking for style over trend, and finding affordable, beautiful clothes that work for all women, not just size 0 models. You will find Jill working the floor of one of her shops every day—she is committed to changing the world for women one great fitting pair of jeans at a time. www.jeansandacutetop.com Expires 6-30-2332 • WESTERN SUBURBS • JUNE 2023 • Glancer Magazine
Page 33
trendy. local. inviting.Glancer Magazine • JUNE 2023 • WESTERN SUBURBS • 33
Page 34
HOME DESIGN UNIQUE STYLE EXPERIENCE GENEVA –The Cottage Geneva is a shop that makes you feel like you're home. This small shop is warm and cozy with a beautiful blend of new and vintage home décor. With a cottage farm-house style, the shop offers a welcoming experience for customers to find that special item that elevates their own home. Owner, Jonna Kelleher, a former emergency room nurse, unfortunately lost both her parents in her teens, leaving her moving from home to home at a young age. Losing the comfort of home so young gave her the determination to offer that cozy comfort of home to others. It was last year while traveling in Traverse City, Michigan that her husband, Sean, encouraged her to go after her dream of owning her own shop. A few months later, The Cottage opened in The Berry House in downtown Geneva. The Cottage has made many new relationships with its customers who share the same passion of curating a cozy home environment. Jonna encourages customers to curate a style that they're passionate about and she loves to inspire others that they don't need design experience to make their home beautiful. The Cottage carries a wide variety of handcrafted furniture by her husband, Sean, as well as greenery, planters, barware, kitchen essentials and antiques. Everything in the shop is hand-selected by Jonna and curated with her heart. Come stop by The Cottage where you'll find Jonna decorating the store with either her vintage finds or new arrivals to inspire you to love where you live even more, home. The Cottage Geneva 227 S. Third St., Ste. 103. Geneva (847) 409-5834 www.thecottagegeneva.com Shop Gallery34 • WESTERN SUBURBS • JUNE 2023 • Glancer Magazine
Page 35
trendy. local. inviting.Glancer Magazine • JUNE 2023 • WESTERN SUBURBS • 35
Page 36
SUMMER BEAUTIFUL MUST-HAVE SUMMER DRESSES Stop in for some DRESS Inspo! Gowns are arriving daily and we are so excited to help you get ready for your next Special Occasion. Follow us online today: instagram– @special_occasions01 facebook– @SpecialOccasionsBatavia website– www.specialoccasionsontheavenue.com Become a part of Special Occasions. Make an appoint-ment to find your dream dress or just stop in! Founded by Mary Marconi-Popiel in 2009, the shop's at-tention to detail makes the ordinary more extraordinary, giv-ing you a shopping experience that you will not forget. Special Occasions does not simply sell dresses– this local dress boutique sell dreams! Visit today for your next Spe-cial Occasion. Special Occasions 2 N Batavia Ave., Batavia, Illinois (630) 406-1515 www.specialoccasionsontheavenue.com Shop Gallery36 • WESTERN SUBURBS • JUNE 2023 • Glancer Magazine
Page 37
trendy. local. inviting.Glancer Magazine • JUNE 2023 • WESTERN SUBURBS • 37
Page 38
Shop Gallery O V E R 4 5 V E N D O R S 3 YEAR ANNIVERSARY EVENT Celebrate With Us at Our Upcoming Anniversary Event ST CHARLES trend relic is an experience that shoppers remember as this unique multi vendor marketplace has carefully selected experienced merchants who are artisans builders refinishers and painters boutique owners and more each offering the most special items to adorn your home and make you feel beautiful The talented merchants work hard to create and curate unique items both vintage and new Many of the treasures that you will find at trend relic have been handcrafted including jewelry candles furniture art and they have a variety of clothing accessories too Each of the wonderfully talented merchants have created beautiful spaces in the shop as well as local markets so you will find some of your very favorites here Join in on the fun as trend relic celebrates its 3rd Anniversary this July FRIDAY JULY 7 5pm 9pm Hippie Gourmet Food Truck Live Music from Sticky Gumbo Trio Lenny Lou Creative Fun Photo Booth and a Storewide Sale SATURDAY JULY 8 10am 9pm Dom s Local Pizza Drip Drop Roastery Coffee Cart Lenny Lou Collective The Sweetest Adventure Cotton Candy and a Storewide Sale SUNDAY JULY 9 10am 9pm Dom s Local Pizza Drip Drop Roastery Coffee Cart Lenny Lou Collective and a Storewide Sale This Old Vintage 38 WESTERN SUBURBS JUNE 2023 Glancer Magazine trend relic 1501 Indiana Avenue St Charles Illinois 630 803 5253 www trendandrelic com
Page 39
trendy. local. inviting.Glancer Magazine • JUNE 2023 • WESTERN SUBURBS • 39
Page 40
THE GOLDEN GIRL'S KITCHEN CHICAGO–Pull up a chair to The Golden Girls Kitchen. This custom, detailed din-ing experience is inspired by the girls' favorite iconic Miami hangouts, as well as other memorable moments from the beloved franchise. Expect to be completely immersed in the world of The Golden Girls! There will be additional sides and beverages available for purchase, and an array of dessert choices, including lots of cheesecake options by Hardbitten Cakes. You can also sidle up to the Rusty Anchor Bar and select from an assortment of specialty cocktails and mocktails centered around the beloved series. Don't forget to take advantage of shareable photo-ops too: snap a photo in Blanche's Boudoir, complete with shag carpet and a palm print bedspread, or pre-tend to chat with the ladies through the girls' yellow kitchen phone. There will be a full kitchen to order. The menue includes GOLDEN MAINS, SHADY PINES SIDES and ST. OLAF SWEETS. www.bucketlisters.com/experience/golden-girls-kitchen-chiNEXT STOP: CHICAGOA DINING EXPERIENCEDININGDINING + COCKTAILS40 • WESTERN SUBURBS • JUNE 2023 • Glancer Magazine
Page 41
DINING + COCKTAILSFat Rosie's Purple Basil Margarita Is Calling Your Name NAPERVILLE–It's a tequila bar, it's a taqueria, it's a family-friendly place to enjoy Scott Harris' modern take on Mexican street food, but most of all, it's an homage to an old agave farmer's faithful donkey. Fat Rosie's is a fun, hip & festive family-friendly Mexican Taqueria featuring a modern take on traditional cuisine. Try our favorite - the Purple Basil Margarita with muddled blueberries, fresh basil, agave & house margarita mix. YUM! www.fatrosies.comCCoocckkttaaiillssEmpire Has Some New Cocktails NAPERVILLE–We all know and love Empire– one of Downtown Naperville's hottest restaurants, especially come spring and summer with their retractable roof and delightfully fun menu. They've recently introduced new specialty cocktails – Tropical Penicillin, Stirred & Boozy, and Strawberry Kiss. Last but not least, come try their Frozen Irish Coffee! and if you love tequila, you'll love what's new including Casa Noble Blanco & Reposado, Patrón El Cielo, Volcan XA Repo-sado and Marqués de Casa Noble Añejo. www.empireburgerbar.comGeneva Wine Cellars and Tasting Room Invites You to Taste What's New GENEVA– Celebrate with a flight of America wines on the patio and enjoy what's new to the cellar. Ebb & Flow wines are expertly produced and bottled in beautiful Napa Valley, CA. Grapes have been handpicked by their team to produce the highest quality wines. Come sip and enjoy at this local favorite! www.genevawinecellars.comGlancer Magazine • JUNE 2023 • WESTERN SUBURBS • 41
Page 42
PURPOSEFULLY DRIVEN Debbie's community ties since 1995 gives her an enthusiastic edge when working with buyers and sellers. Her professional, down to earth approach with unwavering commitment to her clients, has enabled her to build up a vast network of referrals over the past 8 years. Attention to detail combined with an exceptional understanding of the mar-ketplace, genuine care for people, attentive listening skills, and dedication to fulfilling client's goals is abundantly evident. "I LOVE people and the journey that takes us from A to Z. I believe we all have a story to tell, and that story begins at home," Debbie shares. "For much of my adult life, I was known as a working stay-at-home PTA mom/wife, and was led to a new full time career as a 50 year-old single mom. It took perseverance, patience, and trust in the process to transition to Debbie Lendino, john greene Realtor, trusted advisor extraordinaire!" Debbie's strong ability to negotiate and problem solve support her business that has been predominantly built on referrals, open homes, and networking. She is confident, yet humble; compassionate, yet persistent; knowledgeable, yet always learning. She relies on jgR's tools to maintain a powerful post close process for her buyers and sellers and has an impressive social media presence that aids in marketing her listings. As Naperville and western suburban real estate continue to tilt toward a seller marker, home sales overall are heading toward stabilization. A slight cool is a good sign for Debbie's buyers who are coming off the sidelines, even with risen interest rates. Creative financing and a decrease in com-petitive multiple offer scenarios will allow her buyers stronger purchasing power moving forward. But, we do need inventory and property values con-tinue to rise, just at a slower rate. NOW is a great time to market your home! "Utilization of john greene Realtor's technology is unmatched," she says. "Always fresh, always something NEW, excellent!," Debbie says. "I love being a part of an organization that supports each other - a cheerleader to new agents, mentoring small groups, collaborating with business partners, brainstorming with outside agents, networking, volunteering...these all align with my purpose!" As a top performing agent, it brings Debbie great joy to build on her referral base and provide an elite experience for her clients. She is purposefully driven and happy to help! -Kristen Kucharski, Photos by Mike CatuaraCONTACT DEBBIE Debbie Lendino, CSC, SFR Broker | john greene Realtor 1311 S. Route 59, Naperville Office (630) 820-6500 | Cell (630) 596-3672 DebbieLendino@johngreeneRealtor.com AWARDS & ACHIEVEMENTS Rookie of the Year 2015 for john greene Realtor Top Performer/President's Club 2015- Present at john greene Realtor Mainstreet Organization of Realtors Top 2% in Sales Volume and Number of Transactions Top 3% in Northern MLS Chicago Agent Magazine Who's Who for 2022 Most Innovative Marketer 2020 for john greene Realtor
Page 43
DEBBIE LENDINOJOHN GREENE REALTORGlancer Magazine • JUNE 2023 • WESTERN SUBURBS • 43
Page 44
44 • WESTERN SUBURBS • JUNE 2023 • Glancer Magazine GREEN RIVER! Yes it's true, Chicago does dye the river green once a year; however, did you know the Chicago Electric Boat Company is green everyday? The fleet of 100% electric boats are not only easy to drive, but have been certified as zero emissions wa-tercrafts, making them the green option for exploring the Chi-cago River by boat. After parking just a couple blocks away, for only $10 using SpotHero, we were excited to access the Duffy Boat to enjoy a beautiful Sunday afternoon on the river. With room for eight (8) of your closest friends or family members, along with blue tooth accessibility to play your favorite music, and a provided cooler holding your favorite drinks and foods, the boat trans-forms into a floating paradise! We easily launched from the marina, conveniently located just off of State Street in the heart of the city. The riverwalk pulsed with the vibrant life of boaters, kayakers, and waterfront diners at City Winery Chicago, Pizzeria Portofino, and RPM Seafood. MOM'S little black book
Page 45
Glancer Magazine • JUNE 2023 • WESTERN SUBURBS • 45Driving the Duffy Boat was as easy as driving a golf cart - no experience required providing our group a private and personal experience to laugh and chat freely while enjoying the am-bience of the skyline from a vantage viewpoint. We waived to the Odyssey Dinner Cruise, lis-tened alongside the Chicago Architecture Cruise, and enjoyed light banter between nearby White Sox and Cubs fans. Chicago Electric Boat company has so many unique experiences to choose from, summer fun is never ending. I foresee wearing my cap-tain's hat on the Donut Boat and the city's first Cycle Boat in the very near future! OVERVIEW The Chicago Electric Boat Company offers a unique, memorable and environmentally friendly way to see the great city of Chicago. By renting boats that are comfortable and easy to drive, the Chicago Electric Boat Company gives even new boaters a chance to get be-hind the wheel and see the city from this ex-ceptional point of view. Chicago Electric Boat Company 300 N State Street Marina Level — Unit EE Chicago, IL 60654 (312) 644-6411 www.chicagoelectricboats.com Hours: 10 a.m. to 10 p.m. Monday through Fri-day; 10 a.m. to 11 p.m. Saturday; 10 a.m. to 8 p.m. Sunday Price $: Prices vary based on boat selected ABOUT THE WRITER Kristen Kucharski's days are never dull, her kids are never bored! Over the years #MomsLittleBlackBook has explored hundreds of kid friendly things to do in our surrounding community and on the road. As her girls have grown and gone away to college, she continues to enjoy unique activities, excursions, day trips, weekend get-a-aways, and road trips while re-discovering my own passion for adventure with friends, girls nights outs, and date nights. In her words "Life is a journey–might as well have fun along the way. Go, fly, roam, travel, voyage, explore, discover!"MOM'S LITTLE BLACK BOOK
Page 46
New In TownNEW IN TOWNFoxes Den Meadery YORKVILKLE–Rico and Jenna Bi-anchi and their two children took on the family adventure of opening Foxes Den in September 2022. Their Micro Meadery creates hand-crafted, artisan honey wine utilizing the finest quality ingredients. "We strive to produce a world class product that is inviting to both the sophisticated and novice mead con-sumer," Rico says. "My love for and passion for this craft is unparalleled and I try to express that in every bot-tle of mead that I produce. From unique recipe design to corking and labeling every bottle by hand, I put my heart and soul into every batch. Celebrating Progress throughout the Western Suburbs of Chicagoby Kristen Kucharski Photos Submitted46 • WESTERN SUBURBS • JUNE 2023 • Glancer Magazine
Page 47
Taking a modern approach on an ancient beverage, my goal is to provide a memorable drinking experience in every glass." Rico and Jenna fell in love with Yorkville to raise their children and open their new business. They also both work full time jobs in nearby Aurora, as a pest control technician for Chem Wise and a registered nurse for Advocate respectively. When Rico first started making mead at home in 2015, the couple lived in a subdivision named Fox Hill and made their mead in the basement, so they dubbed it the "Foxes Den". Their current home is on Fox St. in Yorkville in the Fox Valley area. The local high school mascot also happens to be called the Foxes. So naturally when they opened their meadery on the banks of the Fox River, Foxes Den cor-responded perfectly. The meadery is a hit with the local community as the current market is trending towards session meads, possessing a lower alcohol content and carbonation, and the added con-venience of a can. It is also gluten free! The pair is looking to implement a mead cocktail program soon in which we create mixed drinks utilizing mead, spirits and fresh ing-redients. They also plan to have some seasonal takes on their meads which include mead slushies in the summer and mulled mead in the winter. www.foxesdenmeadery.com Introduce Us to a Business or Organization that's New In Town editorial@glancermagazine.comNEW IN TOWNGlancer Magazine • JUNE 2023 • WESTERN SUBURBS • 47
Page 48
44 • WESTERN SUBURBS • MAY 2023 • Glancer Magazine
Page 49
Glancer Magazine • JUNE 2023 • WESTERN SUBURBS • 49
Page 50
TRENDY TRAVELERTrendY The Perfect Mix of Natural Beauty, Rich Culture and Affordable Holiday Experiences Are you dreaming of a tropical escape to the Pacific, but wor-ried about the costs? Look no further than the stunning Cook Islands! Nestled in the heart of the Pacific, the Cook Islands offer a perfect mix of natural beauty, rich culture, and afford-able holiday experiences. Getting to the Cook Islands is easier than you might think, with several major airlines offering regular flights from many international airports. Once you arrive, you'll be greeted by the breathtaking scenery of the Pacific Islands, from tur-quoise waters to lush greenery.Exploring the Pacific on a Budget: The Cook IslandsTraveler50 • WESTERN SUBURBS • JUNE 2023 • Glancer Magazine
Page 51
TRENDY TRAVELEROne of the best things about the Cook Islands is that you can easily find affordable accommodation options to suit your budget, whether you're looking for a cozy guesthouse or a beachside villa. And with so many outdoor activities available, you can create your own Pacific Island holiday adventure! Take a dip in the warm Pacific waters and snorkel among colourful marine life, or explore the island's rugged interior on a guided hike. Immerse yourself in the rich Pacific Island culture and customs by attending a local festival or visiting a cultural center. For those looking to unwind and relax, the Cook Islands offer plenty of secluded beaches and peaceful spots to take in the stunning views. You can also indulge in a spa treat-ment or enjoy a sunset cocktail at a beachfront bar. If you're looking for one of the best Pacific Island to visit on a budget, the Cook Islands offer a perfect balance of afford-ability and beauty. With plenty of accommodation options and activities to suit all interests, you can create a dream Pacific Island holiday without breaking the bank. So, what are you waiting for? Book your trip to the Cook Is-lands today and experience the magic of the Pacific for yourself! And for more information on the range of experi-ences available in the Cook Islands, visit https://cookis-lands.travel/experiences. –Pacific Tourism Organisation www.cookislands.travel/ experiences Glancer Magazine • JUNE 2023 • WESTERN SUBURBS • 51
Page 52
411 S WRIGHT STREET NAPERVILLE • $2,299,000 Built in 2005, old world luxury meets modern amenities in this former builder's showcase home! Nestled on a quiet corner double lot with room for another home, sits this beautiful es-tate in the heart of Downtown Naperville. This exquisite home will exceed your expectations. The minute you step onto the property you are transported to an elegant experience with the beautiful conservatory and grounds where the possibilities are endless! As you step inside, you are met with complete beauty and warmth. From the wine cellar to stepping outside to the conservatory, cottage and pergola, endless possibilities for entertaining or for your hob-byist! Think yoga studio, art studio – enjoy wine tastings, corpo-rate entertaining or philanthropic events that are near and dear to your heart right at your beautiful home. • Magnificent Downtown Naperville Estate • Spectacular Conservatory & English Garden • 5,000 Bottle, Temp Controlled Wine Cellar • Additional Cottage Overlooking Koi Pond & Waterfall Feature • Endless Luxurious Amenities & Details 630.728.6719 Kanneysylvia.419@gmail.com 52 • WESTERN SUBURBS • JUNE 2023 • Glancer Magazine The Possibilies are Endless
Page 53
Glancer Magazine • JUNE 2023 • WESTERN SUBURBS • 53CATHERINE SANZERI IS AN AWARD WINNING HOME DESIGNER WITH A 5,000 SQ FT SHOWROOM LOCATED IN KANE COUNTY BATAVIA–With a background in construction and interior design, owner Catherine Sanzeri saw a need for affordable quality cabinetry and kitchen design, so she opened West DuPage Cabinets and Granite in 1997, and has been leading the market as a custom home builder since. Her talented team continues to fill a niche in the west suburban home design marketplace by providing a full range of products to fit every budget while providing lifestyle-focused designs with top industry de-signers. As a proud member of the NKBA and KCMA, this women-owned establishment guarantees absolute satisfaction. "I just love what I do, so every day is a dream for me," Catherine says. THE DESIGN PROCESS The talented design team will visit your home for a consultation, take measurements and look at the lifestyle components of the home and family; then create a custom masterpiece, incorporating the latest pro-ducts that meet the specific needs of each homeowner. The entire process is coordinated by West DuPage Cabinets & Granite providing total satisfaction and the end result is a stress-free process from design to build, including designer privilege discounts on appli-ances and fixtures. INDUSTRY TRENDS Catherine noted that the industry is always changing with future trends leaning towards larger islands, coffee bars and entertainment spaces, including a wine refrigerator in the kitchen and more features to accom-modate larger groups. She also says that natural woods and stains are trending for 2023. LEADING THE WAY One of Catherine's most cherished projects was when her team de-signed and built a first floor master suite for a client whose husband had MS and could no longer walk up the stairs. "The improved quality of both of their lives was a gift to see!" shared Catherine. Stories like this are why the company has received many awards and accolades through the years including Best of the Best in Kitchen and Bath Remodeling 2017, 2018, 2019, 2020, and 2021, in addition to Glancer Magazine's 'Best of the Best' Kitchen Designer for Kane County in 2021. West DuPage Cabinets and Granite 143 S. Batavia Avenue, Batavia (630) 414-2363 www.westdupagecabinetsandgranite.com Meet Award Winning Designer, Catherine SanzeriPhoto by Mike CatuaraKitchen Design
Page 54
54 • WESTERN SUBURBS • JUNE 2023 • Glancer Magazine
Page 55
by Mindy Kyle Photos SubmittedNancy Horan The House of Lincoln OAK PARK–Former longtime Oak Park resident and historical nov-elist Nancy Horan was inspired to write her new novel, The House of Lincoln, back in 2014 when there was talk among public figures about how polarized the nation had become and even spoke of the U.S. being close to a civil war. "I thought it might be enlightening to explore the 1850's and 60's in Illinois to understand how the Civil War developed and how our state became central in the debate leading to that conflict," says Nancy. Following her previous New York Times Bestsellers, Loving Frank and Under the Wide and Starry Sky, The House of Lincoln is rich in historical detail and an insightful account of Lincoln's transformative vision for democracy. "Illinois was a free state but had legislated the most constrictive Black Laws in the North," says Nancy. "The state was a complex mix of political leanings. In their debates regarding the future of slavery, Abraham Lincoln and Stephen Douglas argued out the question of slavery for the whole nation." The story is told through the eyes of three people in Springfield – a young immigrant girl working in the Lincoln household, a free African American man and Mary Lincoln who observe the buildup to Lincoln's presidency, the duration of the Civil War in Illinois, and the aftermath of that con-flict. The House of Lincoln will be available at bookstores nationwide. Join Anderson's Bookshop in Naperville for an in-person event and signing line on June 15 at 7pm. LITERAARRYYlocalKNOW A LOCAL AUTHOR?  We'd Love to Meet Them! Introduce Us at editorial@glancermagazine.comLITERARY LOCALGlancer Magazine • JUNE 2023 • WESTERN SUBURBS • 55
Page 56
HOT & TRENDY: GINDO'S SPICE OF LIFE ST. CHARLES–Hot Ones. Are you familiar with this YouTube sen-sation? It's "the show with hot questions and even hotter wings". This one-on-one, celebrity talk show is brilliantly simple - its host asks questions while the guest attempts to eat wings coated in in-creasingly hotter sauce. Thanks to the unpredictable element that is hot sauce and thoughtful questions … we learn more about our favorite celebrities and 'uniqueness' that is hot sauce. Did you know that the hot sauce market is projected to reach $4.17 Billion by 2028? And just like craft breweries, there are 'craft' hot sauce companies (hot sauceries, if you will!). Introducing: Gindo's Spice of Life in St. Charles. In December 2021, Gindo's opened its shop - they specialize in small-batch artisanal hot sauces. Everything is done in-house; al-lowing full control over its sauces, ingredients, recipe development and label design. They source a variety of ingredients from local farms - such as: Mighty Greens in Elburn, Gordon Heat Farm in Oswego and Garlic Breath Farm in Elburn (just to name a few!). This summer you can catch Gindo's at a variety of local markets, too. They recently launched Hot Honey (infused with locally-grown ghost, scotch bonnets and habanero peppers) and will re-release Strawberry Basil in July. Along with its three year-round sauces (Gindo's Original Fresh & Spicy, Jalapeno Poblano and Honey Ha-banero), they make a small-batch sauce weekly. Looking for a unique pairing? Try Honey Habanero with dessert! This warm, fiery finish contrasts perfectly with the sweetness of dessert … an un-expected (yet, delicious!) surprise. Here's to you, Hot One. May you discover the spice to life this summer! Republished from July 2022 UNIQUEby Brianna Bartemeyer Photos by Gindo's Spice for Lifein SuburbiaUNIQUE IN SUBURBIA56 • WESTERN SUBURBS • JUNE 2023 • Glancer Magazine
Page 57
UNIQUE IN SUBURBIAGlancer Magazine • JUNE 2023 • WESTERN SUBURBS • 57
Page 58
COMMUNITY LIVING76 • WESTERN SUBURBS • JUNE 2023 • Glancer Magazine NAPERVILLE  PARK DISTRICT Golfing Fun! Awaits at these 2 Award-Winning Courses NAPERVILLE–Looking to experience the game of golf? Naperville is home to two ex-ceptional 18-hole Park District golf courses: Springbrook and Naperbrook. Both provide a wide variety of lessons programs, tourna-ments, outings, and of course, daily play. We're committed to ensuring an amazing experience for all of our guests each and every time. Visit www.golfnaperville.org for more information on all of our offerings. www.golfnaperville.org
Page 59
COMMUNITY LIVINGGlancer Magazine • JUNE 2023 • WESTERN SUBURBS • 59SUMMER FUN IN OSWEGO Summer Starts at Prairiefest OSWEGO–Summer Starts at PrairieFest, Kendall County's largest summer fes-tival held June 15-18! Presented by the Oswegoland Park District, PrairieFest combines small town charm with a stirring summer celebration over Father's Day weekend. Free concerts from a mix of national and local bands, along with en-tertaining performances have always been a highlight of the weekend, and this year's lineup will not disappoint. Entertainment highlights include: Sara Evans, Pop2K featuring NSYNC's Chris Kilpatrick, Ryan Cabrera, LFO & O-Town, Rod Tuffcurls and The Bench Press, Starlight City, and American English. Admission and parking are always free at PrairieFest! Visit PrairieFest.com for the full event schedule. www.prairiefest.com summertime fun!
Page 60
COMMUNITY LIVING60 • WESTERN SUBURBS • JUNE 2023 • Glancer Magazine NAPERVILLE Get Your Whirly On! NAPERVILLE- From friendly competition and entertainment to exceptional food and drink, WhirlyBall Naperville provides the perfect venue for all ages and occasions. The two-story "eater-tainment" complex features a variety of activities including Whir-lyBall, LaserTag, HyperBowling and bowling plus private event spaces for groups of any size. Round out your event with cus-tomized menus featuring The Pivot Room's selection of elevated American fare and 24 rotating craft beer taps. Book your event today! Whirlyball Naperville 3103 Oddyssey, Naperville (630) 932-4800 • www.whirlyball.com celebrate!
Page 61
COMMUNITY LIVINGGlancer Magazine • JUNE 2023 • WESTERN SUBURBS • 61NAPERVILLE Naper Nights Is Back! NAPERVILLE- Get ready for a summertime tradition that fea-tures cold drinks, great food, and fabulous music! Naper Settle-ment's Naper Nights celebrates historic milestones in rock music and pop culture with themed tribute concerts on June 16-17, July 14-15, and August 18-19. Rock out with your community as you eat, drink, dance, and hear the best tribute bands perform your favorite rock, pop, Motown, and soul hits. This year's lineup in-cludes tributes to Jimi Hendrix, Green Day, Neil Young, and more. Complimenting the tunes are tasty food and beverage se-lections from local vendors, as well as engaging children's area activities guaranteed to keep the entire family happy and rocking out. These concerts are not to be missed! For more information and to purchase tickets, visit online today! www.napernights.org music fun!
Page 62
DOWNTOWN DOWNERS GROVE Shop, Dine, Enjoy in Trending Downtown Downers Grove DOWNERS GROVE–The variety of small businesses, amazing owners and community support makes downtown Downers Grove the destina-tion it is today. Downtown Downers Grove welcomes Bonita Bowl and Poundcake Bakery. Lots of fun to be had this month in Downtown Downers Grove. Moose Cruise Nights and Friday Night Live The Moose Cruise Night, sponsored by the Moose Lodge is located on Warren Avenue between Forest and Main as well as Lot A, 4:00-8:00pm. Warren Avenue will be closed from Forest to Main. Space is limited and registration not available. The Live Entertainment will be held 5:30-8:00pm at the Main Street Train Station, sponsored by Downers Grove Downtown Management Corp. See schedule online.. www.downtowndg.org62 • WESTERN SUBURBS • JUNE 2023 • Glancer Magazine COMMUNITY LIVING
Page 63
PINOT'S PALETTE Girls Night Out Fun! NAPERVILLE–Springl is here! Plan a GNO. Pinot's Palette is the best night out in Naperville! It's a fun-filled, party atmosphere where you and your friends, family or date can talk, laugh, paint and sip. You don't need any art experience – their talented local artists will guide you step-by-step through the night painting. Follow their in-structions or go rogue and end up with a one-of-a-kind master-piece! They also offer Mosaic Classes, Chunky Knit Blankets, Take Home Painting Kits, Virtual Live Streaming, In Studio and Virtual Private Parties! • Aprons and supplies provided • Snacks are welcome • Real wine glasses – no paper or plastic • There's always rockin' music Pinot's Palette Naperville 175 W. Jackson Avenue Downtown Naperville www.pinotspalette.com/naperville Glancer Magazine • JUNE 2023 • WESTERN SUBURBS • 63COMMUNITY LIVING
Page 64
BLACKBERRY FARM Live & Uncorked Concert Series AURORA–Bring a chair and snacks to enjoy this BYOB evening full of great music at Blackberry Farm in Aurora. Purchase your tickets online or at the door – tickets pur-chased before the day of the concert lock in an early bird rate! Live & Uncorked season passes are a great option to enjoy all 8 concerts for a discount. Live and Uncorked is for ages 21+, identification will be required and checked prior to entry for all guests. Doors open at 6:15 p.m. LIVE & UNCORKED LINEUP • THURSDAYS AT 7PM June 8: Libido Funk Circus June 15: Hello Weekend June 22: Billy Elton June 29: Yankee Cowboy July 6: Infinity July 13: R-Gang July 20: Dancing Queen July 27: Semple www.foxvalleyparkdistrict.org/summerconcertsCOMMUNITY LIVING64 • WESTERN SUBURBS • JUNE 2023 • Glancer Magazine
Page 65
COMMUNITY LIVINGOTTER COVE Photos with Ollie & June ST. CHARLES–Themed around a river otter and his friends, Otter Cove offers water fun for everyone! Featuring a zero-depth entry activity pool, a shallow pool for toddlers, a splash park with water wheels, dumping buckets and spray cannons, a sand/water play area, and rides that twist, turn, and twirl through water that shoots, sprays, and spins. Race down the salamander slides. Enjoy an inner tube ride along turtle creek. Flitter around Dragonfly Den. Hop all over the Frog Bog. Exercise in the Crayfish Canal. Exciting activities are sure to appeal to every water enthusiast, from the most energetic cannon baller to the most laid-back floater. From weekly recurring activities such as "Photos with Ollie & June" every Monday at 1 p.m. and the "Not So Lazy River Walk" aquatic workouts every Sunday, Tuesday and Thursday afternoon to themed special events such as the "Fun Fiesta" on June 11, "June's Party Picnic" on June 17, "Ollie's Birthday Bash" on July 8 and the ever-popular "Christmas in July" on Tues-day, July 25, there's something special for everyone nearly every day of the summer. Most aquatic events are included with the daily admission fees. www.ottercove.org/calendar Glancer Magazine • JUNE 2023 • WESTERN SUBURBS • 65
Page 66
COMMUNITY LIVINGSUMMERTIME FUN Downtown Naperville Is "Flying Into Summer" NAPERVILLE–Downtown Naperville Summer Sculptures Are Coming! One of the tell-tale signs that summer is just around the corner is the announcement of the Downtown Naperville summer sculptures! After seeing so many fun and creative sculptures over the years (dinosaurs, sail-boats, dogs, pickup trucks, and more), 2023's sculpture theme is Flying Into Summer! As a result, 19 uniquely cre-ative dragonfly benches will be scattered throughout the downtown area! Dragonfly benches will be on display from early June through mid-September. Wander around down-town and enjoy the painted creations! You can even down-load a map to easily find all the sponsored sculptures at downtownnaperville.com! www.downtownnaperville.com support the arts66 • WESTERN SUBURBS • JUNE 2023 • Glancer Magazine
Page 67
COMMUNITY LIVINGSUMMERTIME FUN Aurora Downtown AURORA–Aurora Downtown hosts a full summer of events from First Fridays to Alley Art Festival. First Fridays, a popular monthly event, features art, live music, and more at dozens of participating venues throughout downtown. Summer dates are June 2, August 4, and September 1. No event in July. It's free and all ages are welcome. Music & Market on Stolp Ave. is a new outdoor market and live music event. Free to enter, the six-week series is from 5 p.m. to 8 p.m. on Wednesdays starting July 12. Movie Nights at Mundy Park will screen Men in Black on July 27, and Almost Famous on Aug. 24. Bring a chair and enjoy a free movie under the stars. Alley Art Festival welcomes dozens of local and regional artists to downtown for a fun, free-spirited event from noon to 5 p.m. on August 26. www.auroradowntown.org Glancer Magazine • JUNE 2023 • WESTERN SUBURBS • 67
Page 68
Cuteness at Arlo.Hendrix Kids Cute Summer Outfits! BATAVIA–Discover the most adorable clothing for your little ones at Arlo.Hendrix Kids! From newborns to 9/10-year-olds, they've got you covered with the latest and cutest styles for both boys and girls. Their-collection features high-quality pieces that are both comfort-able and stylish. Come visit us and let your kids shine with their trendy and playful designs. Their 4th of July collection just dropped and it is ADORABLE! www.arlohendrix.com Kid Stuff68 • WESTERN SUBURBS • JUNE 2023 • Glancer Magazine Heroes Funtastic 5K Geneva Commons • Saturday, July 8 GENEVA–All ages are invited to take part in the Heroes Funtastic 5K Walk/Run presented by Geneva Commons in partnership with the Autism Hero Project. Partial proceeds benefit the nonprofit Autism Hero Project. Registration: 7:30 am Walk/Run Start: 8:00 am Walk/Run End: 10:00 am www.shopgenevacommons.com/event/ heroes-funtastic-5k/Kids' Movie Night Maggiano's Naperville • June 20 • 6-9pm NAPERVILLE–Such a cute event! Kids are invited to attend. Children ages 4-12 are welcome for this dinner & a show. The featured movie is Encanto" and the show starts at 6:45. Enjoy a dinner buffet that in-cludes: Tacos & Nachos, Assorted Toppings, Churros, and of course the usual movie snacks - Popcorn & Candies. Milk, Juice, Soda, Tea & Coffee Included. Adults must be present during entire event. $30/child & $30/adult inclusive of tax & gratuity. Tickets: bit.ly/3C7d7bk
Page 69
KID STUFFADVENTURE IN NAPERVILLE Add More Play to Your Summer NAPERVILLE–DuPage Children's Museum (DCM) inspires families to laugh, learn, and love spending time together! Every visit is an adventure that will spark curiosity, nurture creativity, and lead to new discoveries. Make a splash in AWEsome Water, build with real tools in the Construction House, feel the wind on your face in AWEsome Air, roll through Make it Move, explore light and shadow in Creativity Connections, and enclose the entire family in one giant bubble! Save the date for Mess Fest – Saturday, June 24. Celebrate all things MESSY and experience DCM ooey-er, gooey-er, and sloppy-er than ever be-fore. Make a plan to dive in, get dirty, and don't forget to dress for a mess! www.dupagechildrens.org adventure awaitsGlancer Magazine • JUNE 2023 • WESTERN SUBURBS • 69
Page 70
70 • WESTERN SUBURBS • JUNE 2023 • Glancer Magazine COMMUNITY LIVING
Page 71
Glancer Magazine • JUNE 2023 • WESTERN SUBURBS • 71COMMUNITY LIVINGGLEN ELLYN Professional Landscape Lighting Make Your Home Come Alive After Dark Just like any other homeowner, you should feel proud of your property. Years of sacrifice and labor went into achieving your ideal house, so why not show it off with beautiful outdoor lighting? Landscape lighting enhances the look and safety of your home and adds value. When you hire a professional electrical company to install and plan your landscape lighting, you are assured that you are receiving professional and high-quality choices of outdoor lighting fixtures, unparalleled workmanship and safety that will protect your investment for the future. Hi-Lite Electric takes great pleasure in offering outdoor lighting options that will illuminate your house and garden and chase away the darkness. Contact them today and find your inspiration. www.hilite-electric.com or (630) 897-4300
Page 72
H4 TRAINING GET 1-ON-1 PERSONAL TRAINING AT H-4 TRAINING, TWO SUBURBAN LOCATIONS WHEATON & GENEVA–It's time to take care of #1 with H4 Training! This program is best for individuals with very specific needs who require dedicated attention. H-4's sessions focus on the specific goals of each client with workouts tailored to each person. Visit online to learn more and to check out the many other programs available to you. H4 Training. Wheaton & Geneva locations. www.h4-training.com/services/personal-training/FFIITTNNEESSSSCOMMUNITY LIVING72 • WESTERN SUBURBS • JUNE 2023 • Glancer Magazine
Page 73
FITNESSCOMMUNITY LIVINGGlancer Magazine • JUNE 2023 • WESTERN SUBURBS • 73CAREER VISION APTITUDE TESTING CAN HELP STUDENTS CHOOSE MAJORS AND CAREERS What are you doing after high school? You know further edu-cation is important. Do you need help finding the right career choice? The Career Vision Aptitude Advantage can help. Aptitudes identify your strongest talents, the jobs you would enjoy and be good at doing. Combining your aptitudes with your interests, Career Vision reveals your career choices. You also receive resources about college majors, job outlook, and preparation needed for those careers. If you have asked "What should I study?", "What will I do after college?" and want to learn how Career Vision can help, give them a call. Their assessment process is a positive and an objective way to give you confidence to make good career choices. And your Personal Career Consultant will take time to discuss the test results with you and go over all your choices. If you are going to college and want to know what to study, reach out to Career Vision today. If you have graduated col-lege and still haven't found your best fit, the professional con-sultants at Career Vision can help you, too. For over 30 years they have been helping students and adults find their best ca-reer choices. Career Vision • www.careervision.org • (630) 469-6270CCOOLLLLEEGGEE TTIIMMEE
Page 74
Page 75
TUPELO LANE DESIGNS Cabinet Refinishing and So Much More! NAPERVILLE–Exciting news! Tupelo Lane expanded their serv-ices to give you even more options. In addition to their existing offerings, this talented cabinet refinishing team now provides backsplash installation, new cabinet hardware, countertop re-placements, and wood flooring refinishing. "We understand the significance of a beautiful kitchen, and we are here to assist you in creating a stunning and unique space. Our team of professionals is highly experienced and committed to making your kitchen shine," shared Michele Fenton, Owner. "With top-of-the-line paint and primers, along with advanced sanding and staining techniques, our cabinet painting service is unparalleled. Choose from a range of materials for the perfect backsplash and counter tops to add a stylish touch to your kitchen." Offering quick quotes and can be reached: 630-200-3295, email -TupeloLaneDesigns@gmail.com or Free Quote | Cabinet Painting & Door Replacement | Tupelo Lane Designs www.tupelolanedesigns.comGlancer Magazine • JUNE 2023 • WESTERN SUBURBS • 75
Page 76
3. Village Green Park and Ackerman Sports & Fitness Center GLEN ELLYN–Village Green Park offers six (6) pickleball courts in addition to the playground, splash pad, baseball diamonds, basket-ball court, trails, and the garden plots inclusive with a demonstration garden. Stay tuned for six (6) new courts coming to Ackerman Park next year! Also, Open Pickleball is available indoors at Ackerman Sports & Fitness Center www.ackermansfc.com www.gepark.org/tennis-pickleball-courts/ 2. Rotary Park YORKVILLE–This park is lo-cated in the Grande Reserve Subdivision. It includes a 90 foot cable ride, a climbing wall, a skate area complete with 2 skate boxes, and a concrete start ramp. There is also a walking path, a bike rack, sports fields, and two dedicated pickleball courts. www.yorkville.il.us/Facilities/ Facility/Details/Rotary-Park-29 4. Wheaton Sport Center WHEATON–The Wheaton Sport Center's Vision is to provide a place where their-members can gather and enhance their physical, emotional and social well-being through pickleball. Their goal is to provide a premier venue where their members can learn to love the game of pickleball, offer quality instruction to allow for skill de-velopment and a place where competition and com-munity coexists. Join the Suzee Anderson Pickleball Academy and learn the game! www.wheatonsportcenter.com 1. Naperville Tennis Club NAPERVILLE–This 10-court in-door tennis, indoor pickleball, and outdoor swim facility lo-cated in Naperville serves all ages and skill levels. Adult Pickleball players enjoy com-petitive and social Open Play events, as well as year-round access to the courts. Also, their competition-size, 6-lane pool and gated kiddie pool are prized by families who seek either summertime fun, competitive swim, or both. www.napervilletennis.comWhere to Enjoy the Hottest Trend in Recreational Sports Pickleball is one of the most social racquet sports out there; whether you're playing with friends or strangers, you'll have plenty of opportunities to bond over friendly competition. The game itself is just plain fun! The fast-paced nature of this sport ensures that matches remain exciting throughout. Get out there & enjoy the game! Here are 7 Spectacular Suburban Pickleball Hot Spots SUBURBAN PICKLEBALL HOT SPOTS2.1.4.3.76 • WESTERN SUBURBS • JUNE 2023 • Glancer Magazine
Page 77
6. James O'Breen Community Park ST. CHARLES–Home to Campton United Soccer, Tri-Cities Soccer Association, Chicago Soccer Academy and Predator Rugby Club.Regional Trail Access to the Great Western Trail and Randall Road Bike Trail. Park amenities include basketball, disc golf, football, rugby, lacrosse, six (6) pickleball courts, soccer, a play-ground, and trails. www.stcparks.org/pickleball/ 6.7. Doerhoefer Park DOWNERS GROVE–This park offers a vari-ety of active recreation opportunities under lights, including baseball and softball fields; foot-ball, soccer and lacrosse on a synthetic turf field; and basketball, tennis and two pickleball courts, all lighted for evening use until 11 pm. Bonuses include ADA acces-sible playgrounds and a .39 mile loop walking path. Be on the lookout for eight (8) new pickleball courts coming soon to McCollum Park! www.dgparks.org/news/pickleball-update 7.5. Mill Creek Community Park GENEVA–Mill Creek is overflowing with summer entertainment with a unique nature center, playground, trails, sports fields, basketball, and four (4) pickleball courts. Plus enjoy the nearby Mill Creek Pool! Splash into fun with a variety of great fea-tures such as a separate zero-depth play pool with a water mushroom and spray bubblers; and an interactive water spray ground. www.genevaparks.org5.Glancer Magazine • JUNE 2023 • WESTERN SUBURBS • 77www.glancermagazine.com
Page 78