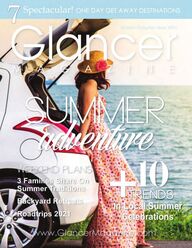 Return to flip book view
Glancer Magazine, June 2021
Page 1
Page 2
Page 3
Page 4
Page 5
TABLE OF CONTENTS T E A M G L A N C E R PUBLISHER Glancer Magazine Inc PUBLISHING DIRECTOR Lindy Kleivo JUNE 2021 EDITORIAL Print Digital Kristen Kucharski Columnist Writer Mindy Kyle Columnist Writer Brianna Bartemeyer Features Writer SALES MARKETING Lindy Kleivo Publishing Director PHOTOGRAPHY Mike Catuara Features Photographer P U B L I C A T I O N S GLANCER MAGAZINE A West Suburban Chicago Lifestyle Magazine Featuring the Best of West Suburban Chicago for Communities In DuPage Kane Kendall GLANCERMAGAZINE COM A Hyper Local Daily Features Site Highlighting On Trend Stories for Communities In DuPage Kane Kendall GLANCER GO TO GUIDE Highlighting Local On Trend Events Deals for For Communities In DuPage Kane Kendall C O N T A C T U S EDITORIAL Press Releases Local Events Community News editorial glancermagazine com ADVERTISING Digital Advertising Local Marketing Solutions advertising glancermagazine com SUBSCRIPTIONS Monthly Download Daily Digital www glancermagazine com Glancer Magazine highlighting the best of DuPage Kane Kendall Counties is produced by Glancer Magazine Inc Glancer Magazine GlancerMagazine com You ve Been Glanced and the Glancer logo are registered trademarks of Glancer Magazine Inc All rights reserved Magazine reproduction in whole or in part is strictly prohibited JUNE 2021 Vol 19 Summer Adventure June is here and this month we will be sharing many fun things to do throughout Chicagoland kicking off the month with the June 2021 issue featuring family summer traditions trending local events one day destination getaways and more Subscribe today for daily weeky and monthly updates at www GlancerMagazine com Copy right 2 0 2 1 All Rights Reserved Glancer Magazine Inc SUMMER ADVENTURE WEST SUBURBAN CHICAGO WELCOMES SUMMER Here we go June is here and this month we will be sharing many fun things to do throughout Chicagoland kicking off the month with the June 2021 issue Our pages include the Cover Feature introducing our readers to three local area families who share their Family Summer Traditions Other resident features include a new feature Project Re loved featuring a local area resident who has a passion for restoring yesteryear We love summer in the suburbs and that s why we will be dedicated the entire month of June to celebrating introducing and sharing all of the fabulous things to do for you and your family The 10 Trends In West Suburban Summer Happenings features trending must attend events and activities While our 7 Spectacular List highlights one day destination spots for those who want to get away Stay connected to www GlancerMagazine com all month long for daily posts photos features event highlights and more Be sure to subscribe to your community so you don t miss anything As always thank you for reading Glancer Magazine Your readership and your viewership are so valued and we wish each of you a fabulous summer filled with adventure Enjoy Lindy Kleivo Publishing Director West Suburban Area With Her Daughter Madison Who Shares Her Love for Boating JUNE 2021 5 Hello From Glancer Magazine 7 5 Things to Do 8 COVER Local Family Summer Traditions 14 Summer Adventure 16 Fun On the Fox 18 Downtown Naperville Be In The Mix 20 Annual Art Fair at Naper Settlement 21 Naperville History Honoring WWII 22 10 Trends In Local Summer Happenings 26 Unique In Suburbia Happy Dog Barkery 28 Dining Cocktails Where to Go Why 30 Women Owned Introduing Entree Kitchen 32 Trendy Traveler A Hawaii Family Vacay 34 Moms Little Black Book Ottawa Brewery 36 NEW FEATURE Project ReLoved 38 Million Dollar Listing On the Water 42 Literary Local Deborah Marqui 44 To Give To Inspire Suicide Prevention 50 Kid Stuff Summer Fun for Every Age 52 Summer Days Camps Programs Fun 60 What s New In West Suburban Boutiquing 68 7 Spectacular One Day Destination Spots SHARE OUR FEATURES ONLINE TODAY www GlancerMagazine com Glancer Magazine JUNE 2021 WESTERN SUBURBS 5
Page 6
Page 7
1. Classic Car Show on Jackson Avenue June 19 • 9am-12pm www.downtownnaperville.com NAPERVILLE–Weather permitting, enjoy a leisurely stroll on Jackson, along the Riverwalk and enjoy the looks of up to 100 Classic Cars in all makes and models. Free to Attend. Cars will be on display on Jackson Avenue, along the Riverwalk, between Eagle and Main Streets! 3. Centennial Beach Now Open! www.centennialbeach.org NAPERVILLE–Get ready for some warm weather fun at Naperville's fa-vorite outdoor swimming destination! Spend the day and enjoy the Beach's many amenities including a shallow end slide, water play features, sand beach, diving complex and more. Bring your own food and enjoy a picnic or grab a bite at Centennial Grill. Mem-bership and daily pass information in addition to facility information and guidelines are available at web site. 4. Frida Kahlo: Timeless at Cleve Carney Museum of Art In Glen Ellyn www.theccma.org GLEN ELLYN–Featuring a collection of pieces on loan from the Museo Dolores Olmedo in Mexico City, "Frida Kahlo: Timeless" ex-plores the life and work of one of the most well-known painters of the 20th century. With 26 original pieces on display, accompanied by a historical exhibit that dives into the details of Kahlo's life. Additional items on display include reproductions of Kahlo's distinctive clothing, more than 100 photographs from throughout her life and a Kahlo-in-spired garden. Presented in association with the McAninch Arts Center at the College of DuPage, this exhibition is on display at the Cleve Carney Museum of Art in Glen Ellyn. SUMMER 20215 Things to Do5. Swedish Days 2021 • June 24-27 www.genevachamber.com GENEVA–Geneva's largest festival features a host of family-friendly activities with live musical entertainment, a carnival, Kids' Day fun, multi-ethnic food plus great shopping in our historic downtown. Check the Chamber website for updates, including details regarding a Chocolate Crawl planned for June 27. Due to Covid-19, the Arts and Craft Show and parade are canceled this year. Other events are subject to change. Glancer Magazine • JUNE 2021 • WESTERN SUBURBS • 72. Kane County Flea Market June 5-6 In St. Charles www.kanecountyfleamarket.com ST. CHARLES–The Kane County Flea Market is the place to find antiques, collectibles, and fancy junque. The Flea Market is known as the "Best in the Midwest or Anywhere," so come and find unique items! $6 daily admission with free parking.Painted Mural Part of Glen Ellyn's Community Wide Exhibit Honoring Frida Kahlo
Page 8
COVER STORY FAMILY summer traditions 8 WESTERN SUBURBS JUNE 2021 Glancer Magazine
Page 9
Glancer Magazine • JUNE 2021 • WESTERN SUBURBS • 9The Schmoker Hall Family SHERIDAN/ST. CHARLES–Building summer memories begins early in the year for Dirk, Stephanie, Sophia (3), and Emma (19 months) with a tradition that began with Stephanie's mom when she was a young girl. Each May Day the family creates May Day bas-kets with flowers, candies, and small gifts and delivers them to each one of their neighbors without being identified which provides giggles galore for the lit-tle ones and smiles abound for the recip-ients. As soon as Stephanie completes her school year teaching at St. Marks in St. Charles, the summer transitions seamlessly with the creation of a family bucket list inclusive of going to the zoo, hitting every park in the area, making homemade ice cream and popsicles, observing sunsets from their farm cliff, and watching movies under the stars. "We also follow astronomical happenings and were even able to catch the comet on Sophia's birthday last year," Stephanie says. "We often watch the moonrise too and love to star gaze and have the children join in all we do. We call our outings adventures, and the girls get so excited when we tell them we are going on an adventure." Living on a farm offers unique memories of their own kind. Last summer marked the beginning of a new tradition of COVID camping with the Hall cousins on the farm, highlighted with catching fireflies. The envi-ronment also allows for eating clean and teaching the girls how to garden. "We have pots on the deck, sensory gardens, a veggie garden, and a flower cutting garden. We cook from our garden; our girls love salads, fresh veggies, and fruits, and love to go berry picking and hiking in the woods." Summers are completed with lots of water and mud play, family vaca-tions, and always end with a trip to the Sandwich Fair in September. -Story by Kristen Kucharski, Photos by KimberleeB PhotographyCOVER STORY
Page 10
COVER STORY10 • WESTERN SUBURBS • JUNE 2021 • Glancer Magazine
Page 11
The Wijangco Family NAPERVILLE–Having three active boys in the family makes for extremely dynamic summer fun for the Wijangco family. Traditionally speaking, Owen (12) plays baseball at Nap-erville Little League, Carter (17) fishes many different bass circuits and travels the U.S. throughout the year, and Max (14) skate-boards, snowboards, and mountain bikes. Summers bring family fun to Centennial Beach, fishing at May Watts Pond, hiking at Waterfall Glenn, morel mushroom hunting, and gardening at the garden plot through Naperville Park District; ho-wever, they also visit Iowa quite a bit because that's where mom grew up and loves to share childhood traditions with her boys. "Each summer we visit Decorah, Iowa and trout fish in the countryside. It is beautiful, serene and one of my favorite activities with the boys. We also visit a drive-in movie theatre in Maquoketa, Iowa and The Ma-quoketa Caves State Park is an absolute must see if you go to Iowa - it is a state park like no other," Jill says. "You can hike through many caves and it offers breathtaking hiking. If you do visit the Quad City, you must try Whitey's ice cream and Happy Joe's pizza - taco pizza is a must!" Now that they boys are older, this summer Ray is taking them along with other dads and their kids to the Boundary Waters of Minnesota where they will portage (carry) their canoes for up to a mile from one body of water to the next. This is Ray's third year continuing a tradition that was completed by Jill's dad with her cousins' years earlier. The boys will canoe, camp, and fish for a week with absolutely no cell service or civilization. The Wijanco's have a bit of practice with this type of life-style. Ray is the Cubmaster for Pack 101 and Jill is the Conservation Director for Illinois Bass Nation and was a Den leader for Cub Scouts for five years. The family works hard and plays hard. Other adventures this summer include Ray and Owen backpacking to Pitchard Rocks National Lakeshore in Mu-nising, MI where they will camp for 4 days. Max is also making his second trip to Camp Woodward which is a sleep-away camp in Woodward Pennsylvania. Max will skateboard and learn from the very best for an entire week and Ray will tag along as a camp volunteer. The Wijangco's enjoy staging vacations surrounding their children's pas-sions. Last year, Jill and her mom went to Table Rock Lake in MO and watched Carter at one of his fishing tournaments and they were able to visit her mom's childhood home in Steelville, MO on the way and it brought back so many wonderful memories. Other memories include traveling to Kentucky Lake for one of Carter's high school tournaments and Ray and Jill enjoyed mountain biking while Carter was fishing. The tans will fade but the summer memories will last forever……as every summer has a story. We didn't realize we were making memories; we were just having fun! -Story by Kristen Kucharski, Photos SubmittedGlancer Magazine • JUNE 2021 • WESTERN SUBURBS • 11COVER STORY
Page 12
12 • WESTERN SUBURBS • JUNE 2021 • Glancer MagazineCOVER STORY
Page 13
COVER STORYThe Horan Family GLEN ELLYN–Traditions are very important to Collin and Amanda Horan, and they look forward to keeping old summer traditions alive with their 15-month-old daughter Bennett. Collin recalls fond memories of family boat trips along the Mississippi River while growing up in Iowa and this is something they plan to continue for their family as well. Amanda has great summer mem-ories of the neighborhood kids getting together and playing outside until dinner time and feels for-tunate to live in a strong community like Glen Ellyn to recreate the same for Bennett. "We also look forward to building new traditions for our family like our an-nual block party, fireworks at Lake Ellyn for the 4th, and traveling to visit Lake Michigan," Amanda shares. "We love attending all of the awesome festivals that happen around the Western Suburbs each summer, such as the Geneva Car Show and Country Road music festival in Glen Ellyn. Another favorite is to have "farmer's market dinners" where we go to a local farmer's market and create a whole menu from what is available there. It has allowed us to meet some great local vendors and try new foods and flavors." With a family motto of "Keep Having Fun" – making everything they do an adventure while celebrating every milestone and event, has allowed them to incorporate their business as well, and achieve the perfect work/life blend. "Our social accessory company, Line + Cleat is focused around our love for life on the water so we usually are planning our family vacations and day trips around areas that lead us to a shoreline," Amanda says. "We love that we can accomplish great things for the business while also giving our daughter some wonderful memories explor-ing lake towns, boat rides, and days at the beach!" At home, the work/life blend also involves membership with St. Petronille Catholic Church, participation in the Glen Ellyn Park Dis-trict Music Classes, serving as a board member of the Glen Ellyn New-comers & Neighbors, as well as volunteering with Glen Ellyn Infant Welfare. Amanda also feels blessed to be a part of the Glen Ellyn Mom's Village which has been a wonderful resource for her to connect with new friends, introduce local events, and network with other moms of her com-munity. Life may take the Horan family down many paths, but their favorite jour-ney always leads back to the beach. "Find Your Shoreline" is not only the motto for their business, but the motto for their life. Glancer Magazine • JUNE 2021 • WESTERN SUBURBS • 13
Page 14
JUNE BLISSSUMMER ADVENTURE14 • WESTERN SUBURBS • JUNE 2021 • Glancer MagazineConcerts in Your Parks All Summer Long www.napervilleparks.org/concertsinyourpark NAPERVILLE–Naperville Park District Concerts in Your Park is a Sunday evening summer music series for families and neighbors; each concert is held at a different neighborhood park. Bring your lawn chairs and blankets for a FREE evening of outdoor musical en-tertainment from 7pm to 8:30pm. Join your friends and neighbors for the musical event coming to your area on June 13, 27; July 11, 18, 25; and August 1.Summer's Back at Centennial Beach www.centennialbeach.org NAPERVILLE–Summer's Back at Centennial Beach, so get ready for some warm weather fun at Naperville's favorite outdoor swimming des-tination! Spend the day and enjoy the Beach's many amenities includ-ing a shallow end slide, water play features, sand beach, diving complex and more. Bring your own food and enjoy a picnic or grab a bite at Centennial Grill. Membership and daily pass information in ad-dition to facility information and guidelines are available online.Father's Day Fun! www.centennialbeach.org NAPERVILLE/CHICAGO– Friday, June 18 through Sunday, June 20 • $20 to $45 per person packages How fun is this! Whirly Ball is offering a package that's ideal for family gatherings to celebrate Dad this Father's Day, WhirlyBall will offer a Summer Series package which includes a special deal on entertainment paired with food and drink. Reservations are strongly recommended. Visit online for package types and inclu-sions.
Page 15
JUNE BLISSSUMMER ADVENTUREGlancer Magazine • JUNE 2021 • WESTERN SUBURBS • 15
Page 16
SUMMER ADVENTURERIVER EDGE PARK See What's Planned for Summer AURORA–TICKETS ON SALE NOW! West suburban Chicago is all a buzz as concert venues start to open up, inluding Aurora's River-Edge Park, opening July 1. REO Speedwagon will play their first live concert since the pandemic right here in Aurora. Forty million records sold, 13 top 40 hits and millions of fans later, REO is still rocking the rafters. Be there for this momentous event. Poi Dog Pondering will be playing here on August 28 with many tribute bands playing in be-tween to include Tusk, Hollywood Nights and Stayin' Alive. www.riveredgeaurora.com FUN ON THE FOXPhoto by RiverEdge Park16 • WESTERN SUBURBS • JUNE 2021 • Glancer Magazine
Page 17
SUMMER ADVENTUREFUN ON THE FOXGlancer Magazine • JUNE 2021 • WESTERN SUBURBS • 17
Page 18
SUMMER ADVENTURE ON THE TOWN D O W N T O W N N A P E R V I L L E Be In The Mix NAPERVILLE Whether you re here to shop dine spa or stay you ll find the perfect mix of over 150 best in class stores and spas alongside Naperville s most exciting eateries from fine dining bistros to bites on the go Discover your favorite shops spas and restaurants in our pedestrian friendly historic downtown with amenities in every direction Visit online to view the directory for business listings and hours or use the convenient click go online maps for helpful guides when planning your visit It s your time spend it well www downtownnaperville com
Page 19
Glancer Magazine • JUNE 2021 • WESTERN SUBURBS • 19ON THE TOWNSUMMER ADVENTURE
Page 20
20 • WESTERN SUBURBS • JUNE 2021 • Glancer MagazineNaperville Woman's Club 61st Fine Art & Artisan Fair SATURDAY & SUNDAY, JUNE 26-27 • 10AM-5PM NAPERVILLE–After a year hiatus due to COVID-19, the Naperville Woman's Club (NWC) is proud to host the Naperville Fine Art and Ar-tisan Fair (FAAF). The event will be held at Naper Settlement, 523 S. Webster Street, downtown Naperville. The FAAF – a NWC signa-ture tradition for over 60 years – is a community celebration of the vi-sual arts bringing over 100 talented artists, fine crafters, and gourmet food vendors together to browse and shop in a perfectly charming at-mosphere. Fair goers will also enjoy music, adult beverages, and special activities: a participatory community mural, an immersive walk-through scene drawn by famed 3D Chalk Artist Shaun Hays, a new Petite Picasso area for kids' activities and a balloon artist. The Fair is free including admission to the Settlement. For more information, visit www.napervillewomansclub.org. To volunteer, contact Nancy at general@napervillewomansclub.org. ART FAIRSUMMER ADVENTURE
Page 21
Glancer Magazine • JUNE 2021 • WESTERN SUBURBS • 21Local World War II History Now on Display at Naper Settlement NAPERVILLE–Explore Naperville's World War II history at Naper Settlement this spring. Answering the Call: Naperville at War 1941-1945 will engage visitors with a story that is almost entirely local and personal. Hear the stories of the Napervillians who served in all branches of the military, Japanese internment workers who came to work here, local "Rosie the Riveters" at Kroehler Manufacturing and more! For more information, please visit www.NaperSettlement.org/Exhibits. NAPERVILLE HISTORY
Page 22
10 TRENDS 2021 10 TRENDS West Suburban Summer Happenings SUMMER FUN AWAITS Here are 10 trends that are hot and happening rthis summer throughout the western suburbs Have fun 1 Summer Solstice Indie Music Festival www solsticemusicfest com YORKVILLE Rogue Barrister Productions along with The Law Office Pub and Music Hall and the City of Yorkville present the Summer Solstice Indie Music Festival on the banks of the mighty Fox River on June 25 26 Come see some of the best new artists in the Country This one of a kind event is presented in the historic downtown district of Yorkville Admission is free 2 Weekly Live Music www stcalliance org livemusic ST CHARLES The St Charles Alliance presents weekly live music line ups each week via their website where music lovers can find all the best of musical performances at local venues such as Flagship on the Fox D G Brewing Co Pollyanna Brewing Co Eden Restaurant Events ROX Billy Bricks Global Brew Tap House Evergreen 22 WESTERN SUBURBS JUNE 2021 Glancer Magazine
Page 23
#3 | Wheaton Art Walk www.downtownwheaton.com/event/wheaton-art-walk/ WHEATON–The Downtown Wheaton Association will be hosting this ju-ried art festival in downtown Wheaton on Hale Street and Karlskoga Avenue on June 12-13 from 10am-5pm. The Wheaton Art Walk will showcase the work of many juried artists from around the world in a va-riety of mediums, including ceramics, fiber, glass, jewelry, painting, sculpture and more. In addition to the incredible artwork available for purchase, attendees will be able to interact with artists through demon-strations and booth chats. Free Admission. #4 | Batavia Boardwalk Shops www.downtownbatavia.com/batavia-boardwalk-shops/ BATAVIA–Ten unique seasonal retail shops located at 114 East Wilson Street at Route 25 and Wilson Street. The Shops are open now through December 19, 2021. Shop hours are Friday 10am-7pm.; Saturday 9-4pm.; Sunday Noon to 4pm. Stores include Farmdog Flowers, Gallery of Wood, Wanerin' Barefoot Farm, EV Creative, CatTalpa Manor, Pretty Pages, New Moon Vegan, Bumblebee Cottage Apothecary, MoJo Re-Creations, Black Angel Designs. #5 | Morton Arboretum Human+Nature www.mortonarb.org/events/humannature LISLE–The Morton Arboretum's summer outdoor art exhibition, Human+Nature will inspire awe and wonder as it connects people and trees. Internationally renowned artist Daniel Popper created five 15- to 26-foot-tall sculptures exclusively for the Arboretum that will be featured in various locations across its 1,700 acres, leading guests to areas they may not have explored before. It will be his largest exhibition to date anywhere in the world. #6 | Wines & Finds www.downtownglenellyn.com GLEN ELLYN–Taste, explore & celebrate at Downtown Glen Ellyn's pre-mier wine tasting and shopping event on June 18 from 5-8pm Only 150 tickets will be sold! Begin by bringing your ticket to Cabernet & Co (434 N. Main St.). You'll receive your Wines & Finds tasting glass and a pro-gram detailing the participating businesses. Each store will offer two wine selections to taste and light appetizers specifically chosen to pair well with the wines. Shop and enjoy! #7 | Live and Uncorked www.foxvalleyparkdistrict.org AURORA–Bring a blanket, picnic basket and your favorite craft beer or bottle of wine while enjoying an evening of great music at Blackberry Farm in Aurora. Live & Uncorked is for ages 21+ Thursdays evenings at 7pm from June 17 through July 29 featuring popular bands such as Dick Diamond and The Dusters, Libodo Funk Circus, Strung Out, Billy Elton, Second Time Around, Semple, Voyage. #8 | PrairieFest www.prairiefest.com OSWEGO–We've got a lot to celebrate this Summer! PrairieFest might need until Labor Day to get our full-scale fun together – but the Oswe-goland Park District has a dedicated Summer Carnival coming to Prairie Point Park in Oswego over Father's Day Weekend. Plan for Thursday, June 17-Sunday, June 20 for thrills, rides, and midway games. Visit Prai-rieFest.com for Summer Carnival hours or to learn more about the bands and entertainment coming together for the Labor Day Weekend, September 3-6, PrairieFest event. #9 | Naper Nights www.napernights.org NAPERVILLE–Naper Nights Concert Series Returns to Naper Settle-ment on July 16-17, August 13-14, and September 17-18. Get ready for a summertime tradition that features cold drinks, great food, and fab-ulous music! Naper Nights explores major historical milestones and their effect on pop culture with themed musical tribute concerts. Rock out with your community as you eat, drink, dance, and hear the area's best tribute bands perform your favorite rock, pop, country, and soul hits! This year's line-up includes tributes to the Beach Boys, Rolling Stones, Dave Matthews Band, and more! For tickets, please visit #10 | Downers Grove Farmers Market www.facebook.com/DowntownDownersGroveMarket DOWNERS GROVE–Sponsored by the Indian Boundary YMCA and Vil-lage of Downers Grove, the Downtown Downers Grove Market has of-fered the community everything from fresh food to crafts and live entertainment. With more than 100 vendors, there's something for ev-eryone! Glancer Magazine • JUNE 2021 • WESTERN SUBURBS • 23
Page 24
DOWNTOWN NAPERVILLEWELCOME TO NAPERVILLE About Kerwell Premium CBD House NAPERVILLE–At Kerwell, we strive to recharge your health and peace of mind through our curated collection of pure, premium, 100% Hemp, CBD products. It is our mission to locally source the best natural products, provide a premium se-lection and a learning atmosphere to help educate and inspire the community to elevate their beauty, health and wellness routines with a CBD lifestyle. CBD enhances our bodies own ability to repair and correct irregularities. CBD doesn't intervene in anything on the inside of us. CBD works by interacting with receptors in your body called the endocannabinoid system (ECS). Your ECS regulates stress, sleep, pain, anti-inflammatory, immune system, mood and much more. It's always working to keep your body in its optimal state. Visit us online 24/7 at www.kerwellness.com and let us help get you on the road to a new and healthier lifestyle.CBD LIFESTYLE
Page 25
FAMILY FUNCBD LIFESTYLEGlancer Magazine • JUNE 2021 • WESTERN SUBURBS • 25NAPERVILLE WHIRLYBALL'S BACK! Make Your Reservation Today NAPERVILLE- From friendly competition and entertainment to exceptional food and drink, WhirlyBall Naperville provides the perfect venue for all ages and occasions. The two-story "eater-tainment" complex features a variety of activities including Whir-lyBall, LaserTag, HyperBowling and bowling plus private event spaces for groups of any size. Round out your event with cus-tomized menus featuring The Pivot Room's selection of elevated American fare and craft beverages. Book your event today! Whirlyball Naperville 3103 Oddyssey, Naperville (630) 932-4800 www.whirlyball.com SoFun!
Page 26
HAPPY DOG BARKERY Love unconditionally. Be loyal. Enjoy the outdoors. Play. Walk more. Express gratitude. Live simply. Greet loved ones with enthusiasm. These aren't just pandemic reminders - these are important teachings from our furry family members. "Everything I know I learned from dogs." -Nora Roberts Dogs aren't just pets - they're an extension of the family … and a reminder that family doesn't have to be blood. The human-animal bond is unlike any relationship; it's a re-lationship that provides physical, mental and emotional support. It's no surprise that dog owners are looking for ways to spoil their four-legged friends. In fact, we can thank Millennials for the uptick in pet consumer-ism - they're responsible for the growth of premium dog food. Enter Happy Dog Barkery. In April 2004, Happy Dog Barkery opened its doors in Downers Grove. This beloved shop just celebrated its 17th anniversary! The 'barkery' is a women-and-family-owned, pet-specialty retailer that features an in-house dog bakery. They make the following: cookies, cakes, stews, froyo, donuts, meatloaf, pill dough, soft pretzels, chips & liver and liver mac & cheese. It's all about variety! All recipes are regulated by the Depart-ment of Agriculture, too. Fun fact - HDB gets spent grains from Alter Brewing, a local brewery. Spent grains are lower in carbs, gluten-reduced, high in fiber and high in protein - a sustainable way to repurpose and upcycle food locally! As warmer days are upon us, be sure to treat your pooch to some well-deserved froyo! Peanut butter, banana, berry and maple bacon are stan-dard menu flavors - but, speciality favors are sprinkled in seasonally. Cheers to tasty new memories - it's sure to be a tail-waggin'-good-time! Watch for Unique In Suburbia Every Month with Glancer Magazineby Brianna Bartemeyer Photos by Mike CatuaraUNIQUEinSuburbia26 • WESTERN SUBURBS • JUNE 2021 • Glancer MagazineUNIQUE IN SUBURBIAIn Downers Grove
Page 27
Glancer Magazine • JUNE 2021 • WESTERN SUBURBS • 27UNIQUE IN SUBURBIA
Page 28
Why So Many LOVE VAI'S NAPERVILLE–If you're on social media, you have probably seen many shares, "likes" and positive reviews about VAI's Italian In-spired Kitchen+Bar located in Naperville near Fox Valley Mall on Route 59. As Savory & Sweet Sister's shared in their March 2019 review of the restaurant, Vai's has a generous space to host large groups and private events. Whatever the event– Vai's is the place to have it! As we thoroughly enjoyed our food, a couple got engaged just a few tables away and then were whisked to a private dining area to be further surprised by family. Along with the generous space, the owners have generous hearts and a vision of sharing their new space with the community hosting fundraisers. VAI's serves American/Italian Contemporary food. Artisan small plates. Wood fired pizza. House made pasta. A huge wine selec-tion. Check out their new outdoor patio - it's amazing! www.vaisnaperville.com DINING DELIGHTSWEST SUBURBAN DININGDININGDINING + COCKTAILS28 • WESTERN SUBURBS • JUNE 2021 • Glancer Magazine
Page 29
18 • WESTERN SUBURBS • JULY 2020 • Glancer MagazineDINING + COCKTAILSCCoocckkttaaiillssSaki Flights & Craft Cocktails Head Downtown Naperville for this Delightful Treat NAPERVILLE–Blue Sushi Sake Grill offers a creative sushi experi-ence for purists and adventurers alike. Guests enjoy an energetic dining experience, unique in atmosphere with the food and drink to match. A large maki, sashimi and nigiri menu is complemented by Asian-inspired starters, entrees, soups, salads, desserts, and an ex-tensive drink menu that includes premium cold sake. Blue offers happy hour food and drink specials every day, including weekends. www.bluesushisakegrill.comLife Is Better at the Hampton Social BURR RIDGE–Inspired by the feeling of long summer days spent on the coast, The Hampton Social is the perfect place to imbibe and relax. The "Rosé All Day" lifestyle, coastal-inspired cuisine and hand-crafted cock-tails creates the perfect social atmosphere. A playful, modern espcap worth celebrating at this coastal-inspired restaurant hotspot. Multiple lo-cations. Our favorites are Burr Ridge, Streeterville and River North. Cheers! www.thehamptonsocial.comA Happy Hour So Delightful Head to Ditka's for Happy Hour from 3-6pm M-F OAK BROOK–Some words of inspiration from football legend Mike Ditka—"The will to win means nothing without the will to prepare." So let's prepare by eating a good meal at this supper club that doubles as a hall-of-fame to the former coach of the Chicago Bears. The walls are lined with tributes and Ditka's personal mementos. Try one of these original dishes—French Onion and Sauerkraut "Hangover Soup," Black and Blue Tuna "Puttanesca," Training Table Pot Roast or Cow-boy T-bone with Soupy Red Beans. Guests love visiting for the legen-dary Happy Hour help Monday through Friday from 3pm-6pm. www.ditkasrestaurants.com/event/happy-hour/Glancer Magazine • JUNE 2021 • WESTERN SUBURBS • 29
Page 30
30 • WESTERN SUBURBS • JUNE 2021 • Glancer MagazineFOOD & KITCHEN
Page 31
Bringing Dinner Back to the Kitchen Table Diane and Richard Beaulieu absolutely loved the convenience of Entrée Kitchen for nightly dinners in a world of work, sports, and everyday busy-ness. They were regular clients when they took over ownership in 2009. Richard maintained his job as a Forensic Accountant, but also now holds the titles of CFO, Delivery Man, IT and Maintenance Guru for Entrée Kitchen; while Diane loves having complete autonomy to do whatever is necessary to take care of their kitchen team and customers on a day-to-day basis while balancing their family life of raising their three teenage sons who are active in swim, the Civil Air Patrol, band, and orchestra. The family works together to support local school PTAs by offering fund-raising programs. Although it may appear, Entrée Kitchen is like other "meal prep" companies, there are many factors that set them apart, such as the bonus of being able to get right to cooking without the need of a knife and a cutting board to do all the prep first. This allows most of their meals to be freshly cooked in about 30 minutes versus 20 minutes of prep work first, before the cooking process even begins. Made-to-order entrees can be customized to include organic meat upgrades on many of our entrees, as well as other substitutions or eliminations to meet specific dietary restrictions; and unlike most companies, Entrée Kitchen al-lows the option of drop in and same day ordering from their well-stocked freezers with over 40+ different entrees, as well as a full complement of sides, desserts, bread, and appetizers too. An additional option is "Our weekly fresh menu, called Delicious Dinners in a Dash." Diane says. "These entrees are available Monday afternoon through Friday and cook in 30 minutes or less. Plus, we will also have four Mother's Day Specials, a special grilling menu for Father's Day, and offer a monthly Budding Chef's Program specifically geared toward getting the kiddos get to help out in kitchen." With over 900 entrees in their database, finding a family favorite will be diffi-cult, but bringing dinner back to the kitchen table has never been easier! Entree Kitchen 26W276 Geneva Road, Carol Stream, IL 60188 (630) 668-4450 • www.entreekitchen.com Photos by Mike CatuaraWOMEN-OWNEDFOOD & KITCHENGlancer Magazine • JUNE 2021 • WESTERN SUBURBS • 31
Page 32
32 • WESTERN SUBURBS • JUNE 2021 • Glancer MagazineTrendY A WALT DISNEY RESORT Walt Disney Imagineers worked hand in hand with local arti-sans and cultural experts to create Aulani, A Disney Resort & Spa. Inspired by the natural wonders and rich traditions of Hawai'i, Aulani Resort is the ultimate family getaway—cele-brating the beauty, history and welcoming spirit of the island. Located in Ko Olina, meaning "fulfillment of joy," Aulani Resort spans 21 acres along the island's leeward coast. Perfectly posi-tioned on a beautiful lagoon with a white-sand beach, Aulani Re-sort is truly a vacationer's paradise—and only about a 20-minute drive from Honolulu Airport. With 112 miles of shoreline, O'ahu is a nature lover's paradise with tons of things to do for families. Aulani, A Disney Resort & Spa is nestled in the vibrant Ko Olina community and just a short distance from Honolulu, Waikiki and Kailua—havens for world-class shopping, dining, sightseeing and cultural activ-ities.A Family Escape to Aulani In HawaiiTravelerTRENDY TRAVELER
Page 33
Glancer Magazine • JUNE 2021 • WESTERN SUBURBS • 33FAMILY TIME Aulani Resort offers family fun and surprises at every turn. Snorkel in private Rainbow Reef lagoon, splash in the misty grotto, play in pools with special Disney touches, and dine at restaurants with menu choices for adults and children. Your vacation is better together at Aulani Resort! YOUR PERSONAL PARADISE At Aulani Resort, adults, teens and kids each have special places to call their own. While adults reconnect, children love the complimentary kids club that taps into cool island culture and stories. Teens quickly discover the water sports, spa, salon, teen-only activities—and beachy snacks at the Lava Shack. Everyone's happy! A FUN FAMILY SPA EXPERIENCE Something unique is that Aulani offers family spa services so all ages can enjoy a relaxing spa experience. Discover spa therapies and salon treatments for nearly every member of your family. Kids love the PAINTED SKY: HI STYLE STUDIO where girls and boys ages 3 to 12 will love getting a fun fashion trans-formation—and a brand new look—with a Painted Sky, HI Style Studio stylist…and a little pixie dust! The full-service salon at Laniwai offers a variety of services for men, women and kids ages 5 and up. AMAZING ACCOMMODATIONS Like a Hawaiian valley flowing from mountains to sea, Aulani Resort takes you on an exploratory journey of your own design. Our beautiful accommodations are the perfect place to come to-gether and discover the luxurious, Hawaiian-inspired elegance, modern amenities—and the welcoming spirit of aloha. Get cozy in one of our soothing standard rooms—or spread out in a gor-geously appointed suite or Villa boasting separate gathering areas. THE DISNEY EXPERIENCE  Experience Aulani Resort, combining the wonder of Disney with the beauty of Hawai'i in one legendary vacation destination. Ex-plore exciting activities and share exhilarating moments amidst pristine beaches and natural beauty on the island of O'ahu. Throughout your stay, you'll discover a one-of-a-kind vacation through: –Activities and Entertainment Showcasing Disney Storytelling –Encounters with Disney Characters –Recreational Fun for All Ages –A Complimentary Kids Club –Wondrously Themed Pools, a Lazy River, Rapids & Waterslides –World-Renowned Disney Service –Luxe Accommodations with Magical Disney Touches www.disneyaulani.com
Page 34
BREWERY AND BUFFALOS We celebrate the dads in our life in the month of June and what better way than to take them on a Brewery Tour in the middle of Starved Rock Country! Awesome Ottawa Tours boasts a plethora of history tours guided by Ottawa's own Tom Aussem who is rich in knowledge about the finer fascinating details of this small town. Although it was a tough pick as the Wine Through Time tour was tugging at us strongly, and the Obscure Bike Tour sounded like a unique way to caravan through time; with dads in mind this month, we selected the Brewery Tour at Tangled Roots Brewery, and we plan on returning in October to try the an-nual haunted tour which partners with the Paranormal Research In-stitute for a reality experience of its own kind. The brewery tour started with tasting hops and barley, and we learned the ins and outs of making beer. We were inside and out-side, upstairs and downstairs, and saw the kettles, fermenters, washers, and the like, including the bottling line which was reminis-cent of Laverne and Shirley and inclusive of our own reenactment of 'Schlemiel! Schlimazel! Hasenpfeffer Incorporated!' because it just had to be sung. We took home souvenir caps, discovered the art brewing, and were engrossed in the history of the building, the owners, and the town, and how it all came together. Of course, the tour also included a complimentary flight of farm to foam craft beer which was enjoyed with our amazing dinner at Tan-gled Roots Brewery. After the tour, Tom shared other highlights of Ottawa and encouraged us to visit Buffalo Rock State Park which overlooks the Illinois River. We enjoyed a short hike, amazing view, and a personal en-gagement with the three buffalo on the premise that interacted with us and provided many laughs and unexpected memories. Just a short 52-minute drive from home, it felt like we were a million miles away for the day. Awesome Ottawa Tours provided an engaging afternoon of something unique and different, and we cannot wait to go back for another experi-ence! Overview Starved Rock Country's only guided history tours. Seven unique tours to choose from. Drive, bike, walk, hike, brewery, and wine tours. Awesome Ottawa Tours 624 Court Street, Ottawa, IL (815) 343-4940 • www.awesomeottawatours.com Hours: Tours available 7 days a week Price $: Price Varies Depending on Tour ABOUT THE WRITER Naperville mom Kristen Kucharski graduated from Illinois State Uni-versity in 1992 with an International Business Degree. She has two energetic daughters and her house is always full of children. Kristen's column titled, Mom's Little Black Book, is a monthly feature written for moms who are looking for ways to keep their kids busy. Read her past columns at www.glancermagazine.com/bloggersby Kristen Kucharski Photos Submitted MOM'S lile black bookMOM'S LITTLE BLACK BOOK34 • WESTERN SUBURBS • JUNE 2021 • Glancer Magazine
Page 35
COMMUNITY LIVINGHOME DECOR Trend + Relic Offers More than Just Home Decor tST. CHARLES–trend + relic is an experience that shoppers remember, as this unique multi-vendor marketplace has carefully selected experienced merchants who are artisans, builders, refinishers and painters, boutique owners and more each offering the most special items to adorn your home and make you feel beautiful. The talented merchants work hard to create and curate unique items, both vintage and new. Many of the treasures that you will find at trend + relic have been handcrafted including jewelry, candles, furni-ture & art and they have a variety of clothing & accessories, too. Each of the wonderfully talented mer-chants have created beautiful spaces in the shop as well as local markets so you will find some of your very favorites here. Owned by Karri and Heather, together they bring years of retail, decorating, design, staging and paint-ing experience to the shop. Their vision was to bring a unique shopping experience to Saint Charles like no other– creating a space that felt inspired, comfortable, friendly and passionate. At trend + relic, we are confident that you will experience all that and more. You will also find monthly paint classes which include 'How To' and 'Make and Take' workshops. Call the shop or visit to learn about upcoming classes, including girls night out boutique events trend + relic, 1501 Indiana Avenue, St. Charles, Illinois • (630) 803-5253 • www.trendandrelic.com MOM'S lile black bookSS.. CChhaarrlleessGlancer Magazine • JUNE 2021 • WESTERN SUBURBS • 35
Page 36
36 • WESTERN SUBURBS • JUNE 2021 • Glancer MagazineRELOVEDProjectRESTORING YESTERYEAR
Page 37
Glancer Magazine • JUNE 2021 • WESTERN SUBURBS • 37Kevin Peterson's Passion for Repurposing Vintage Shines through In His Latest Project, Giving this 1964 Travel Trailer New Life NAPERVILLE–Kevin enjoys and appreciates a "Vintage" element to everything, from ve-hicles to buildings. He believes nothing should be discarded and through adaptive re-use and restoration, everything can have a meaningful and continued life. "I grew up with a father who said that 'you can do just about anything, if you have the right tools and the right teacher. So, never be afraid of a challenge,' Kevin says. "With that in mind, this work on the trailer has been won-derfully enjoyable." Referring to the 1964 Travel Trailer, a COVID-inspired purchase in November 2020. He and his wife, Janet began discussions on their love of travel and finding a way to travel more, but on their own terms. 'Influenced by my father, I have built many construction projects and restored and worked on numerous vintage cars and motorcycles since I was nine years old," Kevin says. "So, this project seemed like a perfect blend of all of that expertise." With a refresh of the exterior accent color remaining, the project is about 99% completed. Since November, Kevin gutted the interior and re-designed and re-built the 7 x 10-foot space into a more func-tional modern design. The remodel included a layout change of the kitchenette and mechanical closet to provide a separate Porta-Potty room and more storage, new lighting, flooring, countertops, cabi-nets, a new dinette table, microwave, and electric cooktop. "This was truly a 'mini house' project that involved the disciplines of carpentry, cabinet making, woodworking, laminating, electrical, plumbing, painting, staining, etc.," he says. "I found an old Armoire that I used one of the doors for the Porta-Potty Room and cut the other one up for new drawer fronts. The drawer pulls are from an old 1960's cabinet; the Metal Art Feather (gifted to my wife from a Native-American artist) on the kitchenette face is decorative as well practical, for a towing security strap for the Kitchenette drawers; the Live-edge Walnut shelf was milled from a tree that I had taken down on our property, and most of the wood used on the project is from scraps that I had in my workshop." Most importantly, behind every successful ren-ovation or adaptive re-use includes passion and needs to have and tell a story. According to Kevin, without that depth, it is just replacing materials and appliances, and the like, without a soul. Kevin feels blessed to have a wonderful wife and adult children to share his lifelong passions of ren-ovating spaces throughout his 30 years of owning his architectural practice that included some well-known suburban projects such as: • A 10,000 square foot Dairy Barn designed to be re-used as a Sin-gle-Family home. • The Woodstock Theater involved the renovation of the original His-toric 1920's theater (Ground Hog's Day fame) as well as a major expansion that spans 3/4 of a City block in the Woodstock Down-town area • The Lake Theater in Oak Park, The Tivoli in Downers Grove, The York Theater in Elmhurst and numerous others. • The renovation of the historic Bank building in downtown St. Charles also included a major expansion on a very challenging site. Kevin also stays busy as a Board Member of Kids Matter, The Avery Coonley School, Chair of the Naperville Historic Commission, and a member of the Chamber of Commerce Team B2B, and when time permits, he pursues his other passions of aviation, vintage cars, motorcycles, cooking, art, guitar, and skiing. He lives life on his terms and shares his talents graciously. -Kristen Kucharski, Photos Submitted To Share Story & View More Photos, Visit www.GlancerMagazine.comRELOVEDBeforeAfterRESTORING YESTERYEAR
Page 38
MILLION DOLLAR lliissttiinnggOne of a Kind In Naperville The details in the design, from floors to ceilings make this Naperville Es-tate unique. Amenities begin right as you pull in with the stucco, stone & copper exterior and slate roof, surrounded by lush gardens. The formal entrance & dining room with exquisite Murano chandelier begins your tour of this breathtaking home. The interior luxury inclusions are beyond impressive. Vacation at home with the infinity pool and hot tub, outdoor full bath, fireplace/pits, putting green, basketball/volleyball/tennis/shuffle bd courts. This home is truly breathtaking. Your luxurious oasis awaits! $3,649,000 5 bed, 9 bath, 9,451 sq. ft., .95 acres 51 Ford lane, Naperville, IL(847) 381-7100 Listed by: Jameson \Sotheby's Int'l Realty38 • WESTERN SUBURBS • JUNE 2021 • Glancer Magazine
Page 39
River Location The Perfect Home for an Active Family! One of the largest properties on the Du-Page River. Access the river from your own backyard for Kayaking, Rafting and Fishing. Ride your bike down the street to the well known Dupage River Trail, ideal for cycling, running and hikingREAL ESTATEGlancer Magazine • JUNE 2021 • WESTERN SUBURBS • 39
Page 40
HHOOMMEE DDEESSIIGGNNHOMEWERKS View Remodeling Gallery Online NAPERVILLE– Recognized as a premiere remodeling company, with a 10,000 square foot showroom in Naperville, HomeWerks has a beautiful online gallery of photos and ideas to help you plan your next remodeling dream come true. Now's a great time to start planning your next kitchen, bath or basement project! Family owned and operated since 1996, HomeWerks special-izes in full service remodeling. The kitchen and bath displays are interactive, allowing visitors to experience many product features first hand. With the focus of providing high quality products, pro-fessional installation and exceptional customer service HomeWerks Kitchen and Bath • www.myhomewerks.com HOME DESIGN + DECOR40 • WESTERN SUBURBS • JUNE 2021 • Glancer Magazine
Page 41
HOME DESIGNHOME DESIGN + DECORNONA JO'S In Home Consultation NAPERVILLE–Have you every wished you had a friend in interior design? Well, you do! Invite Nona Jo's in to see your space. Why is it so easy to help a friend design her space, but when it comes to your own house you freeze up? Don't worry; Non Jo's design team understands! Their team will work with you to make the right choices that fit your style. Whether you are building, remodeling, or refreshing your house, they'll be by your side for every decision. From flooring, paint colors, kitchen and bath remodels to custom furniture, window treatments, artwork, lighting, and accessorizing, we will transform your house into a home. The Nona Jo's Design Team gets excited about transforming any space. No project is too small or too large. Their consultation process is friendly and relaxed. The first step is to set up a Walk and Talk. Two designers will visit your home, get a feel for your spaces, take measurements, and listen to your vision for the project and understand your needs. Next is a followup e-mail reviewing the visit and prioritizing the project. Then together you can decide the plan. Learn more today at www.nonajos.comSummer DesignGlancer Magazine • JUNE 2021 • WESTERN SUBURBS • 41
Page 42
by Mindy Kyle Photos SubmittedDEBORAH MARQUI of ST. CHARLES From the Fire into the Garden: A Healing Journey In 1995, when author and licensed clinical social worker, Deb-orah Marqui received a terminal diagnosis of non-Hodgkin's lymphoma, she knew her healing journey would have to in-corporate not only her body but also her mind and spirit. "Cancer diagnosis has a way of waking you up to life," says Deborah. "I knew I would need to embrace a meditation prac-tice and found being attentive to nature brings you back to your senses and keeps you in the present moment." Deborah felt called to create a beautiful and peaceful retreat setting that would help others connect with God through nature and offer a path to healing the soul. The Healing Gardens at her Stone Hill Farm was creatively built with serene, wooded paths and colorful perennial gardens and is open to others as a meditative sanctuary. Cancer free from the lymphoma since 1996 and in remission from breast cancer in 2002, Deborah has written her intimate and soul-baring memoir, From the Fire into The Garden: A Healing Journey, that takes the reader through the "fire" of suffering cancer into the creation of her Healing Gardens. What began as journal entries to make sense of the sudden, shocking reality of a terminal diagnosis became a powerful raw account of the author's transformational journey. To read and gain a deeper understanding of Deborah's soul journey, you can purchase her book on Amazon and Barnes and Noble and in Townhouse Books in St. Charles. It can also be purchased when visiting the Healing Gardens at Stone Hill Farm. To learn more, visit www.healinggardens atstonehillfarm.com. KNOW A LOCAL AUTHOR?  We'd Love to Meet Them! Introduce Us at editorial@glancermagazine.comLITERAARRYYlocal42 • WESTERN SUBURBS • JUNE 2021 • Glancer Magazine
Page 43
PERSONABLE, ENERGETIC & CREATIVE REAL ESTATE PROFESSIONAL SUSAN COLELLA OF BAIRD & WARNER This proud Naperville resident shares that helping local sellers and buyers doesn't feel like work making it easy to be dedicated and re-sults oriented When she is hired to list a home she gains much of the marketing inspiration from her sellers when she asks " what do you love about your home?" From there she designs high end cus-toms booklets with professional photography & drone shots, de-scriptions of updates, & develops unique ways to target the right buyers on the internet. Restyling her listings with professional stag-ing , 3D tours great for out of state buyers and constant follow up with all parties are all included for her recipe of success! Susan is currently meeting with sellers & buyers now in anticipation of a thriv-ing Spring market~ Call luxury listing agent Susan Colella anytime to discuss your real estate goals for 2021. Susan Colella, Baird & Warner, (630) 946-3813Susan ColellaREAL ESTATEGlancer Magazine • JUNE 2021 • WESTERN SUBURBS • 43
Page 44
To Give, To InspireCARING + SHARINGA Monthly Caring + Sharing Column44 • WESTERN SUBURBS • JUNE 2021 • Glancer Magazine
Page 45
Suicide Prevention Services Batavia This past year has been hard on so many of us. I see often in the news health reports showing in-creases in loneliness, de-pression, anxiety and unfortunately suicide. We all need to watch out for each other. This is why organizations such as Suicide Prevention Services (SPS) out of Batavia become so in-valuable. SPS's mission is to open minds, restore hope and save lives through prevention, intervention and post-vention. "My mom, Ellen Weber, died by suicide in 1979," says Stephanie Weber, Executive Director of Suicide Preven-tion Services as well as a licensed clinical professional counselor. "At that time, there were no services avail-able for those who had a loved one die from suicide. SPS is one of few organizations in the United States to have prevention, intervention and postvention under one roof." Their prevention services take the form of educa-tion and training through workshops and presentations tailored to the needs of an organization, school or agency. Here they can teach the community warning signs, risk factors, and resources available and put more people on alert. Intervention is their 24/7 Hotline. SPS is one of the centers for the National Suicide Prevention Lifeline (1-800-273-8255) and has a local depression hotline (630-482-9696) as well. The organization's ther-apists are also available to handle walk-ins, appoint-ments and referrals from schools and third parties. Postvention is for the aftermath of suicide including in-dividual and family counseling and their support group, Survivors of Suicide, which is for family members or friends who have sur-vived the death of a loved one. SPS also offers SOSA (Survi-vors of Suicide At-tempts) for anyone who has tried to take their life but lived. SPS has four major fundraisers a year. The upcoming events are the 5K at the Batavia River-walk (June 5th), the "Here for Life Walk" in St. Charles that memorializes loved ones lost to suicide (September 11th), the "Harvest of Hope" Brunch at the Aurora Coun-try Club (November 21st), and their Christmas Eve fund-raiser where those who contribute receive a luminaria bag with their loved one's name written on the front and a lit candle inside that is then placed on the walks of SPS. Suicide Prevention Services is "Here for Life" and invites the community to attend or volunteer at any of their events. Donations are always welcome. Members of the community can also become involved by training to be a hotline paraprofessional volunteer for the 24/7 hot-line. More information about SPS and their services can be found on their website, www.spsamerica.org. ABOUT THE WRITER Mindy Kyle is passionate about helping people discover what brings them joy and to live a full, healthy and happy life. She has her Master of Fine Arts degree in creative writing from DePaul University and is a veteran of Chicago's theater and commercial world as well as a graduate of the Second City Improv School. Mindy lives in Naperville with her hus-band, three children and the cutest dog in the land. VIEW MINDY'S MONTHLY COLUMN AT www.GlancerMagazine.com/to-give-to-inspireBatavia Organization Restores Hope & Saves Llives through Prevention, Intervention & Postvention CARING + SHARINGGlancer Magazine • JUNE 2021 • WESTERN SUBURBS • 45
Page 46
CREATIVE MARKETING STRATEGIES PENNY O'BRIEN – One word that consistently comes to clients' minds when they think of Penny O'Brien is "hustle." As a Seller Representative Specialist, she loves meeting with sellers to discuss pre-market home improvements and guide them to make their home "showtime ready" when it hits the market. She strongly believes in professional staging and offers it as a complimentary service. With a reputation for "good-looking listings," she helps clients realize a higher return and quicker sale. Penny says "Staging transforms a home from average to amazing". Penny O'Brien Broker Relocation Specialist / Negotiation Expert (630) 207-7001 • penny.obrien@bairdwarner.com Read Penny's Local Industry Expert Column at www.GlancerMagazine.com PPeennnnyy OO''BBiieenn46 • WESTERN SUBURBS • JUNE 2021 • Glancer Magazine
Page 47
Glancer Magazine • JUNE 2021 • WESTERN SUBURBS • 47DOWNTOWN DOWNERS GROVE More Growth for Trending Downtown Area DOWNERS GROVE–A variety of small businesses, amazing owners and com-munity support makes downtown Downers Grove the destination it is today. Downtown Downers Grove is continuing to welcome new businesses, de-spite the pandemic. This month the community welcomes Dated to Ren-ovated at 926 Warren Avenue. We look forward to welcoming Eiffel Waffle at 1028 Curtiss and Rybell's Blow Dry Bar at 5221 Main Street. Plan your day to explore downtown Downers Grove! The boutiques will help you find the perfect gift for dad or the grad in your life! Don't forget to pick-up a treat for yourself, too! The restaurants and cafes can please every taste bud. The extended out-door has returned, offering many alfresco options in addition to indoor, de-livery and pick-up. Keep your eye out for beautifully painted windows at 15 downtown businesses, during the month of June, as part of the EQDG Pride celebration of Pride Month. www.downtowndg.org NEW IN TOWNCOMMUNITY LIVING
Page 48
www.h-4training.com Locations In Wheaton & GenevaH4 TRAINING GET 1-ON-1 PERSONAL TRAINING AT H-4 TRAINING, TWO SUBURBAN LOCATIONS WHEATON & GENEVA–It's time to take care of #1 with H4 Training! This program is best for individuals with very specific needs who require dedicated attention. H-4's sessions focus on the specific goals of each client with workouts tailored to each person. Visit online to learn more and to check out the many other programs available to you. H4 Training. Wheaton & Geneva locations. www.h4-training.com/services/personal-training/FFIITTNNEESSSSHEALTH + WELLNESS48 • WESTERN SUBURBS • JUNE 2021 • Glancer Magazine
Page 49
FITNESSHEALTH + WELLNESSDR. ALEESHA FISCHER What is Chiropractic? Chiropractic is a healthcare profession that focuses on the spine and other joints of the body, and their connection to the nervous system. The word chiropractic means "to be done by hand." Chiropractors use adjustments to restore joint function and support the nervous system. Accidents, falls, and postural stress can cause subluxations, which are misaligned verte-brae within the spine from its normal position. Subluxations put pressure on the nerve roots and can decrease function of nerve signals between the body and the brain. Left unresolved, they can lead to chronic con-ditions. The weight of a dime on a spinal nerve can reduce transmission by as much as 60% (Chang Ha Suh, PhD. Spinal Biomechanics Expert). Chiropractic Care at Naperville Chiropractic and Massage also includes soft-tissue therapies, massage, lifestyle recommendations, fitness coach-ing and nutritional advice. Naperville Chiropractice & Massage is located at 47 E. Chicago Avenue, Suite 332-B in Downtown Naperville. Love Your Spine! ♥Glancer Magazine • JUNE 2021 • WESTERN SUBURBS • 49
Page 50
Kid StuffKids Will Love the New Rainbow Cone In Lombard LOMBARD–Store no. 2 opens after 95 years of success in Chi-cago. Since 1926, Chicago's iconic Rainbow Cone has drawn pastel ice cream-lovers from far and wide to its pink, pastel-ified store on South Western Avenue in South Side. But now, nearly 100 years later, the brand added a second location on East Roosevelt Road in Lombard and the kids will LOVE it! Get ready for some photo opps, too. ww.rainbowcone.com 50 • WESTERN SUBURBS • JUNE 2021 • Glancer MagazineFamily Kid Rock aat Cantigny WHEATON– Wiggle, giggle, dance and sway, have some fun Kid Rock way! Kid Rock is a movement-based learning and imaginative play class with music. Join in for music that really can't be "beat"! Held at Cantigny's Rock Garden Parent/Child Program 1-6 Years, with Adult Four-Week, In-Person Session from 6/11-7/2 www.rockitkids.comDuPage Children's Museum Opens June 5 NAPERVILLE–On Saturday, June 5 DCM reopens for general admission. Guests can expect the same high-quality early learning experiences (and fun) but with new prac-tices in place such as timed admission and reduced capacity to help keep everyone safe. Tickets need to be purchased in ad-vance. www.dupagechildrens.org
Page 51
KID STUFF 2021SUMMER IN OSWEGO PrairieFest OSWEGO–We've got a lot to celebrate this Summer! PrairieFest might need until Labor Day to get our full-scale fun together – but the Oswegoland Park District has a dedicated Summer Carnival coming to Prairie Point Park in Oswego over Father's Day Weekend. Plan for Thursday, June 17-Sunday, June 20 for thrills, rides, and midway games. Visit PrairieFest.com for Summer Carnival hours or to learn more about the bands and entertainment coming together for the Labor Day Weekend, September 3-6, PrairieFest event. www.prairiefest.com OOSSWWEEGGOO FFUUNN!!Glancer Magazine • JUNE 2021 • WESTERN SUBURBS • 51
Page 52
Page 53
Glancer Magazine • JUNE 2021 • WESTERN SUBURBS • 53Now Open!
Page 54
54 • WESTERN SUBURBS • JUNEY 2021 • Glancer Magazine
Page 55
Glancer Magazine • JUNE 2021 • WESTERN SUBURBS • 55
Page 56
FAMILY DENTISTRY WITH A WIDE ARRAY OF SERVICES Valley View Dental offers a full array of general dentistry services, cosmetic dentistry, periodontal, dental implants, orthodontics proce-dures, and oral surgery. This includes Invisalign, BOOST Teeth Whitening, CEREC one-day crowns, and same-day emergency visits guaranteed. With a large staff of bi-lingual doctors and staff, on-site labs at each location, extended business and weekend hours, Valley View Dental has the ability to treat patients according to their own schedules and convenience with all Covid-19 precau-tions taken. Stop by and see why others in the community have trusted Valley View Dental for over 20 years. Located In Naperville, Montgomery & Romeoville Valley View Dental • www.vvdental.com DDEENNTTAALLHEALTH + WELLNESS56 • WESTERN SUBURBS • JUNE 2021 • Glancer Magazine
Page 57
EDUCATION NEWSCCOOLLLLEEGGEE TTIIMMEECAREER VISION All About Aptitude Testing What are you doing after high school? After college? Are you going to college? Do you need help to find the right career choice? The Career Vision Aptitude Advantage can help. Aptitudes identify your strongest talents and the jobs you would enjoy, and be good at doing. Combining your aptitudes with your interests, Career Vision shows you specific career choices. There are resources about college majors, job out-look, and what you need to prepare for those careers. If you have asked "What should I study?", "What will I do after college?" and want to learn how Career Vision can help, give this reputable organization based out of Glen Ellyn a call. Their assessment process is a positive and objective way to give you the confidence to make good career choices. And, your Personal Career Consultant will take time to discuss the test results with you and also go over all of your choices. If you are going to college and want to know why and what to study, reach out to Career Vision today. If you have graduated college and still haven't found your best fit, the professional consultants at Career Vision can help you, too. For over 30 years they have been helping people find their best career choices. Career Vision • www.careervision.org • (630) 469-6270Glancer Magazine • JUNE 2021 • WESTERN SUBURBS • 57
Page 58
HEALTH + WELLNESS58 • WESTERN SUBURBS • JUNE 2021 • Glancer Magazine
Page 59
GET TO KNOW IN HOME FITNESS BY VAL AND HER TALENTED TEAM  WESTERN SUBURBS–Transform your life today! In Home Fitness By Val & Team brings the workout to your home! Busy schedule? Not ready for a public gym? In Home Fitness by Val & Team provide private personalized work-outs with real results! Whether you have a home gym or not, they provide everything you need. In Home Fitness by Val, brings professionalism and fitness expertise to you. Enjoy the convienience of an in-home workout appointment. Val and her team can't wait to help you on your fitness journey! First session is FREE. In Home Fitness by Val www.inhomefitnessbyval.com inhomefitnessbyval@gmail.com SpotlightPhoto by Ashley SummersF I T N E S SGlancer Magazine • JUNE 2021 • WESTERN SUBURBS • 59
Page 60
SHOPPING + STYLEVELVET GRACE All Things Beautiful for Summer Take a drive and visit Velvet Grace in Oswego, it's worth the trip! Wander through our two boutiques which are packed with the un-expected combinations of home decor, wall art, frames, women's apparel, jewelry, accessories, candles, uncommon trinkets and more. Our design specialists are here to help with décor ideas, accessorize an outfit, or choose the perfect gift that speaks to your heart and soul. Also, Velvet Grace is a proud retailer of the #1, easy-to-use, Chalk Paint®, by Annie Sloan and we can guide you with your first project. 4025 US 34 Oswego • (630) 636.6570 SHOP NOW velvetgrace.shop BBOOUUTTIIQQUUIINNGG60• WESTERN SUBURBS • JUNE 2021 • Glancer Magazine
Page 61
SHOPPING + STYLEGlancer Magazine • JUNEY 2021 • WESTERN SUBURBS • 61
Page 62
62 • WESTERN SUBURBS • JUNE 2021 • Glancer MagazineSHOPPING + STYLE50% OFF SELECT GOWNS Destination Dress Boutique Since 2009 BATAVIA–Special Occasions has been charming area residents throughout Chicagoland since 2009 as a premiere destination location for beautiful gowns, dresses and evening wear. Guests travel from near and far to experience the selection of their dream dress in person, not just online. Upon entry into this beautiful downtown Batavia shop, you are welcomed by an array of unique dresses that you can touch and feel, offering you endless possibilities as you search for your dream dress, along with a knowledgeable stylist who is there to guide you. Here, you will find each season's most sought after styles and must-have dresses. Founded by Mary Marconi-Popiel in 2009, the shop's attention to detail makes the ordinary more extraordinary, giving you a shopping ex-perience that you will not forget. Special Occasions does not simply sell dresses– this local dress boutique sell dreams! Visit today for your next Special Occasion. SPECIAL! Enjoy 50% Off Select Gowns 2 N Batavia Ave., Batavia, Illinois, (630) 406-1515 www.specialoccasionsontheavenue.com SSUUMMMMEERRTTIIMMEE
Page 63
SHOPPING + STYLEGlancer Magazine • JUNE 2021 • WESTERN SUBURBS • 63
Page 64
SHOPPING + STYLESUMMER MUST-HAVES Jeans and a Cute Top Shop Invites You In WHEATON & ST. CHARLES–So many LOVE Jeans and a Cute Top Shop, a women's contemporary apparel boutique in downtown Wheaton and St. Charles. Residents travel from all over Chicagoland to shop this unique boutique. The Wheaton store also features a curated pre-loved collection of boutique brands that have been "bought back" from their customers and resell for $10-$40. If you have gently worn items, just a few years old, from respected boutiques or clothing stores, bring to the Wheaton store. If accepted, we pay $5 Cute Cash for each item. Cute Cash can be redeemed in any Jeans and a Cute Top Shop. How fun is that? Visit the shop in Wheaton or St. Charles or shop online today. Summer 2021 is here. Be sure you are fashion ready.Photos by Mike Catuara www.jeansandacutetopshop.com STYLE64 • WESTERN SUBURBS • JUNE 2021 • Glancer Magazine
Page 65
STYLEGlancer Magazine • JUNE 2021 • WESTERN SUBURBS • 65SHOPPING + STYLE
Page 66
SHOPPING + STYLE66 • WESTERN SUBURBS • JUNE 2021 • Glancer Magazine
Page 67
ON TREND ESSENTIALS Visit Online or at the Local Pop-Up NORTH AURORA–Urban Echo Shop features on trend essentials for the stylish at heart– from clothing and accessories, to home decor, furniture, gifts and seasonal trends. Owned by a mom and her daughter in Sugar Grove, Illinois, Urban Echo Shop was created to be an adored virtual hometown boutique where only the latest styles and trends are featured. Residents are invited sit back and relax while browsing the shop's simplified trend collections. Each day is a new day at Urban Echo Shop. VISIT THEIR POP-UP SHOP FOR SOME FUN ITEMS 1790 Town Centre Dr., North Aurora • Vendor #3 • At the EntranceEESSSSEENNTTIIAALLSSSHOPPING + STYLEGlancer Magazine • JUNE 2021 • WESTERN SUBURBS • 67
Page 68
2.. Wine and Hop Tasting Tours GALENA, IL–The Wine Tasting Tours all visit three of six vineyards in-cluding Rocky Waters, Fer-gedaboudit, Massbach, Stone Cliff, Sunset Ridge or Galena Cellars, and you will receive 5-9+ tastings per each of the locations. Hop Tours visit three of four loca-tions: one vineyard and one or two unique drinking establishment from the 1850's and/or a distillery, receiving one drink at each loca-tion. www.country sidetoursgalena.com 3. See the Mississippi MUSCATINE, IA–One of the most photo-graphed Iowa state parks, at Wildcat Den State Park, you can hike, explore, or camp. Wildcat Den State Park is one of the most unique parks in Iowa, combining natural beauty and solitude, unique trails and preser-vation of historical structures. Trails wind through a variety of terrain, leading to geolog-ical formations along the trail's sandstone bluffs, such as "Steamboat Rock," and the "Devil's Punch Bowl." Visit the Pine Creek Grist Mill, the oldest working grist mill between the Mississippi River and the Rocky Moun-tains, for a glimpse into Iowa's past. www.iowadnr.gov 1. Swim with the Dolphins INDIANAPOLIS, IN The Indianapolis Zoo is the only place in the Mid-west where you can get in the water with dolphins! This 90-minute Dolphin In-Water Adventure pro-gram includes 30 minutes of poolside and in-water time with the trainers and dolphins to sample feeding a dol-phin, signaling for be-haviors and lots of up-close, hands-on animal interactions. www.indianapolis zoo.com68 • WESTERN SUBURBS • JUNE 2021 • Glancer MagazineSometimes summer brings on a new kind of busy–from sports for the kids to family birthdays and holiday celebrations, like July 4th. Most summers many just do not have the availability to plan a full blown vacation. This month's list has just the right answer with one-day destinations that are perfect for a quick get away. They won't break the bank and they won't take up all of your time, but they will fullfill you and your family, giving you that much needed break. Here are 7 Spectacular Destinations for a One-Day Get Away. Enjoy!3.2.DESTINATIONS FOR A ONE-DAY GET AWAY1.
Page 69
6. Enjoy a Tour of Lake Delavan DELAVAN, WI–Climb aboard the Lake Lawn Queen, De-lavan Lake's two-level 76-foot cruise boat! The Queen will take you on a tour of Delavan Lake and its shores, which boast five Frank Lloyd Wright homes and other historical landmarks. The open-air top deck offers comfortable lounge seating and amaz-ing lake views from every angle while the climate-controlled main level provides various seating options and panoramic windows. www.lakelawnresort.com/amenities/delavan-lake-tours/ 5.. Horseback Riding Along the Trails of Oregon OREGON, IL–Ride 200 acres of wooded trails at White Pines Ranch. Conveniently located just 90 miles west of Chicago and only 30 miles south of Rockford, their bridle trails have rolling hills, creek crossings, lots of beautiful hardwood trees, and wildlife. Deer and other wildlife are often spotted. Their trails are suitable for beginners but beautiful enough to be interesting for more ex-perienced riders. Our riders just enjoy nature and being on the back of a horse! Riders must be 14+ and no pony rides available. www.whitepinesranch.com/public-horseback-riding4.. Mediate at the Japanese Gardens ROCKFORD, IL–The Anderson Japanese Gardens have been carefully designed and constructed using elements of stone, water, plants, pagodas, bridges, water basins, and more. All elements work together to inspire calm and tranquility in guests. The placement of every rock, alignment of every tree, and lay-out of all paths has been made with careful consideration to provide many wellness opportunities throughout such as Sound and Gong Bath, Yoga and Pilates, Mindful Art, Tai Chi, Mediation, and more. www.andersongardens.org7. Visit The Bahai'i House of Worship WILMETTE, IL–One of only eight continental Baha'i Houses of Worship in the world. It is the second Bahá'í House of Worship ever constructed and the oldest surviving. A unique experience both inside and throughout the outdoor gardens. www.bahai.us/bahai-temple/ 4.5.6.7.Glancer Magazine • JUNE 2021 • WESTERN SUBURBS • 697 SPECTACULAR LIST
Page 70