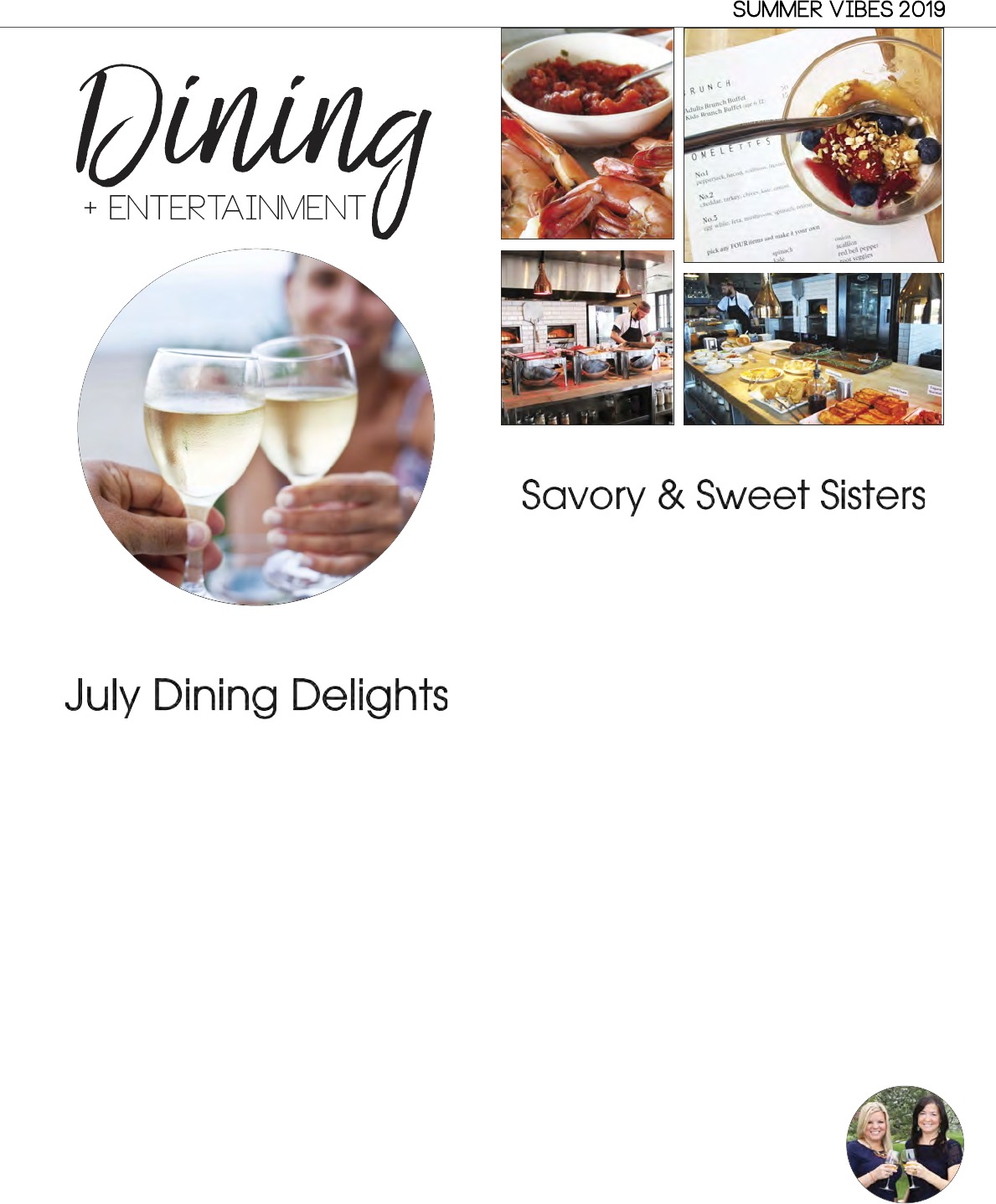 WESTERN SUBURBS – The crisp and clean air of summer brings simplicity to
the menus for wholesome clean eating at these west suburban restaurants.
Green Healthy Café in Lisle
offers a unique style of healthy homemade dishes
that can be quickly prepared with the highest quality ingredients and nutrition. No
GMOs; gluten-free foods; no dairy products except Greek plain yogurt which pro-
vides healthy probiotics; no sugar, only nature's sweetness (maple syrup and
honey); cage-free eggs; all providing fresh food daily with no preservatives.
Gia Mia has locations in both Geneva and Wheaton
and is rolling out a new
beverage menu for the summer. Their focus is chef-driven, farm-to-fork food con-
cepts such as Neapolitan style wood-fired pizzas, creative small plates, fresh
homemade pasta, antipasto, and hand-made mozzarella.
Artisan Table in Naperville
works hard toward their farm to fork concept through
every seed they plant and foster partnerships with Heritage Prairie Farm, Colum-
bia Street Roastery, Chicago 250, Twisted Olive and Farm Logix for their passion
and pride in growing local, organic and sustainable products to make and serve
delicious wholesome goodness in every meal.
Southern Belles Pancake House in Yorkville
is a standard American breakfast
diner also offering vegan options on the menu, highlighting specialty items such
as kale wraps, quinoa sliders, pancakes, tofu scrambles, and oatmeal.
Urban Counter has locations in Aurora, Chicago, Hinsdale, Naperville, St.
Charles, and Wheaton
and is an American Fare restaurant offering made to order
Burgers, Salads, Sandwiches, Shakes and more, which are all made using fresh
locally sourced products. The entire menu was crafted with the highest quality
ingredients in mind.
From casual lunches to formal dining, enjoy health and wellness mixed with sun-
shine and summertime vibes.
-Kristen Kucharski
SI
MPLIF
I
E
D
W
EST
S
UB
URBAN
DINI
NG
Santo Cielo
123 Water Street #509, Naperville
(630)323-0700 • www.stcielo.com
Owners: Rodrigo Cano & Julio Cano
General Manager: Emiliano Gottig
A FRESH WAY TO BRUNCH IN NAPERVILLE
Sitting atop Hotel Indigo, offering fresh views of downtown Naperville and a fresh and
exciting brunch menu, is Santo Cielo. Owners and brothers, Rodrigo Cano and Julio
Cano are known for their group of Latin restaurants, but with Santo Cielo they devel-
oped a menu with midwest roots then added global influence. On Sundays they host
a brunch like no other. With trendy décor, good vibes, affordability and breathtaking
vistas– it is a favorite of many!
Our server, Marcel Perez was prompt and knowledgeable. We started with two unique
mocktails that would liven up any meal. The Maiden Voyage's grapefruit, lemon, topo
chico and 7-herb syrup mixture was the perfect balance. The Paloma was light and
refreshing with grapefruit and lime. Both were the perfect introduction to our dining
experience.
Along with the brunch price of thirty dollars your meal includes a made to order omelet,
peruse the cold plate area along the bar or walk inside the kitchen to indulge in the
warm plate options. The variety is a nice surprise from the usual brunch faire. Cold
plate options include both quinoa and farro salads – both favorites of ours. The healthy
options went nice with yogurt parfaits topped with a gooseberry puree, fresh ripened
berries and a touch of granola. The diced fresh melon with a sprig of mint was simple,
but elegant. Among the charcuterie board and a smoked salmon board, you will find
the most succulent shrimp paired with a house made cocktail sauce and fresh oysters.
Wander into the open kitchen and enjoy a carving station of prime rib and pork belly,
scrambled eggs, rosemary potatoes, sautéed vegetables and perfectly cooked bacon.
The flavor in the chilaquiles will spice up your morning and keep you wanting more.
Muffins, donuts and bagels paired with a chive or guava cream cheese are delightful.
A variety of brick oven pizzas and avocado toast are a change from the usual brunch
array. Make sure to try the most delectable French toast both flavorful and creamy/but-
tery yet delicate. A new spin on chicken and waffles is the juicy chicken covered in
waffle batter served along side a spicy and sweet orange marmalade.
What a beautiful way to start the day this summer, whether with
friends or the whole family. Open air dining with a fresh brunch
menu and a kitchen with no boundaries!
ABOUT THE CRITICS
Stephanie (right) & Tiffany (left) Schmoker are west suburban sisters
who have always shared a love for dining out and they also enjoy cooking together. They
came from a family of 7 and grew up on farm with fresh fruits, veggies and more. Watch for
their review of a different west suburban restaurant in each issue of Glancer Magazine. Invite
them to your eatery at editorial@glancermagazine.com.
WEST SU
B
U
RB
A
N
ED
I
BLES
TO
LOVE
Glancer Magazine • JULY 2019 • WESTERN SUBURBS • 15