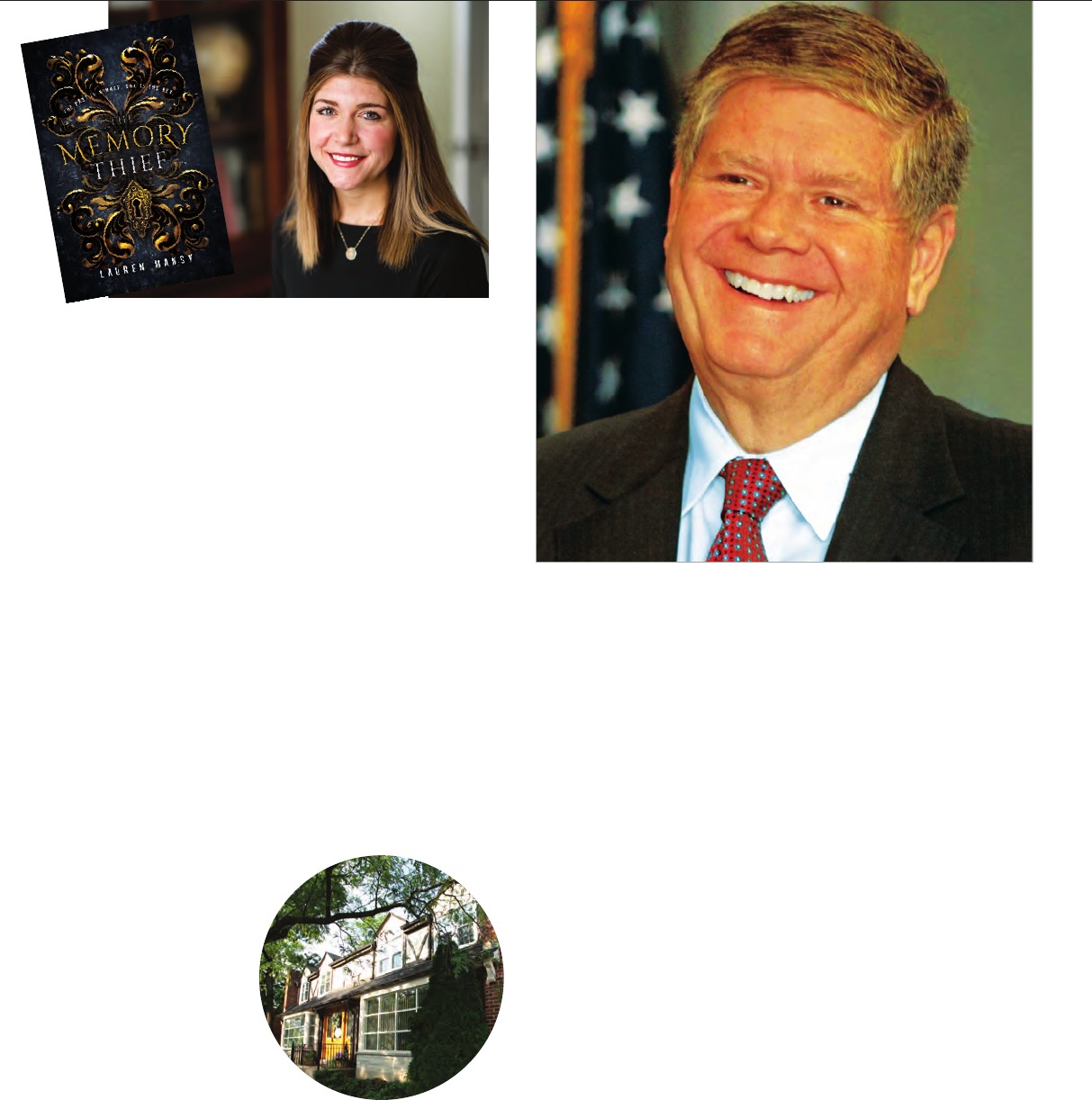 JIM OBERWEIS FOR CONGRESS
WEST SUBURBAN CHICAGO–Jim was born and raised in Aurora and had lived in
the same house for 42 years before moving to his current home. He has fond mem-
ories of his grandparents and their farm, and loved every chance he had to ride his
bike with friends down to the Fox River after a day of chores. Jim grew up knowing
the value of hard work, family commitment, and teamwork to get the job done right.
After graduating from Marmion Military Academy, he went on to earn a B.A. from the
University of Illinois at Champaign-Urbana, and an M.B.A. from the University of Chi-
cago Graduate School of Business.
He kept it local and took his first job as a math and science teacher at Waldo Junior
High School in Aurora; yet, never settling for status quo, he next launched Oberweis
Asset Management which now manages approximately $3 billion in growth stock as-
sets.
Jim might also have minor celebrity status for the guiding hand as Chairman of Ober
-
weis Dairy and the success of 43 ice cream stores and restaurants with more than
1,200 employees, as well as his philanthropic endeavors with the Oberweis Founda-
tion helping those less fortunate in our community.
Somewhere along the way, Jim found the time to not only get married, but have five
children and 22 grandchildren (with 2 more on the way), while also maintaining a
deep interest and familiarity in the policies implemented by the local, state and federal
governments.
"Despite having been involved as a volunteer in the Republican Party, I did not se-
riously contemplate running for office until I finished raising my family and establishing
my businesses," Jim says. "The defining moments usually occurred annually on April
15 and on the semi-annual property tax due dates."
Jim is frustrated that both Illinois government and the Federal government have the
same problem, "They seem to see no correlation between spending and revenue
streams, which leads to higher taxes, higher debt and an unstable financial foundation
for American government and American society," he says of why he is pursuing his
role as a Congressman. His courage to continue to seek change comes from the
gratification he has found in getting various bills signed into law as an Illinois Senator.
"You hope your work will make the government function more efficiently and less ex-
pensively," he says.
At the core, Jim values creating change for a better future, not only for his own family
but for his community.
-Kristen Kucharski
Photo Submitted
LAUREN MANSY, THE MEMORY THIEF
WHEATON–When Wheaton resident and author, Lauren Mansy, was a teen-
ager, her mother was diagnosed with a heart condition, which led to an unex-
pected heart surgery. Her heart stopped six times on the way to the operating
room, and the doctors warned her family that if she survived, it was very pos-
sible she may not remember them due to the trauma she'd experienced. She
did make a full recovery, but the collision of fear and then joy Lauren felt was
what first sparked her idea for her novel, The Memory Thief. "I was struck by
how memories make up so much of our identity and relationships with others,"
says Lauren. "My mother's unwavering courage to heal inspired me."
The Memory Thief is a young adult fantasy novel set in Craewick, a city where
memories are the currency. When her mother's life is threatened, seventeen-
year-old memory thief, Etta Lark, must return to the world of theft she left be-
hind – the black market of memories – to complete the greatest heist of her
life and save her comatose mother's memories from the auction block.
"The memories of that time were hard to relive," says Lauren, "but the writing
of this story became huge source of healing for me as well."
The Memory Thief can be found at all online retailers and in bookstores.
Know a Local Author in DuPage, Kane or Kendall County?
Introduce Us at editorial@glancermagazine.com
GIVE THE GIFT OF CAREER
DIRECTION TO YOUR STUDENT
GLEN ELLYN–Career
Vision
is
com
-
mitted
to
the
highest
professional
standards
and
offers
programming
locally and nationally via online ses
-
sions
with
face-to-face
computer
technology, or via in-office one-on-
one sessions. Aptitude testing be-
gins
at
age
16
and
continues
through adulthood
to assist
stu
-
dents deciding on post high school
endeavors,
adult
career
changers,
those caught in workforce transitions,
those returning to work, and those con-
sidering more schooling or encore careers.
www.careervision.org
Glancer Magazine • JANUARY 2020 • WESTERN SUBURBS • 11
COMMUNITY LIVING
WEDDING SHOWCASE–Don't let it overwhelm you! The Wedding Showcase
is a great place for busy brides and grooms to find out how to make your spe-
cial day one to remember. In the historic setting of the Pre-Emption House
and Century Memorial Chapel, brides and grooms have one-on-one personal
consultations with the best in the bridal business including photographers, flo
-
rists, ministers, musicians, bakers, caterers, and more.
www.NaperSettlement.org/Weddings
January2020-2_Layout 1 12/20/2019 4:11 PM Page 11