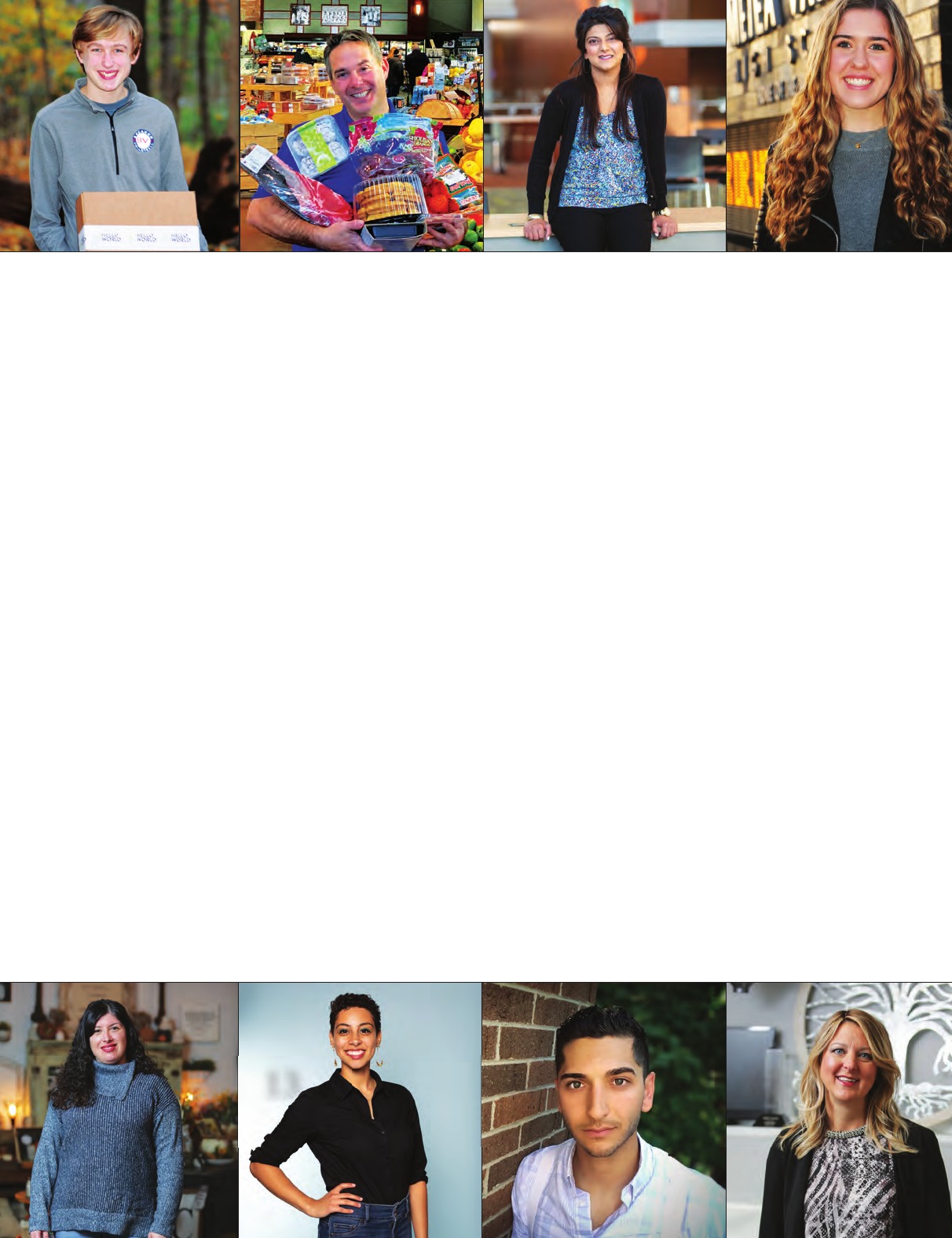 Glancer Magazine • DECEMBER 2019 • WESTERN SUBURBS • 13
8
8.. NNaatthhaann MMaayy,, NNaappeerrvviillllee
The unstructured summer of 2018 led this Naperville North freshman
to plan his own fate of entertainment. For a kid that loves music,
volleyball, skiing, rock climbing, mountain biking, and playing foot-
ball, with the ultimate goal of climbing Mount Rainier with his Dad
and Uncle, creating his own company, based on an active lifestyle,
was the result!
As the owner of Hello World Outdoors since August 2018, Nathan
has accomplished everything independently; making a business
plan, working with an accountant, interacting with companies to ne-
gotiate prices and quantities, to hiring someone to design a logo
and packaging. The outcome is the promotion of two activity kits
centered around outdoor themes which include a beach and camp-
ing box, with a third kit on its way soon.
Innovative. Creative. Energetic!
9
9.. PPaauull LLeenncciioonnii,, SStt.. CChhaarrlleess
Instead of following the footsteps of four generations (90+ years) of
his family at the Blue Goose Market in St. Charles, Paul earned an
accounting degree at NIU and went on to work at Arthur Anderson,
Winston and Strawn, and Eby Brown. In 2012 he became president
and CEO and in 2016 Paul's family sold him the Market.
Lencioni is passionate about the Blue Goose being St. Charles' mar
-
ket, he does anything he can to help the community and other local
businesses; and has also recently partnered with Dan Pitts of Errand
Up for deliveries. He believes that what differentiates the market
from other grocery stores in the area is the unique, fresh, quality
items and experiences it offers customers.
Photo submitted
1
100.. RRiittaa PPaatteell,, NNaappeerrvviillllee//GGlleenn EEllllyynn
As the recipient of the Early Career Teaching Award from the Illinois
Section of the Mathematical Association of America, Rita's sleepless
nights to get through her master's and doctoral programs came full
circle since she took a chance on something that was totally outside
her plan of marketing, management, and the financial industry to
pursue her true passion.
Rita enjoys sharing her enthusiasm as one of the original founding
members of the leadership team for the Southwest Chicago Math
Teachers' Circle which provides professional development to in-ser
-
vice K-12 math teachers.
Yoga and Pilates round out her daily life as an Associate Professor
of Mathematics at the College of DuPage and she lives by the theory
of accepting when things go wrong and persisting onward until you
get it right.
1
111.. SSoopphhiiaa CCuuccuulliicchh,, NNaappeerrvviillllee
Even Naperville Mayor Steve Chirico and Chairman of the DuPage
County Board, Dan Cronin are "cucu" for Metea Valley High School
senior Sophia Cuculich who recently ran for Speaker of the House
at Metea. She plans on studying psychology and criminal justice
with the hopes of becoming a police psychologist.
This 17-year-old is hard working and outgoing and loves singing in
Bella Cantare with the Young Naperville Singers. Additionally, So-
phia spreads kindness throughout her community by volunteering
as their social media director, as well as assisting with the younger
groups. She also gives her time executing and planning retreats for
future confirmands of her church.
Sophia exudes commitment and dedication and defines the pursuit
of happiness.
1
122.. SSyyllvviiaa TToorrrreess,, SStt.. CChhaarrlleess//GGeenneevvaa
A self-proclaimed homebody, Sylvia loves to support the local com-
munity and carries more than 10 local makers at her home decor
shop, Little Red Barn Door. Her eye has caught the attention of a
lot of shoppers in Geneva and she is thankful to be expanding to
the main level of the Berry House (227 S. 3rd Street). She and her
husband also opened Little Barn Baby, a baby boutique with the
same rustic farmhouse look, but all things for the little one in your
life.
Sylvia is personally drawn to reclaimed wood signs and architectural
salvage pieces. She loves spending time with her family and Euro-
pean Boxer, Otis! She is grateful for her family's support and pro-
viding the courage to always dream big!
1
133.. VVaanneessssaa RRaammooss,, MMoonnttggoommeerryy
Vanessa loves writing, drawing, listening to music, dancing, and
spending time with family and friends. She is a graduate of Yorkville
High School and Ball State University and has accepted a position
with the Orr Fellowship, an Indianapolis-based entrepreneurial-fo-
cused program, with a 5% annual acceptance rate.
Using her allied
experiences
with the LGBTQ+
and
Trans Safe
Zones, Vanessa is involved in the Orr Fellowship Diversity & Inclu-
sion Team, where the mission is "to educate, challenge, and enrich
Orr Fellowship to be a community of inclusive excellence."
Each day Vanessa has a healthy mix of team collaboration and in-
dependent work and has already managed an awards networking
event. As she is transitioning into a Human Resources role, she re-
minds current high schoolers and college students to always be
bold, brave, and creative!
Photo submitted
1
144.. VViinncceenntt MMccPPhheerrssoonn,, GGlleenn EEllllyynn
This twenty-something young man is traditionally described as an
old soul who loves his wine; his passion for authentic music; and
has a deep respect for loyalty. Vincent graduated from Elmhurst
College and started working professionally throughout the United
States in all genres, including Opera, Musical theatre, and Jazz. He
is currently living in Hollywood and performing in La Traviata as Alf-
redo Germont and will be back in Glen Ellyn this December.
When he is home, Vincent gives back to his community in perform-
ances such as "A Night at the Opera" which was hosted at Villa Ve-
rone in Geneva, benefitting Lazarus House in St. Charles.
He is humbled and honored to share his gift, and eternally grateful
to his family for their endless support.
Photo submitted
1
155.. MMeelliissssaa SSaaeezz,, LLiisslle

e
When it comes to hair loss, Melissa brings years of professional ex-
perience, but more importantly, she brings a personal understanding
to the emotional element as her mother suffered from a form of
alopecia.
Melissa always knew she wanted to be a hairdresser and trained
with Zanos, Mario Tricocci, and Innovations; however, it wasn't until
she discovered specialty hair pieces that had the look, texture, and
coloring of real hair that she took the leap of faith and put everything
on her credit card and signed a lease to open her own salon, Tu
Bella in Lisle. She had a mission to educate people in finding hair
solutions that made them feel and look beautiful inside and out.
With this undertaking in mind, Melissa traveled to China to research
having her own wigs made; she took a class in London on wig mak-
ing; traveled to Bologna, Italy for training and became the first salon
to offer the Cesare Ragazzi CNC (a cranial prosthesis) in Illinois.
"I always tell people nobody ever hugged me when I did regular
hair," Melissa shares. "We often have tears after I have fit someone
for the first time, and they realize how beautiful and natural the wigs
are."
Tu Bella has all the latest trends and works hard to customize colors.
Melissa is also a proud member of the National Alopecia Areata
Foundation, American
Hair
Loss
Counsel,
and
Trichotillomania
Learning Center.
Special thanks to these featured residents for sharing their
awe-inspiring stories with us. View & share this feature online
at www.glancermagazine.com
December2019_Layout 1 11/20/2019 8:59 AM Page 13