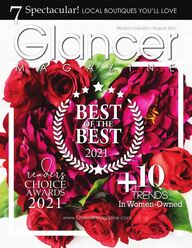 Return to flip book view
Glancer Magazine, August 2021
Page 1
Page 2
Page 3
Page 4
SCENE AROUND SUBURBIAscenearound suburbiaMICHAEL ANTHONY HALL & FRIENDS....YOU'VE BEEN GLANCED! JULY 27, 20121–Monday night was a star-studded night for Downers Grove as residents enjoyed a totally tubular '80s event and evening with Anthony Michael Hall live on stage, featuring his first, exclusive, Chicago screening of "The Breakfast Club," in support of his current filming of a new Generation Z high school drama, "The Class" which is taking place in Elmhurst. Glancer Magazine was on the red carpet before the screening and captured the excitement as Anthony Michael Hall arrived to the meet and greet, where he relived his 80s experiences with a Q&A on stage, introduced the cast and writer/director of his new movie, and surprised the audience with additional celebrity guest including 80s pop icon, Debbie Gibson. Guests enjoyed a screening of the 80s hit "The Breakfast Club" with a a VIP After Party following for VIP ticketholders at the end of the evening, rounding off this perfect night filled with 80s nostalgia. The entire night was totally awesome! VIEW GALLERY Photos by Mike Catuara for Glancer MagazineVIEW EACH GALLERY ONLINE FOR MORE EVENT PHOTOS www.GlancerMagazine.comYou've Been Glanced!®4 • WESTERN SUBURBS • AUGUST 2021 • Glancer Magazine
Page 5
BEST OF THE BEST 2021 READERS' CHOICE AWARDS One of the most anticipated issues of the year featuring the 2021 winners of Glancer Magazine's Readers' Choice Awards announcing the 'Best of the Best' in DuPage, Kane and Kendall. Though there are other award programs locally, Glancer Maga-zine's 'Best of the Best' Award holds an elite community distinction like no other, as it is our readers who have nominated and voted on our winners.Special thanks to all of those who took the time to cast their votes and who read our pages daily, weekly and monthly. Your support is so valued and we appreciate YOU!  In addition to the 2021 'Best of the Best' Winner's List for DuPage, Kane and Kendall, we continue our support of women-owned businesses with our Woman-Owned & Wonderfully Loved feature highlighting 5 woman who inspire with their hard work and dedication to the local establishments that they have created and built, helping to make our community a more vibrant place to live, work and play. Also on our pages this month are the 10 Trends In Women-Owned featuring some of the hottest and newest business trends that are popping up all over the western suburbs. Readers will love it, along with the 7 Spectacular List highlighting local boutiques that are adored by so many. Stay connected to www.GlancerMagazine.com all month long for daily posts, photos features, event highlights and more. Be sure to subscribe to your community so you don't miss anything. As always, thank you for reading Glancer Magazine. Lindy Kleivo Publishing Director West Suburban AreaAUGUST 20215 Hello From Glancer Magazine 7 5 Things to Do 8 COVER 5 Hard Working Women to Know 18 'Best Of the Best' Readers' Choice Awards 24 10 Trends In Women Owned Businesses 26 Downtown Naperville–Be In The Mix! 27 Naperville History Honoring WWII 30 Unique In Suburbia: Japanese Garden 32 Fall Shopping Preview 38 Dining & Cocktails: Tasty New Places 40 Helping Moms with Stress-Free Dinners 42 Trendy Traveler: A Hawaii Family Vacay 44 Women-Owned: Introduing London Skye 46 Moms Little Black Book: All Aboard! 48 Million Dollar Listing: Luxury In Yorkville 52 Literary Local: Meet this Naperville Dad 54 To Give, To Inspire: Helping Special Needs 59 Trending Downtown Downers Grove 60 Fitness: Where to Go to Get In Shape 66 Kid Stuff: Sunflower Fun! 70 College Time 76 7 Spectacular Local Boutiques to Love SHARE OUR FEATURES ONLINE TODAY! www.GlancerMagazine.com TABLE OF CONTENTST E A M   G L A N C E R PUBLISHER Glancer Magazine, Inc. PUBLISHING DIRECTOR Lindy Kleivo EDITORIAL | Print + Digital Kristen Kucharski Columnist / Writer Mindy Kyle Columnist / Writer Brianna Bartemeyer Features Writer SALES / MARKETING Lindy Kleivo Publishing Director PHOTOGRAPHY Mike Catuara Features Photographer P U B L I C A T I O N S GLANCER MAGAZINE A West Suburban Chicago Lifestyle Magazine Featuring the Best of West Suburban Chicago for Communities In DuPage, Kane & Kendall GLANCERMAGAZINE.COM A Hyper-Local Daily Features Site Highlighting On Trend Stories for Communities In DuPage, Kane & Kendall GLANCER GO-TO GUIDE Highlighting Local On Trend Events + Deals for For Communities In DuPage, Kane & Kendall C O N T A C T  U S EDITORIAL Press Releases, Local Events, Community News editorial@glancermagazine.com ADVERTISING Digital Advertising + Local Marketing Solutions advertising@glancermagazine.com SUBSCRIPTIONS Monthly Download + Daily Digital www.glancermagazine.comGlancer® Magazine, highlighting the best of DuPage, Kane & Kendall Counties, is produced by Glancer® Magazine, Inc. Glancer Magazine, GlancerMagazine.com. You've Been Glanced® and the Glancer® logo are registered trademarks of Glancer Magazine, Inc. All rights reserved. Maga-zine reproduction in whole or in part is strictly prohibited. AUGUST 2021 | Vol 19 Featuring the 'Best of the Best' 2021 Readers' Choice Awards August is one of our most anticipated is-sues of the year, featuring the 2021 award winners for Glancer Magazine's 'Best of the Best' in DuPage, Kane and Kendall Counties. Subscribe today for daily, weeky and monthly updates at www.GlancerMagazine.com ©Copyright 2021 All Rights Reserved Glancer Magazine, Inc. AAUUGGUUSSTT 22002211®Lindy & Her Husband John  Pictured at Last Fling 2019Glancer Magazine • AUGUST 2021 • WESTERN SUBURBS • 5
Page 6
6 • WESTERN SUBURBS • AUGUST 2021 • Glancer Magazine
Page 7
5 Things to Do AUGUST 2021 2 Today s Inspired Lantina August 12 McAninch Arts Center GLEN ELLYN Today s Inspired Latina is hosting a special night at the Frida Kahlo Exhibition 2021 Register today to be a part of this historic event 1 Sun Flower Festival www kuipersfamilyfarm com 3 Morton Arboretum Wine Art Walk MAPLE PARK Opening August 28 Enjoy over 5 acres of sunflower vraities The experience goes full bloom on weekends with live music and delicious farm fresh food options on the scenic orchard lawn Mother Nature has final say on how long the sunflowers will last so watch for updates as we near the final weekend www mortonarb org LISLE Sip wine and shop for naturethemed art as you stroll around Meadow Lake Browse this juried art show featuring photography woodturning jewelry painting ceramics fused glass and more from Midwest artists Guests can purchase wine and other beverages to enjoy as they browse the artworks on display 5 Homefront 1940s Weekend www napersettlement org 4 2021 Naperville Ale Fest www napervillealefest com NAPERVILLE Summer Edition will take place on Saturday August 28 and will feature over 100 unique craft beers and food from some of the area s favorite food trucks Situated on the grounds of the Naper Settlement with downtown Naperville as a backdrop it is the ideal setting to experience craft beer NAPERVILLE Swing back into the 1940s as Naper Settlement transforms into a one of a kind commemoration to World War II at Home Front 1940s Weekend Saturday and Sunday both include military displays of antique and modern vehicles 1940s newsreels a victory garden walk food and drinks music a souvenir shop letter writing with Operation Support our Troops living history demonstrations and entry into the Answering the Call Naperville at War 1941 1945 exhibit TICKETS 15 per Adult 10 per Youth ages 4 12 Members and children under four are free Glancer Magazine AUGUST 2021 WESTERN SUBURBS 7
Page 8
WOMEN-OWNED5 Women Making a Difference Locallyby Kristen Kucharski Photos by Mike Catuara Women-Owned LOCALLY INSPIRED8 • WESTERN SUBURBS • AUGUST 2021 • Glancer Magazine
Page 9
Glancer Magazine • AUGUST 2021 • WESTERN SUBURBS • 9Jessica Buzinski GLEN ELLYN–Jessica is outgoing, hard-working, and dedicated. She currently works three jobs, (1 full time, 2 part time), is actively planning a wedding, going to school to be a Family Nurse Prac-titioner, and still finds time for fun with family and friends! "It's all about time management and prioritization," Jessica says. "If you want to achieve something bad enough, you'll do anything to get it! I love to-do lists, and timers and always allocate a lit-tle of my day to decompress as well." In addition to working as a Registered Nurse, she opened Taper & Wick Candle Co. in Glen Ellyn (www.taperandwick.com) eight months ago. "I grew up within my mother's spa (Cheveux Salon & Day Spa) and found a love for luxury candles she would always burn there! They brought a sense of peace and tranquility to my life," Jessica shares. "Fast forward to my first two years as a Nurse on the front-lines at RUSH Oak Park Hospital caring for COVID19, I discovered I needed an artistic outlet to help cope with the daily struggles of being an RN during the pandemic. That's when I turned to candle making! I always wanted to de-sign a luxury candle brand that was organic, wooden wicks, luxury, and a fraction of the super high end candle brands so it's af-fordable for every budget!" Owning/starting a business from the ground up has taught her so much about discipline, consistency, and hard work; yet she wholeheartedly be-lieves in life balance and has vol-unteered thousands of hours to causes important to her, including Hunger Task Force. Life outside of work includes wine, charcuterie boards, yoga, and going to the East Branch Dog Park with her fiancé and dog! Regardless of all the hard work, Jessica is proud to have challenged herself and encourages others to do the say. "Put yourself in uncomfortable situations such as a new job, harder course work, a new sport, etc.," she says. "Whatever it is, these ex-periences will help you grow and shape who you are meant to be! You will thank yourself later!" –Kristen Kucharski WOMEN-OWNEDPhotos by Mike Catuara
Page 10
COVER STORY10 • WESTERN SUBURBS • AUGUST 2021 • Glancer Magazine
Page 11
Bridgette Grissette "Whatever it is that you think you want to do, and whatever it is that you think stands between you and that, stop making excuses. You can do anything." -Katia Beauchamp, co-founder and CEO, Birchbox. OSWEGO–Bridgette is resilient, strong, and blessed, and deter-mined to be a good example to her children (ages 16 and 24) by showing them that it is never too late to be who you aspire to be and show them they can do anything that they put their mind to with hard work and resilience. Just two years ago, she herself forged ahead and opened her own business, 547 Consulting (www.547consultingllc.com) to educate individuals and families about finances. She assists with legacy building, cash flow, debt management, credit building, building wealth, and preserving wealth. "I love the freedom that comes with being a businesswoman," she says. "The possibilities are endless and the opportunity for growth is huge. I make sure to create a schedule and stick to it to the best of my ability." As a woman of strong faith and a prayer warrior, creating balance is a must for Bridgette. "I spend a lot of time with God," she openly shares. "I also make time for self-care and make sure to get pedicures, facials, and mas-sages as of often as possible. We must be good to ourselves; we cannot pour from an empty cup." Bridgette refreshes her days by leading a ministry page on Face-book called Sister's Circle. She feels called to minister and encour-ages others, especially women. She further surrounds herself with other independent, strong, inspiring women through various net-working groups such as the South Aurora Chapter of WESOS (Women Entrepreneurs Secrets of Success). "You are fearfully and wonderfully made in the image of God, and you are able to do all things through Christ who strengthens you!" –Kristen KucharskiWOMEN TO KNOWPhotos by Mike CatuaraGlancer Magazine • AUGUST 2021 • WESTERN SUBURBS • 11
Page 12
14 WESTERN SUBURBS AUGUST 2021 Glancer Magazine
Page 13
12 • WESTERN SUBURBS • AUGUST 2021 • Glancer MagazineWOMEN TO KNOW
Page 14
WOMEN TO KNOWNeera Patel With goals of becoming the healthiest version of herself while finding ways to improve her men-tal clarity, manage stress better, and find com-fort in slowing down and spending time with her amazing family and friends, 9-year Lisle resident Neera Patel opened Naperville's Eat the Frog Fitness (www.frog.etffitness.com/ napervillesouth) in May 2021. "The term Eat the Frog stems from a Mark Twain saying, eat a live frog first thing in the morning and nothing worse will happen in your day," Neera says. "To so many people, our frog is fitness, or it may be a really big presentation at work, or a tough project to complete… no matter what your 'frog' is, tackle in head on, you won't regret it and you will be better for it!" Neera wants to be an example for her children (ages 5 and 8) that women can do anything, and it's all about working hard, showing up every day and believing in yourself. "I not only want my daughter to see that anything is possible, I want my son to embrace this and be en-couraging to females around him as he grows up," she adds. Finding comfort in saying "No" and creating boundaries for the things that are not directly improving her personal and professional life while take caring of herself has allowed Neera to be more present and accommodate the de-mands that each day brings between kids, family, and work. She also appreciates vol-unteering for PTA events, family bike rides, nature, and exploring new restaurants and cuisine; however, puzzles and Netflix are her ultimate decompression tool when she truly needs to escape her very fast pace daily routine. "I believe it was Mark Twain who also quoted, 'the only way to get ahead, is to get started'," Neera says. "As women, we face so many stereotypes and obstacles in life, and while it's easy to feel defeated and give up. We must play our part in breaking down those barriers, leveling the playing field and take control of our jour-ney, create our own story, and continue to move forward." -Kristen Kucharksi Photos by Mike CatuaraGlancer Magazine • AUGUST 2021 • WESTERN SUBURBS • 13
Page 15
Becky Knol GENEVA–Determined to keep positivity and optimism in her children and grandchil-dren's lives, Becky combined her re-sourcefulness and outgoing personality to create Miss Dynamic USA (www.missdynamicusa.com) in Janu-ary 2020. Born and bred in Batavia and a 29-year resident of Geneva, she wanted to provide an opportunity for people of all ages in the com-munity to feel amazing about them-selves while also giving back in the process. "The pageant is unique in that the focus is on building confidence, teaching life skills such as public speaking and interview skills, incorporated in a fun, positive pageant experi-ence," Becky says. "Charity is an important part of our pageant, 50% of the charitable donations go to the winner's chosen charity and the other 50% is given to the pa-geant's chosen charity, which varies depending on need." As her kids are older, it is a bit easier to enlist their help to coordinate the mini-training pageant for girls ages 6-7, as well as divisions for first-timers or experienced from ages 8 through 99. Unlike most pageants, there is no swim wear or fitness portion of the competi-tion, the goal is to find someone that is confident, personable, poised, and genuine. Authenticity, heart, and soul – a beautiful person to the core. "I love that I get to see things from concept to reality while connecting with others," Becky says. "My goals for myself are to keep growing my business as well as on a personal level." Becky manages time well, remain-ing old school with pen and paper to calendar, and always find times for personal fun such as playing games, shopping, serving as a Girl Scout leader. She also fully appreci-ates local history museums and re-searching Genealogy and hopes to try some new adventures – starting with taking a dance class in the very near future! "Know that life is short - and no matter what things work out – they may not be how you expect, but they do work out – so, con-tinue to stretch yourself," she adds. "Always have a dream and stay flexible, as change will happen on your journey. Change can also be a great opportunity to open unexpected possibilities." –Kristen KucharskiWOMEN TO KNOWPhotos by Mike CatuaraGlancer Magazine • AUGUST 2021 • WESTERN SUBURBS • 15
Page 16
16 • WESTERN SUBURBS • AUGUST 2021 • Glancer MagazineWOMEN TO KNOW
Page 17
WOMEN TO KNOW Photos by Mike Catuara Tianna Gawlak HOMER GLEN BURR RIDGE CHICAGO Baking has been a lifelong hobby for Tianna that inspired her to write a children s book titled When You Dream of Chocolate Cake During the publishing of the book her kids ages 2 and 3 years old would travel to bookstores at all hours of the day with her One evening her toddler had a total meltdown over wanting to stop for chocolate cake I explained to her that bakeries were closed but a lightbulb turned on during that conversation about a 24hour bakery concept Tianna says With the help of my supportive husband Krystian I then proceeded to open the first Bakery Box www thebakeryboxllc com late 2020 at the Burr Ridge Village Center The community responded so positively to it I knew I should invest in the concept and start expanding around Illinois We have a brand new location in Chicago next to Eataly and another location coming this fall This ATM style bakery allows Tianna to have full creative control over which flavors she sells to what areas she expands to plus the biggest perk is that her kids get to do it all with her Although balancing the role of mom and work requires superhuman powers pursuing her own goals has increased her self esteem and provided the foundation for continued motivation and happiness You don t have to have it all figured out to move forward Just start taking steps in the direction you want to go you ll figure it out I promise she says If all else fails eat cake The Bakery Box is involved in local charity and organizational work near Burr Ridge and Hinsdale and has donated cakes to events through Burr Ridge Village Center women s groups and more Tianna loves to stay actively involved in her surrounding community and loves supporting other local businesses such as Playroom Caf The Morton Arboretum and Konow s Corn Maze Kristen Kucharski View Share Online at www GlancerMagazine com Glancer Magazine AUGUST 2021 WESTERN SUBURBS 17
Page 18
18 WESTERN SUBURBS AUGUST 2021 Glancer Magazine
Page 19
For the 11th year, Glancer Magazine invited west suburban residents to nominate the "Best of the Best" in their com‐munity for the 2021 Readers' Choice Awards. Back by popular demand for 2021, this recognition program honors west suburban business establishments in speciic categories of local living. Voting took place through June 15, 2021. Thank you to our readers for taking the time to vote for their favorite local es‐tablishments. Each is named the "Best of the Best" for their community in their category and will receive the 2021 Readers Choice Award. We invite our readers to visit us online at the link below to learn more about each of these local es‐tablishments. Also, winning businesses can claim their award and share about this special recognition. Our winning Business of the Year is Company Bliss of Naper‑ville. Company Bliss was voted 'Best of the Best' in Salons &Hair Care and has won a $4,000 Glancer Magazine DIgital AdPackage for the 2021 year. Congratulations! The site link for this special awards program is www.GlancerMagazine.com/BestOfTheBest. Thank you for voting & congratulations to the 2021 winners!ARTS + ENTERTAINMENT Art Festival DUPAGE.................. Riverwalk Fine Art Fair, Naperville KANE....................... Geneva Arts Fair, Geneva KENDALL............... LUNAFEST, Oswego Day at the Museum DUPAGE.................. Naper Settlement, Naperville KANE....................... Blackberry Farm, Aurora KENDALL............... Little White School House, Oswego Artistic Studio DUPAGE.................. Board +Brush, Downers Grove KANE....................... Board +Brush, St. Charles KENDALL............... Board +Brush, Oswego Art Gallery DUPAGE................. Naperville Fine Arts Center, Naperville KANE....................... Water Street Studios, Batavia KENDALL............... Arts on Fire Studio, Plano Performing Arts Theater DUPAGE.................. KidzCabaret, Naperville KANE....................... Paramount Theatre, Aurora KENDALL................YPAC, YorkvilleBEAUTIFUL YOU Salons & Hair Care DUPAGE.................. Company Bliss, Naperville KANE....................... Simply Crystal Hair & Skin Care, St. Charles KENDALL................Pretty Convenient Hair Studio, Yorkville Every Day Spa Treatments DUPAGE.................. Elegante Salons &Day Spas, Naperville KANE....................... Sage Healing Collective, St. Charles KENDALL................Harmony Aesthetics, Yorkville Cosmetic Procedures DUPAGE.................. Zelko Aesthetics, Naperville KANE....................... The Women's Institute, Geneva KENDALL................Ininity Designs, Oswego Anti‑Aging / Skincare DUPAGE.................. Blend Facial & Style Bar, Lisle KANE....................... Simply Crystal Hair & Skin Care, St. Charles KENDALL................ Haven Medical Spa, Yorkville Cosmetic Dentistry DUPAGE.................. Naperville Cosmetic Dentistry, Naperville KANE....................... Fairway Family Dental, Geneva KENDALL................Valley View Dental, MontgomeryAND THE WINNERS ARE....Congratulations to Our 2021 Winners Voted On by Our ReadersGlancer Magazine • AUGUST 2021 • WESTERN SUBURBS • 19
Page 20
DINING+ CABARET Date Night DUPAGE.................. Adelle's, Wheaton KANE....................... Villa Verone, Geneva KENDALL................Hacienda Real, Yorkville Dining Out with the Kids DUPAGE.................. Uncle Julio's, Naperville KANE....................... Caines, Batavia KENDALL................Danelli's Pizzeria, Oswego Live Music Venue DUPAGE.................. Potters Place, Naperville KANE....................... EvenFlow Music and Spirits KENDALL................The Roadhouse Bar & Grill, Yorkville Dancing & Game Venues DUPAGE.................. ClubMamalu, Naperville KANE....................... EvenFlow Music and Spirits KENDALL................The Roadhouse Bar & Grill, Yorkville Desserts & Confections DUPAGE.................. Small Cakes, Naperville KANE....................... All Chocolate Kitchen, Geneva KENDALL................Sweet Temptations, YorkvilleCOMMUNITY LIVING Shopping Destination DUPAGE.................. Downtown Naperville, Naperville KANE....................... Third Street, Geneva KENDALL............... Downtown Oswego, Oswego Summer Music Venue DUPAGE.................. Naper Nights at Naper Settlement KANE....................... St Charles Concerts in the Park KENDALL .............. PrairieFest, Oswego Special Needs Resources DUPAGE.................. WDSRA, Carol Stream KANE ...................... FVSRA, Aurora KENDALL............... Celebrate Differences, Oswego Park District Facility DUPAGE.................. Wolf's Crossing Community Park, Nap KANE....................... Pottawatomie Park, St. Charles KENDALL............... Winrock Pool, Montgomery Charitable Organization DUPAGE.................. Loaves &Fishes, Naperville KANE....................... Cal's Angels, St. Charles KENDALL............... 3:11 Project, Montgomeryq, g20 • WESTERN SUBURBS • AUGUST 2021• Glancer MagazineCongratulations to Our 2021 Winners Voted On by Our ReadersDowntown Naperville
Page 21
LOCAL EVENTS Summer Festival DUPAGE.................. Naperville Jaycees Last Fling, Naperville KANE....................... Scarecrow Festival, St. Charles KENDALL................PrairieFest, Oswego Give Back Gala DUPAGE.................. DuPage Foundation, Downers Grove KANE....................... TriCities Family Service, St. Charles KENDALL................CASA Kendall County, Yorkville Holiday Themed Event DUPAGE.................. Naper Lights t Water Street, Naperville KANE....................... Geneva Holiday Christmas Walk, Geneva KENDALL................ Oswegoland Holiday Express, Oswego Brew Fest DUPAGE................. Naperville Ale Fest, Naperville KANE....................... Elgin Craft Beer Fest. Elgin KENDALL................Brew at the Bridge Fest, Oswego Fashion Show DUPAGE.................. Glen Ellyn Chamber Fashion Show KANE....................... H4 Training Annual Fashion Show KENDALL............... OswegoHS Prom Fashion ShowHEALTH + WELLNESS Weight Loss Center DUPAGE.................. Naperville WeightLoss Center, Naperville KANE....................... Genesis Integrative Medicine, Geneva KENDALL............... A Beautiful You, Yorkville Family Fitness Facility DUPAGE.................. Fort Hill Fitness Center, Naperville KANE....................... Vaughn Athletic Center, Aurora KENDALL................Fox Valley Family YMCA, Plano Mental Health Provider DUPAGE.................. Mindful TMS Neurocare Centers, Wheaton KANE....................... Pica and Associates, St. Charles KENDALL................Family Counseling Service, Oswego Yoga Studio DUPAGE.................. Yoga by Degrees, Naperville KANE....................... Soma Studio, Batavia KENDALL................Living Divina Yoga, Yorkville Family Dentistry DUPAGE.................. White Eagle Dentistry, Naperville KANE....................... Elite Dental Specialists, Geneva KENDALL................Valley View Dental, MontgomeryCongratulations to Our 2021 Winners Voted On by Our ReadersGlancer Magazine • AUGUST 2021 • WESTERN SUBURBS • 21
Page 22
mm s Children s Boutique Oswego Little Barn Baby Golden Willow Landscaping HOME GARDEN KIDS TEENS Real Estate Group DUPAGE Penny O Brien Baird Warner Naperville KANE Melissa Garcia REMAX Sugar Grove KENDALL The Ayers Team EXP Realty Oswego Sports Recreation Facility DUPAGE Naperville Yard Naperville KANE Excel Gymnastics Geneva KENDALL Go For It Sports Dome Yorkville Kitchen Designer DUPAGE HomeWerks Naperville KANE West DuPage Cabinets Granite Batavia KENDALL Heritage Home D cor Yorkville Learning Enrichment DUPAGE Career Vision Glen Ellyn KANE Kaneland Community Child Center KENDALL Grace Holistic Center Yorkville Basement Remodeler DUPAGE HomeWerks Naperville KANE Hogan Design Construction Geneva KENDALL DRC Basements Oswego Children s Apparel Shop DUPAGE M Em s Glen Ellyn KANE Flair on Third Geneva KENDALL Lil Emm s Children s Boutique Oswego Landscaping Designer DUPAGE Western DuPage Landscaping Naperville KANE Golden Willow Landscaping Aurora KENDALL Ground Effects Outdoor Living Yorkville Baby Inspired Shop DUPAGE Bows Babes Naperville KANE Little Barn Baby Geneva KENDALL Lil Emm s Children s Boutique Oswego Exterior Enhancement DUPAGE Opal Exteriors Naperville KANE James Thomas Renovations St Charles KENDALL Extreme Exteriors Plano Toys Game Shop DUPAGE Moore Toys Gadgets Wheaton KANE Learning Express Geneva KENDALL N A Congratulations to Our 2021 Winners Voted On by Our Readers 22 WESTERN SUBURBS AUGUST 2021 Glancer Magazine
Page 23
SHOPS + BOUTIQUES Everyday Apparel Shop DUPAGE.................. Jeans & a Cute Top Shop, Wheaton KANE....................... Apricot Lane, Geneva KENDALL................Velvet Grace, Oswego Special Occasion Apparel Shop DUPAGE.................. Bri'Zan Couture, Naperville KANE....................... Special Occasions, Batavia KENDALL................The Prom Shoppe, Oswego On Trend Accessory & Gift Shop DUPAGE..................The Gnome Colony, Glen Ellyn KANE....................... Jeans & a Cute Top Shop, St. Charles KENDALL...............Velvet Grace, Oswego Home Accessory Shop DUPAGE.................. Nona Jo's, Naperville KANE....................... Trend + Relic, St. Charles KENDALL................Hudson Design House, Oswego Food & Wine Shop DUPAGE.................. Olive & Vinnie's, Glen Ellyn KANE....................... Acquaviva Winery, Geneva KENDALL................Fox Valley Winery, OswegoWEDDINGS + TRAVEL Ceremony Venue DUPAGE.................. Naper Settlement Chapel, Naperville KANE....................... The Herrington Inn & Spa, Geneva KENDALL................Chapel On the Green, Yorkville Wedding Reception Location DUPAGE.................. Elements at Water Street, Naperville KANE....................... Heritage Prairie Farm, Elburn KENDALL................Emerson Creek, Oswego Rehearsal Dinner Venue DUPAGE.................. Vai's, Naperville KANE....................... Acquaviva Winery, Maple Park KENDALL................Blackstone Bar & Grill, Yorkville Local Hotel Accommodations DUPAGE.................. Hotel Indigo, Naperville KANE....................... Hotel Baker, St. Charles KENDALL............... Hampton Inn, Yorkville Vacation Planning DUPAGE.................. Courier Travel, Glen Ellyn KANE....................... Going Places Travel Center, Geneva KENDALL................Oswego Travel, OswegoCongratulations to Our 2021 Winners Voted On by Our ReadersEmerson CreekGlancer Magazine • AUGUST 2021 • WESTERN SUBURBS • 23
Page 24
10 TRENDS 2021 10 TRENDS Trends In West Suburban Women Owned Businesses West suburban Chicago is filled with many new and unique women owned businesses This month we feature the hottest trends and where to find them locally You re going to LOVE this list 1 The Crystal Trend NAPERVILLE Natural healing has been a fast moving trend for the last several years Many have turned to the healing powers found in crystals that are thought to promote the flow of good energy and help rid the body and mind of negative energy for physical and emotional benefits Crystals are touted as ancient forms of medicine and are believed to be powerful tools These along with other mindful products are offered by Peace in Naperville www peacenaperville com 2 The Sage Trend NAPERVILLE White sage smudge sticks with dried rose petals to help purify your space and bring calm and blessings to your life Our white sage salvia apiana is grown on a small farm in Southern California and is sustainably harvested Each sage smudge stick is hand picked dried and carefully tied using only the highest quality California White Sage Bright and vibrant dried rose petals are wrapped around the sage Our fragrant sage burns well and smells fantastic www peacenaperville com 24 WESTERN SUBURBS AUGUST 2021 Glancer Magazine
Page 25
#3 | The Local Concierge Trend GENEVA–Life is busy. We all wish we had a duplicate or three. Wish we had carbon copies of ourselves to get all that we need to get done in a day or at least four arms to carry everything. Ubers, Shipt, delivery services are helpful but sometimes you just need a right-hand gal. The Curated Concierge in Geneva can customize services to fit your indi-vidual needs and lend a helping hand where needed. www.thecuratedconcierge.co #4 | The Gluten-Free Trend HINSDALE–Gluten free dietary restrictions are becoming more com-mon. Some do it out of necessity, some do it to feel better. Regardless of the reason, most people still love their sweet treats and pine for a great baked good without the gluten. Breads, muffins and coffee cakes, cookies and bars, cupcakes and custom cakes, and pies are just some of the delicious highlights on the list of gluten-free offerings at Sweet Ali's in Hinsdale. www.sweetalis.com #5 | The DIY Trend GLEN ELLYN–The satisfaction of creating something with your own hands from beginning to end with your individual stamp of personality and creativity is incredibly satisfying. People are also finding pure sol-ace in art therapy to decompress. Start with a block of clay and work your magic into your own masterpiece at Whim – a Studio Space in Wheaton. www.whimstudiospace.com #6 | The YoMassage Trend OSWEGO–Therapeutic touch is now accessible with Yomassage. The trend allows for fully clothed, relaxed restorative positions that engage the mind, body, and soul. The 'Yo' in Yomassage is based on the prin-ciples of yoga: focus on the breath and the yogic philosophy of looking within. The combination of touch, gentle stretch, and mindfulness pro-vide an avenue for relaxation and healing. Signature classes can be found with Kelly Taylor, LMT in Oswego. www.kellytaylorlmt.com/yomassage #7 | The Mobile Boutique Trend NAPERVILLE–The latest fashion movement, taken directly from food trucks are fashion trucks which are mobile boutiques that have the op-tion to travel from one location to another allowing customers to try on their wares. You just might see Von Lucy's big pink truck offering the hottest in women's clothing driving through the west suburbs. www.vonlucy.com #8 | The CDB Trend DOWNERS GROVE–Education and research are the first approach to CBD, and curated collections of the best of everything hemp and CBD to invigorate your wellness can be found at Kerwell Premium CBD House in Downers Grove and Downtown Naperville. They offer custom, tailored in-house CBD brands for both your beauty and wellness needs. www.kerwellness.com #9 | The Multi-Marketplace Trend NORTH AURORA–Combining many talented innovative entrepreneurs, forward thinkers, crafters, designers, and the like under one roof is the all the rage these days. Something for everyone including a farmer's and artisans' full marketplace of flowers, fruits, veggies, meats, cheeses, spices, fresh breads, pastries, chocolates & sweets, food trucks, gour-met coffee, clothing & accessories, jewelry, garden, vintage, furniture & decor, up-cycled, handmade, art, baby & kids, health & beauty, food trucks, and so much more at The Rustic Fox in North Aurora. www.therusticfoxhome.com #10 | The Organic Trend DOWNERS GROVE/WOODRIDGE–Consumer demand for organically produced products continues to grow since no pesticides and chemicals are used. Soaps, candles, lotions, lip balm, fragrances, deodorants, sanitizers…the list goes on. Shop local with all-natural products via Nettie's Naturals.www.nettiesnaturals.com Glancer Magazine • AUGUST 2021 • WESTERN SUBURBS • 25
Page 26
DOWNTOWN NAPERVILLE Be In The Mix! NAPERVILLE–Whether you're here to shop, dine, spa or stay, you'll find the perfect mix of over 150 best-in-class stores and spas along-side Naperville's most exciting eateries from fine dining, bistros to bites on the go. Discover your favorite shops, spas and restaurants in our pedestrian friendly, historic downtown with amenities in every direction. Visit online to view the directory for business listings and hours or use the convenient "click & go" online maps for helpful guides when planning your visit. It's your time, spend it well. www.downtownnaperville.com NAPERVILLEDOWNTOWN NAPERVILLE26 • WESTERN SUBURBS • AUGUST 2021 • Glancer Magazine
Page 27
NAPERVILLELocal World War II History Now on Display at Naper Settlement NAPERVILLE–Explore Naperville's World War II history at Naper Settlement this spring. Answering the Call: Naperville at War 1941-1945 will engage visitors with a story that is almost entirely local and personal. Hear the stories of the Napervillians who served in all branches of the military, Japanese internment workers who came to work here, local "Rosie the Riveters" at Kroehler Manufacturing and more! For more information, please visit www.NaperSettlement.org/Exhibits. NAPERVILLE HISTORYGlancer Magazine • AUGUST 2021 • WESTERN SUBURBS • 27
Page 28
DOWNTOWN NAPERVILLEHELPING AREA RESIDENTS About Kerwell Premium CBD House NAPERVILLE & DOWNERS GROVE–No matter how fit you are, sometimes you just feel it during a practice, a game, or workout with some discomfort lasting days. Those muscles become inflamed, which triggers the body to respond and repair, leaving you sore and stiff. For athletes, or avid fitness individuals, a CBD topical cream, roll on, or spray on is a useful way to alleviate muscle soreness and pain while allowing you to continue your activities. Cannabinoids, like CBG and CBC, have an anti- anti-inflammatory effect and can help your body recover faster. With a CBD Topical, you can get localized pain relief and provide your body with instant satisfaction, while slowing cell damage, preventing inflammation, and returning you to your peak performance level quicker. Visit us online 24/7 at www.kerwellness.com and let us help get you on the road to a new and healthier lifestyle.FEELING GREAT
Page 29
FEELING GREATDOWNTOWN NAPERVILLEGlancer Magazine • AUGUST 2021 • WESTERN SUBURBS • 29
Page 30
Fabyan Japanese Garden "Because we all share this planet earth, we have to learn to live in harmony and peace with each other and with nature. This is not just a dream, but a necessity. -Dalai Lama Finding harmony in disharmony. It's a phrase that succinctly embodies the goal of many adults. Seeking harmony continues to challenge, inspire and serve as a beacon of hope to our everyday lives. Through life's various 'seasons', we grow, learn, adjust … and find unique opportunities to flourish. Similar to nature, there is beauty to see in every season. Japanese culture is known for creatively, artistically and poetically show-casing the importance of 'seasons' with its gardens. If you are looking to feel energized by nature, the Fabyan Japanese Garden in Geneva is a tranquil oasis that belonged to George and Nelle Fabyan - they devel-oped an appreciation for Japanese culture after visiting the 1893 Chicago World Fair. To ensure authenticity, Fabyans commis-sioned Taro Otsuka (a famous landscape designer) and Susumu Kobayashi (a master gardener). In fact, Kobayashi and his family lived on the Fabyan Estate for 15 years. This beautifully crafted, one-acre garden features signature plantings and elements throughout its winding trial. Fun fact - the Ginko and Weeping Spruce trees are original … over 111 years old! And the garden is home to some wild visitors - such as: hummingbirds, bullfrogs, snapping turtles and song-birds. Japanese gardens feature four seasonal 'blooms', as a reminder of the beauty found in each season - some flowering, some fleeting … some rainy, some cleansing. Legend has it, President Teddy Roosevelt, Thomas Edison and Japanese General Kuroki were a few famous guests! Today, the property is interpreted and cared for by Preservation Partners of the Fox Valley. Watch for Unique In Suburbia Every Month with Glancer Magazineby Brianna Bartemeyer Photos by Mike CatuaraUNIQUEinSuburbia30 • WESTERN SUBURBS • AUGUST 2021 • Glancer MagazineUNIQUE IN SUBURBIA
Page 31
COMING THIS FALLNONA JO'S Annual Open House September 16, 17 & 18 NAPERVILLE–Mark your calendars for September 16, 17, and 18, Nona Jo's annual Fall Open House! Be among the first to see what's new in autumn decor and get a sneak peek at some of our new Halloween favorites. Plus, save 20% off your entire purchase for all three days! Their open houses are popular events and they might limit the number of customers inside and there may be a line to get in. The team appreciates your patience and un-derstanding! The Nona Jo's open houses are held three times per year: They celebrate Spring in April, Fall in September and the Holidays in mid November. These three-day events start on Thursday and run through Saturday. During the open house enjoy 20% off your entire purchase all three days (many come back all three days!) enjoy raffles, treats and giveaways. Don't be left out follow them on Facebook or Instagram for the dates and details. www.nonajos.comFall Open HouseGlancer Magazine • AUGUST 2021 • WESTERN SUBURBS • 31
Page 32
SHOPPING + STYLEVELVET GRACE Fall In Love with Velvet Grace Are you ready for flannel shirts, cozy sweaters, pumpkins, and the s oothing scents of fall? Velvet Grace warmly welcomes you to celebrate the fall season as we gather for our 5th Annual Fall Open House August 27-28. Our boutique will be dancing with rich autumn color schemes, natural textures, and the essence of a comfy home. The Velvet Grace Studio will feature our brand-new Fall Apparel, which will combine classic and trendy, elegant, cozy, with sizes ranging from small to 3X! Our jewelry is an ensemble of mixed metals and gem-stones that create the perfect accessory for any outfit. Follow us on Facebook and Instagram for more information @velvetgraceoswego • 4025 US Highway 34 Oswego IL 630.636.6570 • www.velvetgrace.netFFAALLLL SSHHOOPPPPIINNGG32 • WESTERN SUBURBS • AUGUST 2021 • Glancer Magazine
Page 33
SHOPPING + STYLEFALL SHOPPINGGlancer Magazine • AUGUST 2021 • WESTERN SUBURBS • 33
Page 34
SHOPPING + STYLEBATAVIA DRESS SHOP Destination Dress Boutique Since 2009 BATAVIA–Special Occasions has been charming area residents throughout Chicago-land since 2009 as a premiere destination location for beautiful gowns, dresses and evening wear. Guests travel from near and far to experience the selection of their dream dress in person, not just online. Upon entry into this beautiful downtown Batavia shop, you are welcomed by an array of unique dresses that you can touch and feel, offering you endless possibilities as you search for your dream dress, along with a knowledgeable stylist who is there to guide you. Here, you will find each season's most sought after styles and must-have dresses. Founded by Mary Marconi-Popiel in 2009, the shop's attention to detail makes the ordinary more extraordinary, giving you a shopping experience that you will not forget. Special Occasions does not simply sell dresses– this local dress boutique sell dreams! Visit today for your next Special Occasion. SPECIAL! Enjoy 50% Off Select Gowns 2 N Batavia Ave., Batavia, Illinois, (630) 406-1515 www.specialoccasionsontheavenue.com BBEEAAUUTTIIFFUULL34 • WESTERN SUBURBS • AUGUST 2021 • Glancer Magazine
Page 35
SHOPPING + STYLEGlancer Magazine • AUGUST 2021 • WESTERN SUBURBS • 35
Page 36
SHOPPING + STYLE36 • WESTERN SUBURBS • AUGUST 2021 • Glancer MagazineLONDON SKYE Unique Downtown Naperville Boutique Invites You In DOWNTOWN NAPERVILLE–London Skye is an independ-ent contemporary fashion & apparel boutique located down-town Naperville. Owned by Naperville Resident Joellen Elam, this destination shop is a mix of her children's name-sakes and a nod to the time she spent living in London. Located in the Water Street District of Downtown Naperville, the shop offers a mix of clothing, accessories, and gifts for both men & women with brands sourced domestically and across the globe. When Joellen founded London Skye, she wanted to create a place that focused on high-quality unique items you couldn't find in other stores, and she has done just that. Visit today! You'll love everything about it. London Skye, 120 Water Street , Suiter 104, Naperville, (331) 814-3174, www.londonskye.com OWNEDWoman
Page 37
SHOPPING + STYLEGlancer Magazine • AUGUST 2021 • WESTERN SUBURBS • 37New Arrivals Including Many Pre-Fall Items!
Page 38
A New Yorkville Favorite YORKVILLE–Kendall County residents are loving the recent ad-dition of a few new restaurants to the Yorkville area, including Ha-cienda Real – Flavors of Mexico located in Kendall Marketplace. Serving up modern Mexican food inspired by traditional family reci-pes along with margaritas and unique cocktails, Hacienda Real's menu is quite inviting listing authentic favorites such as appe-tizers– Ceviche, Queso Fundido, Taquitos, Tamales and more – along with impressive entrees covering everything from Hacienda Specialties and Tacos, to Fajitas, Enchiladas, Burritos, Quesadillas and Combo Platters. The festive and flavorful options are plentiful, and will no doubt leave a lasting impression on your taste buds. Get ready to indulge in a truly delicious feast and remember to treat yourself to a scrumptious dessert–choose from Churros, Vol-cán de Chocolate and Flan. Indoor/outdoor seating available. www.haciendaflavorsofmexico.com NEXT STOP: YORKVILLEWEST SUBURBAN DININGDININGDINING + COCKTAILS38 • WESTERN SUBURBS • AUGUST 2021 • Glancer Magazine
Page 39
DINING + COCKTAILSCCoocckkttaaiillssCheers to Your Wine Time Getaway– Galena Cellars Awaits GALENA–Looking for a last minute summer getaway? We have just the place! Located about 3 hours from Naperville, Galena's countryside provides beautiful views of the vineyard and more. Enjoy a wine flight in the vineyard's newly renovated tasting room or relax on the spacious wrap-around deck and enjoy the sunset. Then, visit Galena Cellars at their new down-town Galena location and enjoy a glass of wine while taking in the beauty of the historic building located centrally on Main Street. Three floors of indoor seating are available year-round with outdoor seating on Main Street from May – October! How perfect. www.galenacellars.comWho's Ready for a Rum-Soaked Tropical Excursion? CHICAGO–If you LOVE fun stuff, you will LOVE this modern take on a classic tiki bar that's serving up inspired cocktails. Three Dots and a Dash is Chicago's premier tropical tiki bar and craft cocktail destination hidden below the bustling streets of River North. The secret hideaway – named one of The World's 50 Best Bars by Drinks International – is led by cocktail expert Kevin Beary. Plan a rum-soaked tropical excursion today and make some new memories. A 21+ older Lettuce Entertain You® destination lo-cation. www.threedotschicago.comThe Obscurity Brewing Trend Is Hotter than Ever. Plan a Day. ELBURN–Looking for a cool place to visit that's unique and fun all in one? Obscurity Brewing is all that and then some! Head out to Elburn– a picturesque place in the country– and bring your besties for some summer play. Load up on your summer crushers while you're at it. View complete menus along with the Live Music Line-Up online. See you there! www.drinkobscurity.com/eatobscurityGlancer Magazine • AUGUST 2021 • WESTERN SUBURBS • 39
Page 40
FOOD KITCHEN HELPING MOMS Bringing Dinner Back to the Kitchen Table Diane and Richard Beaulieu absolutely loved the convenience of Entr e Kitchen for nightly dinners in a world of work sports and everyday busyness They were regular clients when they took over ownership in 2009 Richard maintained his job as a Forensic Accountant but also now holds the titles of CFO Delivery Man IT and Maintenance Guru for Entr e Kitchen while Diane loves having complete autonomy to do whatever is necessary to take care of their kitchen team and customers on a day to day basis while balancing their family life of raising their three teenage sons who are active in swim the Civil Air Patrol band and orchestra The family works together to support local school PTAs by offering fund raising programs Although it may appear Entr e Kitchen is like other meal prep companies there are many factors that set them apart such as the bonus of being able to get right to cooking without the need of a knife and a cutting board to do all the prep first This allows most of their meals to be freshly cooked in about 30 minutes versus 20 minutes of prep work first before the cooking process even begins 40 WESTERN SUBURBS AUGUST 2021 Glancer Magazine Made to order entrees can be customized to include organic meat upgrades on many of our entrees as well as other substitutions or eliminations to meet specific dietary restrictions and unlike most companies Entr e Kitchen allows the option of drop in and same day ordering from their well stocked freezers with over 40 different entrees as well as a full complement of sides desserts bread and appetizers too An additional option is Our weekly fresh menu called Delicious Dinners in a Dash Diane says These entrees are available Monday afternoon through Friday and cook in 30 minutes or less Plus we will also have four Mother s Day Specials a special grilling menu for Father s Day and offer a monthly Budding Chef s Program specifically geared toward getting the kiddos get to help out in kitchen With over 900 entrees in their database finding a family favorite will be difficult but bringing dinner back to the kitchen table has never been easier Entree Kitchen 26W276 Geneva Road Carol Stream IL 60188 630 668 4450 www entreekitchen com Photos by Mike Catuara
Page 41
FOOD & KITCHENHELPING MOMSGlancer Magazine • AUGUST 2021 • WESTERN SUBURBS • 41
Page 42
TRENDY TRAVELER Paradise Awaits In Hollywood Beach TrendY Traveler MARGARITAVILLE HOLLYWOOD BEACH RESORT Inspired by the lyrics and lifestyle of singer songwriter and author Jimmy Buffett Margaritaville Hollywood Beach Resort is a destination resort and entertainment complex situated on the legendary Hollywood Beach Broadwalk in Hollywood Florida This 175 million resort is the centerpiece of a revitalization effort taking shape in Hollywood Beach and has become the first Margaritaville resort to achieve the AAA Four Diamond ranking Margaritaville Hollywood Beach Resort features an extensive array of amenities and an unparalleled degree of hospitality 42 WESTERN SUBURBS AUGUST 2021 Glancer Magazine service and attention to detail This 369 room 17 story oceanfront resort brings an entirely different resort perspective to South Florida with its unique authentic no worries tropical vibe and the feeling of escape that is experienced immediately upon arrival Coastal luxe guestrooms with modern innovative amenities delight discerning travelers seeking the comforts of home Inspired by Margaritaville eight diverse bar and restaurant concepts with a spectrum of offerings from casual dining to upscale cater to travelers and local residents alike as will an expansive serene 11 000 square foot spa
Page 43
Glancer Magazine • AUGUST 2021 • WESTERN SUBURBS • 43With incredible views of the Atlantic Ocean and Intracoastal Waterway, the resort's location – and 30,000 square feet of function space – sets the stage for corporate group col-laboration and social group inspira-tion. The perfect setting for guests to es-cape the everyday and just chill, Margaritaville Hollywood Beach Resort serves as Destination Par-adise for guests who are looking for an exciting place to discover new adventures, celebrate with friends and family or indulge in a relaxing getaway. ACCOMMODATIONS Influenced by colors of the sea, sand and sky, the 369 coastal-luxe, contemporary guestrooms are coastal perfection. Sleek, teak-finished furnishings, subtle maritime accents, crisp white bedding and colorful accessories create a relaxing setting for another day in paradise. UNIQUE OCEANFRONT POOLSCAPE AND WATER RECREATION AREA So many water amentities to choose from! A favorite being tte Beachfront FlowRider® Double - a surf simulator generates a thin sheet of water which flows over a curved hill to form the per-fect ocean wave – is open to resort guests and the public. DISCOVERING THE AREA Your family will enjoy discovering the greater Hollywood Beach/Fort Lauder-dale area. From the Intracoastal Wa-terway to the luxury shops of nearby Las Olas Boulevard, visitors to Mar-garitaville Hollywood Beach Resort can experience some of South Flor-ida's most interesting and unique attractions. HOLLYWOOD BEACH  REVITALIZATION Joseph Wesley Young, a Washington state native and former resident of California and Indiana, was the vision-ary behind the original one square mile of farmland that made up Holly-wood Beach. Since then, the city has grown to approximately 30 square miles and is Broward County's third-largest munici-pality, with a population of roughly 143,000 residents. In order to further advance and grow this destination, Hollywood Beach is currently undergoing a progressive revitalization pro-cess. At the forefront of this program is Margaritaville Hollywood Beach Resort. The Jimmy Buffett-inspired property attracts guests and locals alike, continuing to enhance the beautiful white sandy beach coast-lined city. www.margaritavillehollywoodbeachresort.com
Page 44
UNIQUE SHOP IN LISLE The Collective lhe + Makery Invites You In Visit this local downtown Lisle shop for unique gifts, apparel, acces-sories, home decor and so much more. Plan a creative experience in the Makery with friends and family. This shop is truly so very special. As the owner of The Collective lhe + Makery, Autumn Geist has worn many hats, and lived a life full of experiences. The shop is her first brick and mortar business, bringing her love of creating experiences, event planning and curating beautiful apparel, home decor and gifts into such a creative space. Her talents shine through in all aspects of this endeavor and she is especially honored to be in a town that she believes is a hidden gem, with lots of growth potential for indie busi-nesses. The Collective lhe + Makery 4724 Main Street, Lisle • www.thecollectivelhe.com BBEE IINNSSPPIIRREEDDPhoto by Alicia's Photography44 • WESTERN SUBURBS • AUGUST 2021 • Glancer MagazineSHOPPING + STYLE
Page 45
BE INSPIREDGlancer Magazine • AUGUST 2021 • WESTERN SUBURBS • 45SHOPPING + STYLE
Page 46
46 • WESTERN SUBURBS • AUGUST 2021 • Glancer MagazineSIGHTS, SIPS, AND SAILS It has been a long while since I dined and danced on the water. I felt free and alive as the wind blew through my hair and I watched the Chicago Sky-line from the middle of Lake Michigan. I forgot how amazing the city is - how beautiful the view is at night - the lights, the ferris wheel, the ambience of a dinner cruise in the middle of Lake Michigan. The setting was perfect; it felt like I was on a movie set when 1989 Naperville North Graduate turned L.A. Executive Producer, Jason C. Morgan returned to his hometown and joined me on the dinner cruise adventure to lay out some concepts for a future pilot idea. We enjoyed a delicious sit down dinner choice of salmon, chicken, or vegetarian, accompanied by a beet & baby arugula watermelon salad, seasonal vegetables, an incredible dessert table, and drinks. The DJ played classic songs while we dined and then turned up the jams for a full blown dance party after dessert. Dancing in the moonlight was a total blast! Bring a dancer - you won't regret it! The boat was filled with people of all ages from families enjoying the night out with their kids, people celebrating a micro-wedding, couples enjoying a date night, and girlfriends sharing laughs. The attire was casual dressy and everyone looked amazing. I was grateful to have brought a wrap for the crisper lakefront air. The opportunity to capture the sunset and take in the city lights was priceless while sitting atop the upper deck in the comfortable lounge seating. I loved the dinner cruise we chose, but also look forward to checking out the many other op-tions available via City Experiences by Horn-blower. Overview Enjoy the best season in the city with some of the best experiences on the water. Summer is not over yet which means there is still time to enjoy a lunch or dinner cruise that in-cludes a plated dinner, open bar, live music, and a dance floor while taking in unobstructed views of Chi-cago. City Experience options are unlimited with Architec-tural Lunches, "Sights & Sips" Cruises, Specialty Dinners, fast paced Seadog adventures, and more! City Experiences by Hornblower at Navy Pier 600 East Grand Avenue, Chicago, IL (888) 957-2634 • www.cityexperiences.com Hours: Schedule Varies by Day and Boat Selected Price $: Prices vary based on experienc e selected ABOUT THE WRITER Naperville mom Kristen Kucharski graduated from Illinois State Uni-versity in 1992 with an International Business Degree. She has two energetic daughters and her house is always full of children. Kristen's column titled, Mom's Little Black Book, is a monthly feature written for moms who are looking for ways to keep their kids busy. Read her past columns at www.glancermagazine.com/bloggersby Kristen Kucharski Photos Submitted MOM'S little black book
Page 47
FAMILY FUNNAPERVILLE GET YOUR WHIRLY ON! Make Your Reservation Today NAPERVILLE- From friendly competition and entertainment to exceptional food and drink, WhirlyBall Naperville provides the perfect venue for all ages and occasions. The two-story "eater-tainment" complex features a variety of activities including Whir-lyBall, LaserTag, HyperBowling and bowling plus private event spaces for groups of any size. Round out your event with cus-tomized menus featuring The Pivot Room's selection of elevated American fare and 24 rotating craft beer taps. Book your event today! Whirlyball Naperville 3103 Oddyssey, Naperville (630) 932-4800 • www.whirlyball.com SoFun!Glancer Magazine • AUGUST 2021 • WESTERN SUBURBS • 47
Page 48
MILLION DOLLAR 1 050 000 6 bed 4 5 bath 15 742 sqft 2 27 acres 62 Timberview Ln Yorkville listing 815 397 7700 Presented by Milena Cojkic Brokered by Ryan Hill Group Century 21 Affiliated Waterfront Living In Yorkville Live in luxury in this Yorkville IL single family estate home on the Fox River featuring 6 bedrooms 4 1 bathrooms and two garages for 4 cars This high end home exudes luxury with its open floorplan cathedral ceilings turret curved rooms and polished hardwood floors The master suite offers a peaceful retreat and features its own elegant ensuite master bath and two walk in closets The other five large bedrooms also include their own walk in closet VIEW LISTING 48 WESTERN SUBURBS AUGUST 2021 Glancer Magazine
Page 49
Fit for Royalty Enjoy a magnificent estate home with wa-terfront views on over 2.27 acres of wooded land by Fox River. Surrounded by mature wooded trees, you will have pri-vacy in a sanctuary all your own.REAL ESTATEGlancer Magazine • AUGUST 2021 • WESTERN SUBURBS • 49
Page 50
NNEEWW KKIITTCCHHEENNHOMEWERKS View Remodeling Gallery Online NAPERVILLE– Recognized as a premiere remodeling company, with a 10,000 square foot showroom in Naperville, HomeWerks has a beautiful online gallery of photos and ideas to help you plan your next remodeling dream come true. Now's a great time to start planning your next kitchen, bath or basement project! Family owned and operated since 1996, HomeWerks special-izes in full service remodeling. The kitchen and bath displays are interactive, allowing visitors to experience many product features first hand. With the focus of providing high quality products, pro-fessional installation and exceptional customer service HomeWerks Kitchen and Bath • www.myhomewerks.com HOME DESIGN + DECOR50 • WESTERN SUBURBS • AUGUST 2021 • Glancer Magazine
Page 51
NEW KITCHENHOME DESIGN + DECORHOME DECOR Trend + Relic Offers More than Just Home Decor tST. CHARLES–trend + relic is an experience that shoppers remember, as this unique multi-vendor marketplace has carefully selected experienced merchants who are artisans, builders, refinishers and painters, boutique owners and more each offering the most special items to adorn your home and make you feel beautiful. The talented merchants work hard to create and curate unique items, both vintage and new. Many of the treasures that you will find at trend + relic have been handcrafted including jewelry, candles, furni-ture & art and they have a variety of clothing & accessories, too. Each of the wonderfully talented mer-chants have created beautiful spaces in the shop as well as local markets so you will find some of your very favorites here. Owned by Karri and Heather, together they bring years of retail, decorating, design, staging and paint-ing experience to the shop. Their vision was to bring a unique shopping experience to Saint Charles like no other– creating a space that felt inspired, comfortable, friendly and passionate. At trend + relic, we are confident that you will experience all that and more. You will also find monthly paint classes which include 'How To' and 'Make and Take' workshops. Call the shop or visit to learn about upcoming classes, including girls night out boutique events trend + relic, 1501 Indiana Avenue, St. Charles, Illinois • (630) 803-5253 • www.trendandrelic.com Shop St. CharlesGlancer Magazine • AUGUST 2021 • WESTERN SUBURBS • 51
Page 52
by Mindy Kyle Photos SubmittedSean Hastings of Naperville Dad Wisdom 1.0 Sean Hastings, a Naperville fitness business owner and full-time salesperson for a public accounting firm, was beginning to feel all kinds of different emotions when thinking of his old-est son, JD, heading off to college in the fall. One of which, was not feeling that he had shared enough knowledge and life lessons with him. "I started writing down pieces of "wis-dom", so to speak," said Sean. "Every time a thought came into my head, I'd write it down." His intention was to simply print the thought off in a pamphlet to give as a graduation gift. Not knowing how to print it and make it look professional, he turned to Amazon and discov-ered kindle direct publishing. His book, Dad Wisdom 1.0 was born. "Writing those pieces of wisdom made me look at myself, too. I've made many mistakes along the way," says Sean. "There were many simple and important ideals that got lost or for-gotten as I got older. I decided to publish it because I thought others may benefit from reading it." He gave a copy of the book to his son, Clark, who is a sophomore this year, but has every intention of creating Dad Wisdom 2.0 by the time Clark graduates. Dad Wisdom 1.0 is available on Amazon in paperback or on Kindle.KNOW A LOCAL AUTHOR?  We'd Love to Meet Them! Introduce Us at editorial@glancermagazine.comLITERAARRYYlocal52 • WESTERN SUBURBS • AUGUST 2021 • Glancer Magazine
Page 53
PERSONABLE, ENERGETIC & CREATIVE REAL ESTATE PROFESSIONAL SUSAN COLELLA OF BAIRD & WARNER This proud Naperville resident shares that helping local sellers and buyers doesn't feel like work making it easy to be dedicated and re-sults oriented When she is hired to list a home she gains much of the marketing inspiration from her sellers when she asks " what do you love about your home?" From there she designs high end cus-toms booklets with professional photography & drone shots, de-scriptions of updates, & develops unique ways to target the right buyers on the internet. Restyling her listings with professional stag-ing , 3D tours great for out of state buyers and constant follow up with all parties are all included for her recipe of success! Susan is currently meeting with sellers & buyers now in anticipation of a thriv-ing Spring market~ Call luxury listing agent Susan Colella anytime to discuss your real estate goals for 2021. Susan Colella, Baird & Warner, (630) 946-3813Susan ColellaREAL ESTATEGlancer Magazine • AUGUST 2021 • WESTERN SUBURBS • 53
Page 54
CARING + SHARING54 • WESTERN SUBURBS • AUGUST 2021 • Glancer Magazine To Give, To InspireA Monthly Caring + Sharing Column
Page 55
The Kiwanis Club of St. Charles In St. Charles Summer with younger chil-dren means a trip or two or twenty to the local play-ground. When my kids were younger, I felt like that was one of the easiest ways to break up our day and get out of the house. However, this becomes a more difficult des-tination to navigate for fam-ilies with children with disabilities. It has been a pro-cess, but slowly we are see-ing public parks redesign or add equipment to become more inclusive. The Kiwanis Club of St. Charles has spear-headed the rally in their com-munity. Kiwanis is a global organiza-tion of volunteers dedicated to changing the world one child and one community at a time. The Kiwanis Club of St. Charles was chartered on March 19, 1964 and is proudly celebrating their 57th year as a club. In 2017, the club partnered with the St. Charles Park District and donated $10,000 to install an ADA swing in every possible playground in their com-munity. The ADA swings were designed as an oversized plastic and bright-colored swing that could secure chil-dren with disabilities, keeping them safer than traditional swings. This bucket swing was installed for ages 4-7 years old, or until they grow out of it. Wanting to continue and expand their efforts for the chil-dren in their community, the Kiwanis club decided to have a wheelchair swing in-stalled in the new sensory playground in Pottawatomie Park. "This is the first wheel-chair swing in St. Charles," says Connie Kurr, member of The Kiwanis Club of St. Charles. "The smiles on the faces of the children who have been on the swing say it all." The hope for the future is to have another wheelchair swing installed in a St. Charles playground. In order to provide grants to organization to serve the community and children, the St. Charles Kiwanis Club has two major fund-raising proj-ects: Rose Day, which happens every Administration Day in April and Peanut Days, which is currently running now through October and are sold by club members and online. To donate to the or-ganization or join the club and become a part of their many service projects, visit www.kiwanisofstcharles.org for more information. ABOUT THE WRITER Mindy Kyle is passionate about helping people discover what brings them joy and to live a full, healthy and happy life. She has her Master of Fine Arts degree in creative writing from DePaul University and is a vet-eran of Chicago's theater and commercial world as well as a graduate of the Second City Improv School. Mindy lives in Naperville with her husband, three children and the cutest dog in the land. VIEW MINDY'S MONTHLY COLUMN AT www.GlancerMagazine.com/to-give-to-inspireKiwanis Club of St. Charles Partnered with the St. Charles Park District and Donated $10,000 to Install an ADA Swing in Every Possible Playground in their Community & They are Doing Just That CARING + SHARINGGlancer Magazine • AUGUST 2021 • WESTERN SUBURBS • 55
Page 56
SHOPPING + STYLESEASONAL MUST-HAVES Jeans and a Cute Top Shop Invites You In WHEATON & ST. CHARLES–So many LOVE Jeans and a Cute Top Shop, a women's contemporary apparel boutique in downtown Wheaton and St. Charles. Residents travel from all over Chicagoland to shop this unique boutique. The Wheaton store also features a curated pre-loved collection of boutique brands that have been "bought back" from their customers and resell for $10-$40. If you have gently worn items, just a few years old, from respected boutiques or clothing stores, bring to the Wheaton store. If accepted, we pay $5 Cute Cash for each item. Cute Cash can be redeemed in any Jeans and a Cute Top Shop. How fun is that? Visit the shop in Wheaton or St. Charles or shop online today. Summer 2021 is here. Be sure you are fashion ready.Photos by Mike Catuara www.jeansandacutetopshop.com STYLE56 • WESTERN SUBURBS • AUGUST 2021 • Glancer MagazineExpires 8-31-21
Page 57
STYLESHOPPING + STYLEGlancer Magazine • AUGUST 2021 • WESTERN SUBURBS • 57
Page 58
CREATIVE MARKETING STRATEGIES PENNY O'BRIEN – One word that consistently comes to clients' minds when they think of Penny O'Brien is "hustle." As a Seller Representative Specialist, she loves meeting with sellers to discuss pre-market home improvements and guide them to make their home "showtime ready" when it hits the market. She strongly believes in professional staging and offers it as a complimentary service. With a reputation for "good-looking listings," she helps clients realize a higher return and quicker sale. Penny says "Staging transforms a home from average to amazing". Penny O'Brien Broker Relocation Specialist / Negotiation Expert (630) 207-7001 • penny.obrien@bairdwarner.com Read Penny's Local Industry Expert Column at www.GlancerMagazine.com PPeennnnyy OO''BBrriieenn58 • WESTERN SUBURBS • AUGUST 2021 • Glancer Magazine
Page 59
DOWNTOWN DOWNERS GROVE More Growth for Trending Downtown Area DOWNERS GROVE–A variety of small businesses, amazing owners and com-munity support makes downtown Downers Grove the destination it is today. Downtown Downers Grove is continuing to welcome new businesses, de-spite the pandemic. This month the community welcomes Dated to Ren-ovated at 926 Warren Avenue. We look forward to welcoming Eiffel Waffle at 1028 Curtiss and Rybell's Blow Dry Bar at 5221 Main Street. Plan your day to explore downtown Downers Grove! The boutiques will help you find the perfect gift for dad or the grad in your life! Don't forget to pick-up a treat for yourself, too! The restaurants and cafes can please every taste bud. The extended out-door has returned, offering many alfresco options in addition to indoor, de-livery and pick-up. Keep your eye out for beautifully painted windows at 15 downtown businesses, during the month of June, as part of the EQDG Pride celebration of Pride Month. www.downtowndg.org NEW IN TOWNCOMMUNITY LIVINGGlancer Magazine • AUGUST 2021 • WESTERN SUBURBS • 59
Page 60
www.h-4training.com Locations In Wheaton & GenevaH4 TRAINING GET 1-ON-1 PERSONAL TRAINING AT H-4 TRAINING, TWO SUBURBAN LOCATIONS WHEATON & GENEVA–It's time to take care of #1 with H4 Training! This program is best for individuals with very specific needs who require dedicated attention. H-4's sessions focus on the specific goals of each client with workouts tailored to each person. Visit online to learn more and to check out the many other programs available to you. H4 Training. Wheaton & Geneva locations. www.h4-training.com/services/personal-training/FFIITTNNEESSSSHEALTH + WELLNESS60 • WESTERN SUBURBS • AUGUST 2021 • Glancer Magazine
Page 61
FITNESSHEALTH + WELLNESSDR. ALEESHA FISCHER What is Chiropractic? Chiropractic is a healthcare profession that focuses on the spine and other joints of the body, and their connection to the nervous system. The word chiropractic means "to be done by hand." Chiropractors use adjustments to restore joint function and support the nervous system. Accidents, falls, and postural stress can cause subluxations, which are misaligned verte-brae within the spine from its normal position. Subluxations put pressure on the nerve roots and can decrease function of nerve signals between the body and the brain. Left unresolved, they can lead to chronic con-ditions. The weight of a dime on a spinal nerve can reduce transmission by as much as 60% (Chang Ha Suh, PhD. Spinal Biomechanics Expert). Chiropractic Care at Naperville Chiropractic and Massage also includes soft-tissue therapies, massage, lifestyle recommendations, fitness coach-ing and nutritional advice. Naperville Chiropractice & Massage is located at 47 E. Chicago Avenue, Suite 332-B in Downtown Naperville. August Special!Glancer Magazine • AUGUST 2021 • WESTERN SUBURBS • 61
Page 62
SHOPPING + STYLE62 • WESTERN SUBURBS • AUGUST 2021 • Glancer MagazineWOMAN OWNED A Curated Lifestyle Boutique OSWEGO–A curated lifestyle boutique specializing in timeless furni-ture, home decor, women's clothing and accessories, gifts, unique vintage finds, and specialty goods from local artisans. Hudson Design House showcases seasonal themes and vignettes throughout the store blending new and vintage aesthetic for a unique and inviting shopping experience. We are located in the heart of downtown Oswego, IL If you are a local artist, maker, or unique dealer and would like to sell your wares, please contact info.hudsondesignhouse@gmail.com LOCATED IN BEAUTIFUL OSWEGO ON MAIN STREET 76 Main Street Oswego • Follow on Facebook & Instagram HHOOMMEE DDEECCOORR
Page 63
ON TREND ESSENTIALS Visit Online or In North Aurora at Rustic Fox NORTH AURORA–Urban Echo Shop features on trend essentials for the stylish at heart– from clothing and accessories, to home decor, unique furniture, gifts and seasonal trends. Owned by a mom and her daughter in Sugar Grove, Illinois, Urban Echo Shop was created to be an adored virtual hometown boutique where only the latest styles and trends are featured. Residents are invited sit back and relax while browsing the shop's simplified trend collections online or shop at The Rustic Fox, where you will find over 120+ unique vendors. Each day is a new day at Urban Echo Shop. VIST FOR ON TREND ESSENTIALS 1790 Town Centre Dr., North Aurora • Vendor #3 • At the EntranceBBeeaauuttiiffuull ffoorr FFaallllSHOPPING + STYLEGlancer Magazine • AUGUST 2021 • WESTERN SUBURBS • 63
Page 64
FAMILY DENTISTRY WITH A WIDE ARRAY OF SERVICES Valley View Dental offers a full array of general dentistry services, cosmetic dentistry, periodontal, dental implants, orthodontics proce-dures, and oral surgery. This includes Invisalign, BOOST Teeth Whitening, CEREC one-day crowns, and same-day emergency visits guaranteed. With a large staff of bi-lingual doctors and staff, on-site labs at each location, extended business and weekend hours, Valley View Dental has the ability to treat patients according to their own schedules and convenience with all Covid-19 precau-tions taken. Stop by and see why others in the community have trusted Valley View Dental for over 20 years. Located In Naperville, Montgomery & Romeoville Valley View Dental • www.vvdental.com DDEENNTTAALLHEALTH + WELLNESS64 • WESTERN SUBURBS • AUGUST 2021 • Glancer Magazine
Page 65
Glancer Magazine • AUGUST 2021 • WESTERN SUBURBS • 65FAMILY FITNESS $0 Enrollment at Forthill Fitness NAPERVILLE–Find your fit this fall at Fort Hill Fitness and be on your way to achieving your health and fitness goals within an energizing and friendly community-based facility! For the month of August, take advantage of a $0 enrollment fee with the purchase of a Fort Hill Fitness membership and enjoy ac-cess to the fitness center, 50+ weekly group exercise classes, indoor track and more. www.napervilleparks.org/fhac FFIITTNNEESSSS FFUUNNHEALTH + WELLNESS
Page 66
Kid StuffMom & Son Hayride at Blackberry Farm AURORA–Moms and sons can enjoy a night out together at Blackberry Farm. There will be a DJ leading dancing and games. The train, carousel and wagon rid will be open, dinner and drinks will be provided. Dinner will be a hot dog bar, chips, sides and bottle water. All attendees ages 1 and up (including adults) must purchase a ticket. All ticket sales are final. Tickets go on sale August 6, 2021. https://bit.ly/3iLTknq 66 • WESTERN SUBURBS • AUGUST 2021 • Glancer MagazineSunflower Fun for Everyone! CHICAGO AREA– Visit us online for a special pre-fall feature highlighting all things sunflowers - including a fun coloring contest for kids! This unique feature shares on special sunflower-themes events,fun shopping adventures, family farm time fun including out-door experiences and so much more. Indoors, outdoors, get ready for sunflower galore! www.glancermagazine.com/ sunflowerfunFeed the Critters &  Become a Zoologist for the Day ST. CHARLES–Step behind the scenes as you become a zoologist for the day. Enjoy a private, hands on meet and greet with St. Charles Park District animal ambassadors. Learn about the resident turtles, snakes, fish and more as you assist with the animal care. Residents $40 / Nonresidents $60 www.stcparks.org
Page 67
FUN IN OSWEGO Get Ready for PrairieFest 2021! OSWEGO–Happy Days are Here Again! For this year only, the Oswegoland Park District proudly presents PrairieFest Friday, September 3-Monday, September 6 of Labor Day Weekend. With Free Admission, Free Parking, Free Con-certs & Entertainment your whole family can fill their week-end with festival fun. In addition to the annual Carnival, new entertainment this year includes a Trampoline Show all weekend and a Laser Light Show on Saturday & Sunday nights. A variety of local bands including Boy Band Night and Whiskey Romance perform all weekend long, while Uncle Kracker headlines Saturday evening. A complete schedule of events is available on the festival website. www.prairiefest.com PPRRAAIIRRIIEEFFEESSTTFAMILY TIMEGlancer Magazine • AUGUST 2021 • WESTERN SUBURBS • 67
Page 68
FAMILY TIME68 • WESTERN SUBURBS • AUGUST 2021 • Glancer MagazineLAST FLING 2021 Naperville Jaycees Last Fling In 2021, the Naperville Jaycees Last Fling is a FREE family-friendly community festival that takes place Labor Day Weekend along the Riverwalk in Downtown Naperville and, for many, is a fun way to say farewell to summer. 16 regional and local musical acts will perform throughout the weekend. Musical Stage headliners are 7th Heaven for Friday (9/3), Hi Infidelity on Saturday (9/4), 16 Candles on Sunday (9/5) and Libido Funk Circus closing out the weekend on Monday (9/6). Although the Last Fling is FREE to attend this year, the Naperville Jaycees are accepting non-perishable and monetary donations at each of the 4 entrances (N,S,E,W) to visit the Business Expo, Food Vendors, exclusive Sponsors' Tent and Men In Black Pest Con-trol Services Jackson Avenue Stage. A Family Fun Zone will provide family-friendly activities within the Riverwalk Amphithe-ater. Join The City of Naperville and the Naperville Jaycees in celebration of - "Our Frontline Workers" with Edward Hospital Frontline Workers as the Grand Marshal of the 2021 Labor Day Parade on Monday (9/6) at 10AM. Also Monday, the "Jaycees Support Our Troops", inviting Military Veterans to take part in a complimentary lunch with proper military ID. Additionally, the Last Fling Carnival will be open all weekend long and patrons with spe-cial needs will get exclusive, priority, no-wait seating on Sunday (9/1) (details to follow, wristband and chaperone required). Proceeds from the Last Fling are donated to other nonprofit organizations throughout the community. www.lastfling.org
Page 69
FALL FUN 2021 Play MORE With DuPage Children's Museum NAPERVILLE–Explore, create, build, discover, wonder, think, play, and more! Every visit to DuPage Children's Museum (DCM) is an ad-venture in fun and learning. Get the wiggles out and make some noise in Move & Groove, build with real tools in the Construction House, explore the forces of gravity in Make it Move, and let imagi-nation soar in Creativity Connections – the possibilities are endless! For the youngest guests, 2 years and under, DCM has special Young Explorer spaces where they can exercise mind and body. Coming up on Saturday, August 14 join us for an outdoor Chalk Art event. There's always something fun going on at DCM. Plan your visit today! Pre-registration is required. www.dupagechildrens.org AADDVVEENNTTUURREE!!FAMILY TIMEGlancer Magazine • AUGUST 2021 • WESTERN SUBURBS • 69
Page 70
EDUCATION70 • WESTERN SUBURBS • AUGUST 2021 • Glancer MagazineCCOOLLLLEEGGEE TTIIMMEECAREER VISION APTITUDE TESTING CAN HELP STUDENTS CHOOSE MAJORS AND CAREERS What are you doing after high school? You know further edu-cation is important. Do you need help finding the right career choice? The Career Vision Aptitude Advantage can help. Aptitudes identify your strongest talents, the jobs you would enjoy and be good at doing. Combining your aptitudes with your interests, Career Vision reveals your career choices. You also receive resources about college majors, job outlook, and preparation needed for those careers. If you have asked "What should I study?", "What will I do after college?" and want to learn how Career Vision can help, give them a call. Their assessment process is a positive and an objective way to give you confidence to make good career choices. And your Personal Career Consultant will take time to discuss the test results with you and go over all your choices. If you are going to college and want to know what to study, reach out to Career Vision today. If you have graduated col-lege and still haven't found your best fit, the professional con-sultants at Career Vision can help you, too. For over 30 years they have been helping students and adults find their best ca-reer choices. Career Vision • www.careervision.org • (630) 469-6270
Page 71
Glancer Magazine • AUGUST 2021 • WESTERN SUBURBS • 71LOW TUITION Launch Your Teaching Career In an In-Demand Field WESTERN SUBURBS–The number of open teaching posi-tions in Illinois rose from 1400 to almost 2000 for 2020-2021! Waubonsee Community College is the perfect place to launch your career in this in-demand field. Waubonsee's low tuition will save you money. We also have interest-free payment plans. And our flexible learning op-tions, including online courses, let you choose classes that will work with your job or kids' schedules. Our transfer guides and one-on-one advising ensure a smooth transfer to a four-year school to earn your bachelor's degree. Classes begin August 23, September 20 or October 18. www.waubonsee.edu/eduEDUCATION
Page 72
PRIMROSE FARM Have Some Fun.... Down on the Farm! Experience farm life! Explore restored farm buildings, visit with farm animals and learn from interpreters. The opportunities are endless at Primrose Farm in St. Charles! In addition to a day of fun with many activities for all ages, Primrose Farm hosts unique events all season long. Here are a few featured favorites– GOAT YOGA Saturdays • 8:30-9:30am Enjoy a peaceful morning of physical meditation with Primrose Farm's Nigerian dwarf goats! Gather friends and family at the farm and immerse yourself in the peaceful scenery the farm has to offer. Bring your yoga mats and open minds to this exclusive spring program. You will love this unique engagement in nature. Ages 10+ Welcome. July 31, Aug 14 & 28, Sep 4 & 18, Oct 9 & 23. per person, per session PRIMROSE PALETTE Jun 12, Jul 17 & Aug 14 • 7-9pm Let Primrose Farm help you uncork…un-wind, socialize & get creative! Gather your friends for an artistic party or, as an indi-vidual, join a vibrant group of like-minded art enthusiasts for a painting class with a twist. An experienced artist will lead par-ticipants with a guided tutorial as the beautiful sun sets over the farmyard. Feel free to bring your own snacks and non-al-coholic beverages to enjoy during each ses-sion. Ages 21+ are welcome to bring their own beer or wine. All painting supplies provided. Ages 16+ welcome. $30 per person. MOOSIC & BREWS Friday • Aug 13 Spend your perfect summer evening enjoying live music and dancing! Take a tour of the farmyard and say hello to the friendly animal residents. Refreshments available for an additional cost from local vendors. Musicians & food vendors subject to change. Ages 21+ welcome. Sponsored by Riverlands Brewing Com-pany. Advance registration required. $6 per person per night Beer tickets: $6 each. All tickets must be purchased at time of registration. www.primrosefarm.org FUN ON THE FOXPhoto by St. Charles Park DistrictSUMMER CELEBRATION72 • WESTERN SUBURBS • AUGUST 2021 • Glancer Magazine
Page 73
SUMMER CELEBRATIONFUN ON THE FOXGlancer Magazine • AUGUST 2021 • WESTERN SUBURBS • 73
Page 74
SUMMER IN AURORA Blackberry Farm, Charming & Fun Blackberry Farm, with its variety of attractions and amenities, quite literally offers a leisurely stroll down memory lane – both historically speaking and for generations of families who've made visiting the park an annual tradition. The Fox Valley Park District's 52-year-old living history mu-seum, Blackberry demonstrates the re-creation of pioneer life through educational experiences and hands-on fun. With unlim-ited rides on the replica steam-engine train, hay wagon, paddle boats, carousel and ponies included in the admission price, Blackberry presents parents the opportunity to relive their child-hood memories through the eyes and sounds of their little ones today. On average, Blackberry welcomes around 120,000 visitors per season, which this year runs from May 1 to Sept. 26, before seasonal, weekend events begin in October. www.blackberryfarm.info FFAAMMIILLYY FFUUNN!!FAMILY TIME74 • WESTERN SUBURBS • AUGUST 2021 • Glancer Magazine
Page 75
FAMILY FUN!FAMILY TIMEGlancer Magazine • AUGUST 2021 • WESTERN SUBURBS • 75
Page 76
2. SPECIAL OCCASIONS www.specialoccasions ontheavenue.com BATAVIA–This shop has been charming area res-idents throughout Chica-goland since 2009 as a premiere destination location for beautiful gowns, dresses and evening wear. Guests travel from near and far to ex-perience the selec-tion of their dream dress in person, not just online. Visit their site today and follow in social media for sales & more. 3. THE COLLECTIVE LLE +  MAKERY www.thecollectivelhe.com LISLE–This lifestyle boutique is located in the heart of downtown Lisle where you will find home decor, gifts, apparel and accessories. In their Makery, you will create in community while learning a new skill. Follow this local shop in so-cial media and stay connected to their latest arrivals, as well as trending events happening in the shop. 1. VELVET GRACE www.velvetgrace.shop OSWEGO–Wander through their two boutiques which are packed with the unex-pected combinations of home decor, wall art, frames, women's ap-parel, jewelry, acces-sories, candles, uncommon trinkets and more. They also carry Annie Sloan Chalk Paint® and materials, making this boutique the perfect shopping destination location. Fall is for shopping – and since every community offers something unique, this month we are highlighting some of our reader's favorite boutiques that have come to know and love on the pages of Glancer Magazine. The western suburban market is filled with many unique boutiques that are perfect for an autumn shopping adventure–map out yours today! Here are 7 Spectacual West Suburban Boutiques You'll Love3.2.LOCAL BOUTIQUES YOU'LL LOVE1.76 • WESTERN SUBURBS • AUGUST 2021 • Glancer Magazine
Page 77
4. TREND + RELIC www.trendandrelic.com ST. CHARLES–This unique multi-vendor marketplace has carefully selected experienced merchants who are artisans, builders, refinishers and painters, each offering the most spe-cial items to adorn your homes. he talented merchants work hard to create and curate unique items, both vintage and new. 6. JEANS & A CUTE TOP SHOP www.jeansandacutetopshop.com WHEATON & ST. CHARLES–This women's contemporary apparel boutique in downtown Wheaton and St. Charles is loved by many! Visit for the latest styles and trends with 20% off one item when you mention Glancer. The Whea-ton store also features a curated pre-loved collection of boutique brands that have been "bought back" from their customers and avialble for just $10-$40. 5. NONA JO'S wwww.nonajos.com NAPERVILLE– Find unique home decor, eclectic gifts, and in-home design stylists. Shop for unique pieces to add unrivaled character to your home. There are so many treasures that you'll find at this home accessory boutique located on Mill Street behind Naperville North High School. They also offer interior design services and cus-tom window treatments and a large array of florals.7. LONDON SKYE www.londonskye.com NAPERVILLE–This independent contemporary fashion & apparel boutique offers a mix of clothing, accessories, and gifts for both men & women with brands sourced domesti-cally and across the globe. London Sye focuses on high-quality unique items you can't find in other local shops. Located in the Water Street District Downtown Naperville. Glancer Magazine • AUGUST 2021 • WESTERN SUBURBS • 777 SPECTACULAR LIST7.5.4.6.
Page 78