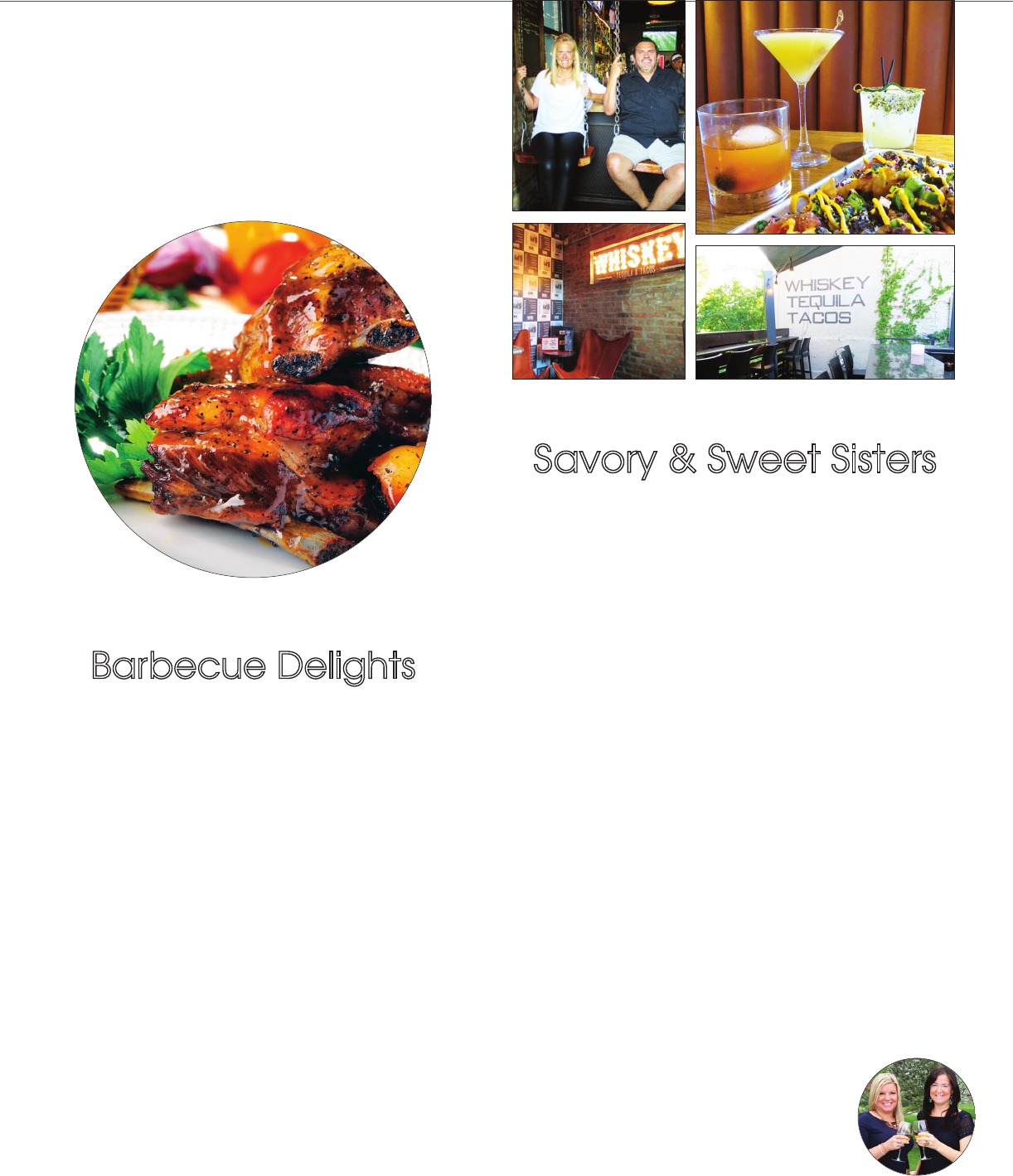 DINING + ENTERTAINMENT
WESTERN SUBURBS – August brings our last summer month for outdoor din
-
ing and backyard barbecues, so be sure to bring the sunshine to
Steamboat
BBQ in Wheaton
and enjoy what is touted as some of the best barbecue in
town at one of
their
outdoor picnic tables.
Steamboat BBQ specializes
in
smoked meats cooked daily using fresh-cut hickory wood and spice blends to
produce the finest, authentic, southern style BBQ possible accompanied by a
wide selection of sauces ranging from very sweet to hot-n-spicy.
The ribs are the main attraction at
Gematos Wood Pit BBQ in Naperville

.
They are perfectly seasoned and fall off the bone and it is said that the BBQ
chicken and the Brisket are just as mouth- watering. A hand pulled pork sand-
wich follows the BBQ line-up. The menu is diverse offering many Greek and
traditional foods such as, Gyros, Burgers, Philly Steak, and Salads.
Firewater BBQ and Brew is Geneva's newest barbecue restaurant
offering
outdoor dining and the flavors, traditions and hospitality of Southern style BBQ.
Enjoy all natural baby back ribs that are hand rubbed and slow smoked, as well
as 100% ground Angus brisket burgers, smoked sausage, pulled chicken, and
pulled pork. Firewater also carries local and regional craft beers that pair per-
fectly with their craft barbecue.
Although summer means on-the-go to baseball games, pools, and parks, you
can take your barbecue with you at
Smokey's Wood Pit BBQ in Yorkville
drive through. Call ahead for even faster pickup and grab and go! Smokey's
Wood Pit features Chicago Style Favorites and Authentic BBQ slow cooked,
smoked in house, at fair prices.
After a long day out, you might just want to eat a family meal in the comforts of
your own home. With just 24 hour notice,
Picken's Place
can provide a true
Texas BBQ experience to Clarendon Hills, Westmont, Hinsdale and nearby
areas.
-Kristen Kucharski
Dining
+ ENTERTAINMENT
Barbecue Delights
1910 Geneva
30 W. State Street, Geneva
(630) 845-9100 • www.1910Geneva.com
Owners: Lindsey & Sergio De Los Santos
WHISKEY, TEQUILA & TACOS
Sergio and Lindsey De Los Santos are no strangers to the Geneva restaurant scene–
they are the successful owners of Sergio's Cantina. When the upstairs became avail-
able, they decided to design a space with an urban vibe, trendy and creative Mexican
menu, along with hand crafted cocktails. The historic building was built in 1907 with
brick from the great Chicago Fire and in 1910 the first bar opened underneath its roof.
Sergio and Lindsey restored the top floor back to the original brick and wood, added
some artistic graffiti, a few swings, and reclaimed the space to host only the best nights.
As the sun was setting, seated next to a window looking down State Street, our server
Antonio Incandela recommended some great cocktails and mocktails. The energetic
music and mocktails made us mamas feel like for a moment we were in the city for a
night out. The Raspberry Cosmo adds raspberry puree for a sweet twist. Half priced
whiskey Wednesdays is a great time to try the 1910 Old Fashioned. It starts with a
glass that is smoked, then adds Buffalo Trace, Aperol, Tobacco infused bitters, orange
bitters, fresh orange syrup and Luxardo cherry served with an ice ball. The Cucumber
Mint is cool and refreshing.
Sunday Funday offers half-off appetizers. Our favorites include the Poke Nachos with
house made wonton chips topped with tuna, avocado, nori, sesame seed, serrano
pepper and sriracha aioli. Lobster Quesadillas filled with lobster bisque, chihuahua
cheese and habanero salsa have some heat to balance the sweet lobster. On Taco
Tuesdays enjoy half priced tacos paired with five-dollar margaritas. The vegan and
gluten free Esquites Tacos are packed with flavors of roasted zucchini, poblano corn,
avocado crema and sweet potato crisps. Maui fish tacos are served with either black-
ened or fried white fish and topped with tropical slaw, pineapple tequila salsa and a
chipotle tartar sauce. Another favorite taco was the unique Camote Al Pastor with
sweet potato sautéed with pineapple, Morita salsa, onion, cilantro, pepitas and vegan
avocado crema.
Just when we thought we couldn't enjoy our evening anymore, we
were served the house made churros with sides of butter Rum
sauce, Baileys Mexican chocolate sauce and topped with ice
cream. Make your reservation now!
ABOUT THE CRITICS
Stephanie (right) & Tiffany (left) Schmoker are west suburban sisters
who have always shared a love for dining out and they also enjoy cooking together. They
came from a family of 7 and grew up on farm with fresh fruits, veggies and more. Watch for
their review of a different west suburban restaurant in each issue of Glancer Magazine. Invite
them to your eatery at editorial@glancermagazine.com.
WEST
SUBURBAN EDIBLES
TO
LOVE
Glancer Magazine • AUGUST 2019 • WESTERN SUBURBS • 15
Savory & Sweet Sisters
8.5x11_Glancer_Aug19-44_Layout 1 7/17/2019 6:55 AM Page 15