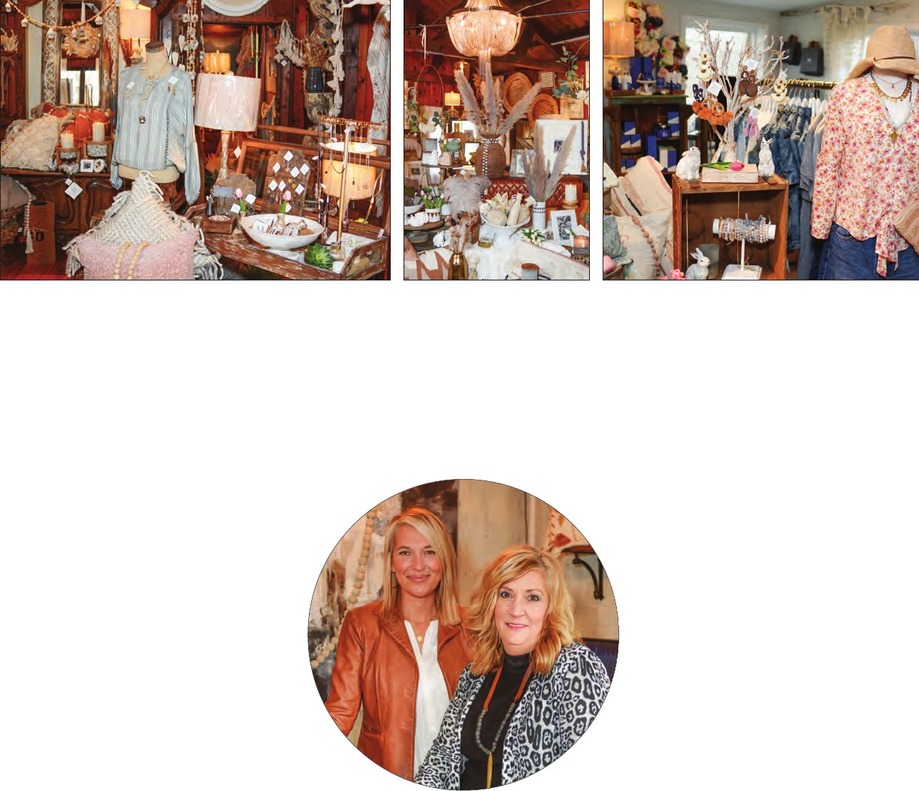 Glancer Magazine • APRIL 2020• WESTERN SUBURBS • 11
Soon again you will be enjoying the calming
scents of the aromatic candles that will engage
your senses from the moment you step into the
historic log cabins of Velvet Grace in Oswego.
The creative displays in cozy vignettes en-
hance the shopping experience while you pe-
ruse the beautiful home décor; timeless and
trendy women's apparel, jewelry and acces-
sories, as well as hats, scarves, handbags, and
much more.
Look forward to encompassing yourself into the
welcoming shopping environment splashed with an
array of gift selections - Capri Blue, Eleven Point, and
Himalayan candles, in addition to frames, vases, bas-
kets, wall art, pillows, and throws. Design specialists are
also just a phone call away, on-hand, and online to help you
with personalizing your home and inform you how the easy-to-use
Annie Sloan Chalk Paint® can transform your old furniture, cabinets,
frames, lamps and much more with little or no prep.
Oswego residents and store owners, Mary Blanchflower and Nicole Menard
promise that when you shop Velvet Grace you will receive a bit of retail therapy
and leave with a little grace.
These two friends and neighbors have a passion for creating beautiful things
and believe in giving back and supporting growth in their hometown. What
began with an idea in 2014 became a reality in October 2015 when Nicole's
background in custom home building, interior/exterior selections, accessorizing,
wholesale buying, and retail merchandising paired nicely with Mary's graphic
design, marketing and promotion resume to open Velvet Grace in two historic
log cabins as a gift boutique and workshop hosting events using Annie Sloan
Chalk Paint.
In Fall of 2018, Velvet Grace Studio evolved from Annie Sloan Workshops to re-
tailing trending women's apparel and accessories, which has been a successful
addition to boasting the most current season trends such as mini floral patterns,
flowing tops and sun dresses; puffed sleeves, wrapped ankle pants, bralettes,
bold color accents, and even a touch of neon! The Spring and Summer sea-
sons will feature fun, graphic tees under sweaters, and jackets from top
women's apparel lines by Lush Clothing, Elan, Love Stitch. Jewelry from pop-
ular name brands such as: Kendra Scott, Summer Ellis, Larissa Loden, My
Saint My Hero and their personal designer Lush Designs.
Although they have converted their workshop into an
apparel studio and do not offer workshops on site,
fans of these special events will be pleased to learn
Velvet Grace will be offering workshops this
summer at a different location. Clients can con-
tact the shop at (630) 636-6570, check the Vel-
vet Grace website at www.velvetgrace.net,
and follow social media sites like Instagram or
Facebook @velvetgraceoswego for up-to-
date events and promotions or to receive in-
formation on any upcoming classes.
"We are an unexpected surprise," says Nicole.
"From our ever-changing displays, to our
unique products, to the warm and welcoming
atmosphere, it's a destination you don't want to
miss. Our design specialists are here to help you
make your house a home, choose a new outfit with
jewelry to accent, and find the perfect gift for that
someone who has everything."
At Velvet Grace incorporating a bit of all styles separates their
design look from many other boutiques. This Spring expect to see a
very earthy, natural vibe. Dried botanicals, beautiful art, textures from fur to tas-
sels and wood bead strands. A vibe that is very warm, comfortable and wel-
coming in a home.
Mary and Nicole believe their customer service is the secret to their success
coupled with the boutique style cozy atmosphere that delivers a sense of per-
sonable attention to our clients. The talented staff offers dedicated design and
apparel assistance and contributes greatly to building relationships with clients.
They try to touch all the senses when merchandising, from burning the calming
scents of our candles, to paying close attention to lighting, textures, trends and
unique apparel items that clients really enjoy paired with excellent customer
service.
Over the past four years, Mary and Nicole have also contributed to local organi-
zations by donating to Hesed House, Habitat for Humanity, Oswego District 308
schools and teachers, Bickford of Oswego, Young Life, Oswego Junior
Women's Club, American Heart Association, Hoops for Healing and many more.
Velvet Grace is located at 4025 US Highway 34 in Oswego. The store is cur-
rently in compliance with state mandates during this difficult time so please fol-
low their social media sites @velvetgraceoswego or their website at
www.velvetgrace.net for current hours of operation and services available; latest
arrivals; and inspiration for your closet, home, or special gift for a friend.
home, or special gift for a friend.
Velvet Grace of Oswego
by Kristen Kucharski
Photos by Mike Catuara
April2020_28pp_Layout 1 3/31/2020 8:47 AM Page 11